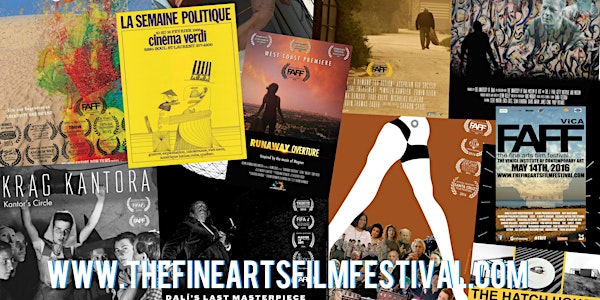 2016 FINE ARTS FILM FESTIVAL & AWARDS GALA
When and where
Location
Beyond Baroque Literary/Arts Center & Theatre 681 N. Venice Blvd Venice, CA 90291
Refund Policy
Contact the organizer to request a refund.
Description
The 3rd Annual Fine Arts Film Festival & Awards Gala is May 14th!

FAFF is the premiere showcase for independent films about artists and the art world held annually in Venice, California. Join us for a day of over 40 films from around the art world - featuring artists such as Jackson Pollack, Salvador Dali, Picasso, Charles Arnoldi, and contemporary artists from around the world.

#FAFF
Saturday May 14th, 2016
10:00AM - 11:00 PM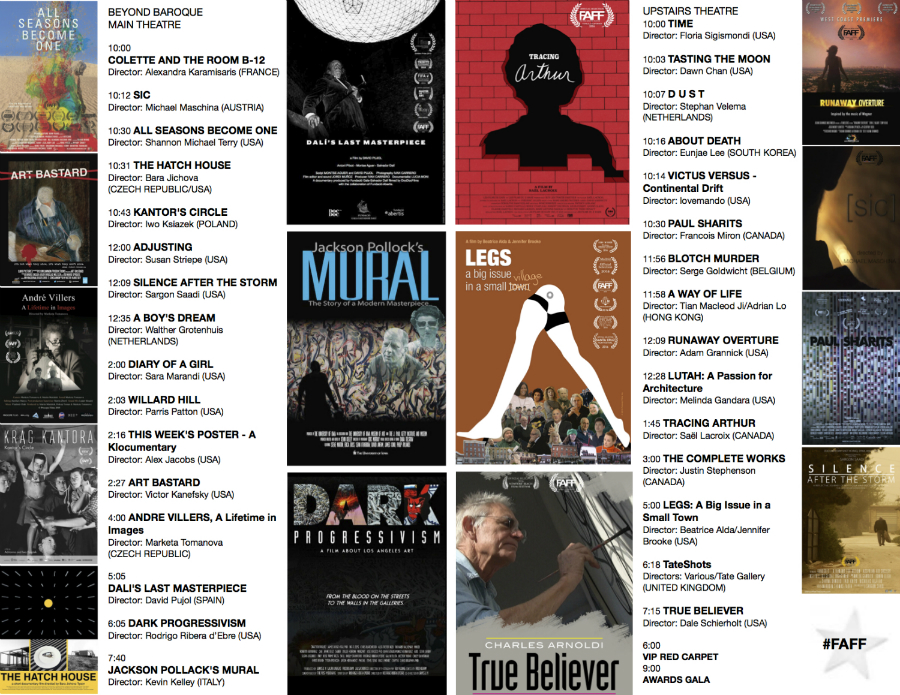 COLETTE AND THE ROOM B-12
Director: Alexandra Karamisaris (FRANCE)
Colette is at the visual arts department at the Sorbonne, looking for the room B12. She's late, lost, confused, searching floor by floor, stumbling from door to door. Until a young man reaches out and helps her find her way.


SIC
Director: Michael Maschina (AUSTRIA)
A brief glimpse into the human mind.


ALL SEASONS BECOME ONE
Director: Shannon Michael Terry (USA)
The film explores the question of the interrelation of nature and humanity through the vision of artist Diana Wong. We observe the artist's movements as she paints the four seasons. In the theater of the natural world, a vast wilderness, her alter ego roams the dunes of inspiration. In the desert her wandering spirit shows her we have a long way to go before we can see the whole. As her alter ego arrives at the completed painting, a labyrinth of cycling seasons reveals itself. Creativity, the regenerative force of life, links all things. Through creativity we have the power to see this source for ourselves, and the way all seasons become one.


THE HATCH HOUSE
Director: Bara Jichova (CZECH REPUBLIC/USA)
The Hatch House explores an idiosyncratic, cube-like bauhaus cottage owned by Ruth Hatch. It was a 1950's sanctuary for artists and intellectuals like Walter Gropius, Marcel Breuer, and László Moholy-Nagy, and the Boston Brahmins Jack Phillips, and Jack Hall. The Hatch House explores a fragile, amateur structure living at the cultural crossroads between DIY "work of the brain" and the rising tide of American bourgeois, consumerist values.


KANTOR'S CIRCLE
Director: Iwo Ksiazek (POLAND)
Kantor's Circle is a documentary film about young Polish artists who created and developed clandestine art in Krakow under Nazi occupation. Art that came to life at that time was born as a response to danger and against danger. The film includes film archives, photographs, and unknown paintings and drawings from the period of occupation.


ADJUSTING
Director: Susan Striepe (USA)
The film explores the emotional, visual, and metaphoric associations that infer adjusting to alienation that may be caused by responses to transformations caused by the post sexual dichotomized and post human condition.




SILENCE AFTER THE STORM
Director: Sargon Saadi (USA)
After ISIS kidnapped many of his relatives in Syria, Fadi, a local Assyrian artist, reflects on his people's dire condition with both profound and ironic thoughts. While he works on his new art piece at his rundown workshop, a filmmaker from Los Angeles travels back to his war-torn ancestral homeland aiming to expose atrocities and search for hope.


A BOY'S DREAM
Director: Walther Grotenhuis (NETHERLANDS)
Playful and elegant beach animals walk along a Dutch seaside. Their master, Theo Jansen, wants to make new life that will outlive his own lifespan. A 'Boy's Dream' is a portrait of the master at work, creating great feats of technology: from mini-"strandbeasts" to insane-looking colossuses that wouldn't be out of place in a sci-fi film.


DIARY OF A GIRL
Director: Sara Marandi (USA)
Diary of a Girl was inspired by a desire to take the road less traveled. It's a visceral journey into a tactile world and ultimately the experience of exploring a new land, seen through the eyes of a photographer. Set in a vibrant, colorful land our heroine immerses herself in a world of the unknown, weaving through the stalls of peculiar food and eccentric wares and past the beguiling faces of a unique nation.




WILLARD HILL
Director: Parris Patton (USA)
Willard Hill was born in Manchester, Tennessee in 1934. Twenty years ago Willard started making sculptures out of masking tape. Willard doesn't throw anything away because everything can and will be used as a structural foundation for his intricate sculptures, from coat hangers, to plastic bags, toothpicks, plastic bottles, foil, cotton balls and snippets of his wife's wig. Willard never expected his work to be seen away from his porch. "I make art just to make." Parris Patton and The Good Luck Gallery visited Willard Hill in Manchester for a rare look at his work and environment.




THIS WEEK'S POSTER - A Klocumentary
Director: Alex Jacobs (USA)
The story of Dave Kloc, an illustrator in Los Angeles who has developed his skill by screen printing a different poster for The Meltdown comedy show every week for the last five years.


ART BASTARD
Director: Victor Kanefsky (USA)
What is art and how does it relate to society? Is its value determined by its popularity or originality? Is the goal profit or expressing one's personal vision? These are some of the questions raised as we follow fiercely independent New York artist Robert Cenedella in his artistic journey through decades of struggling for creative expression. A protege of German artist George Grosz, Cenedella is now passing on the legacy of Groszs approach to art, in the same room where Grosz taught. In portraying Cenedellas determination to buck the system in his attempt to turn the art world upside down, ART BASTARD is a funny, touching, and insightful look inside the maverick mind of a true original.


ANDRE VILLERS, A Lifetime in Images
Director: Marketa Tomanova (CZECH REPUBLIC)
André Villers discovers photography at 21 at the sanatorium in Vallauris France, after suffering from bone tuberculosis. Two years later, in 1953, André meets Pablo Picasso who buys Villers his first Rolleiflex camera. The two will later work together on a poetic cut-out album called 'Diurnes'. Through Picasso, André has met and photographed some of the greatest artists of the 20th century such as Chagall, Dalí, Miró, Buñuel, Fellini, Brassaï, Cocteau, Prévert, Gainsbourg, Le Corbusier, Léger and many others. André has never boasted about it. Throughout his life he kept a low profile, even though his photographs are known worldwide.
One of the last true great photographic and visual artists awaiting to be fully discovered.




DALI'S LAST MASTERPIECE
Director: David Pujol (SPAIN)
This documentary talks about Dalí, his artwork, his philosophy and his persona, as well as his latest creation, the Dalí Theatre-Museum - where he transferred his universe, projected his imagination, dreams and visions - to condense a monumental life devoted to art.


DARK PROGRESSIVISM
Director: Rodrigo Ribera d'Ebre (USA)
Out of two violent decades shaped by the explosion of the crack epidemic, gangs, vandalism, stepped-up law enforcement, riots, earthquakes and police scandals, a new urban mentality and art style developed. This eye-opening documentary features muralists, tattoo artists, graffiti writers, musicians, taggers, gang members, art historians, and documentarians who help explain how the dark aspects of the environment, combined with forward-thinking principles, have influenced a local art tradition which has now gained many artists international recognition. As this tradition continues to gain momentum and artists around the world continue to be influenced by Los Angeles' art, Dark Progressivism: On Rupture and Rebellion demonstrates how this style and its philosophies developed, while tracing its training, craftsmanship, discipline, scholarship, and trajectory.




JACKSON POLLACK'S MURAL
Director: Kevin Kelley (ITALY)
This is the story of Jackson Pollock's masterpiece that changed the face of American Modern Art forever. This documentary follows the commission by Peggy Guggenheim of a large painting for her townhouse by an unknown Jackson Pollock. The paintings journey to a small mid-western college town followed by controversy of those who fought to keep the painting and those who wanted to sell it. The painting is recused from a terrible flood and then searches for a new home. The paintings journey continues to The Getty, as experts struggle to conserve it before is goes on a world tour starting in Venice, Italy at the Peggy Guggenheim Villa - now a museum of art.


SECOND THEATRE
10:00 AM
TIME
Director: Floria Sigismondi (USA)
Time, a short film directed by Floria Sigismondi, is a stunning visual exploration of the transcendental nature of time and its idyllic constructs. Life and circumstances of being are seemingly bound by measures of moments and the conditional rhythms of recurrent intervals.




TASTING THE MOON
Director: Dawn Chan (USA)
Tasting the Moon is a series of moving portraits of the First Generation of Contemporary Female Artists in Afghanistan. Comprised of three animated segments, Dawn spotlights Shamsia Hassani, Nabila Horakhsh, and Malina Suliman as individual artists. Each segment is created as an impressionistic dream sequence by drawing inspiration from recurring metaphors in each artist's work. In this collaborative attempt, Chinese-American Artist Dawn Chan explores the symbiotic relationship between female minority artists and their roots.




D U S T
Director: Stephan Velema (NETHERLANDS)
DUST is a dance-narrative shortfilm performed by international dancers that only came together for 1 day on set and had never worked together before.
The choreography is done by award winning experimental dance pioneer Andre' Drosha' Grekhov (Winner Juste Debout experimental 2012). The film was made for 'Open Your Mind', a dancefestival wich brings cutting edge dance with street culture roots to a theatrical contemporary level. The makers distinguish themself by an high amount of crossmedial knowledge on a conceptual level, being always intrinsically motivated to find signature in form, style and ambiance.




ABOUT DEATH
Director: Eunjae Lee (SOUTH KOREA)
One afternoon, Eunjae, who is living and studying alone in a different country, feels uncomfortable with the death of a fish on her cutting board. While giving us tears, death also sheds light on something that is most valuable in one's life.




VICTUS VERSUS - Continental Drift
Director: lovemando (USA)
This film is an artful underwater expression of Victus Versus, a performance series from interdisciplinary artist, Amy Kaps, debuted in her installation, "A Striped World"—part of the Continental Drift exhibition at the CMay gallery in 2015.




PAUL SHARITS
Director: Francois Miron (CANADA)
A long overdue documentary film on the work, the influence, the life and the mysterious death of legendary experimental filmmaker Paul Sharits. The film uses never before seen archives of all types and out takes, rare interviews with people in the Avant-Garde scene and experimental cinema historians.


BLOTCH MURDER
Director: Serge Goldwicht (BELGIUM)
A blotch painting was happy to live, unfortunately, some other stains do not agree with that.





A WAY OF LIFE
Director: Tian Macleod Ji/Adrian Lo (HONG KONG)
The handmade pottery of Kasama and Mashiko regions in Japan is some of the world's most beautiful and sought-after. The potters who create these magnificent works spend decades refining their craft - throwing, molding, glazing and firing - in the rural countryside. This short documentary reveals the passion and skill of eleven such potters. Their determination, inspiration, and creativity comes from a deep understanding of what exactly is the true craft of pottery.




RUNAWAY OVERTURE
Director: Adam Grannick (USA)
What if the great pieces of classical music could be brought to life? Runaway Overture tells the story of an orphaned young painter who leaves home for the last time, willing to brave all obstacles for an opportunity in New York City. At the same time, it also tells the story of an aging painter who struggles to let go of his dreams of becoming a great artist and renew his relationship with his estranged daughter. Inspired by the Overture to Tannhäuser and shot without dialogue, Runaway Overture uses orchestral-accompanied storytelling to open up the world of classical music to newer, younger, and more diverse audiences. It received its international premiere during the 2015 Richard Wagner Festival in Bayreuth, Germany.




TRACING ARTHUR
Director: Saël Lacroix (CANADA)
André Montpetit, also known as "Arthur", passed through Québec's artistic scene like a shooting star. This extraordinary cartoonist and his overactive imagination became widely known in the poster and comic strip world, at the end of the 1960s, before disappearing as quickly as he had appeared. Via a mosaic of never-before-seen works of art, original animated sequences and first-hand testimonials, director Saël Lacroix explores the past and imagines the present in an effort to lift the curtain on an emblematic figurehead, which history has long forgotten.


LUTAH: A Passion for Architecture
Director: Melinda Gandara (USA)
LUTAH explores the life of a remarkably versatile architect who left an impressive legacy. Initially eclipsed by her male contemporaries in the early 20th century, Lutah Maria Riggs navigated her way through the male-centric world of architecture and brought a freshness to the established architectural styles of Southern California. Riggs blazed a trail for women, relying on the courage of her convictions and a hint of eccentricity. She pursued her passions and created a life of independence, an exceptional choice for a woman at that time. Never before seen photographs and journal entries from Riggs's personal collection, and candid interviews, this documentary reveals a side of Lutah Maria Riggs that has gone unnoticed.


SYMMETRY
Director: Ruben van Leer (NETHERLANDS)
Mystery has a transcendent property, and the quest for illumination carries the capacity to lift man from the sphere of physical existence into that of the divine. Reflecting the growing interwoven nature of scientific and artistic inquiry, SYMMETRY is a cross-disciplinary film illustrating through opera, dance and science a modern and interrelated journey into the unknown. Filmed on location in Switzerland at CERN, the largest particle physics laboratory in the world – the film follows a modern physicist (choreographer Lukas Timulak) as he grapples with the theory of everything and seeks to unlock the very building blocks of existence. Discovery unfolds - as a dance between imagination and reason, and captivated by the music (soprano Claron McFadden) - Lukas' reality begins to blur. Before the big bang, an endless story begins…


THE COMPLETE WORKS
Director: Justin Stephenson (CANADA)
Fifteen years in the making, The Complete Works adapts the work of internationally acclaimed avant-garde poet bpNichol. From comic book detective stories and westerns to documentary and magic realism; from hand drawn animation to computer generated images, The Complete Works wrestles Nichol's writing off the page and projects it on to the screen. It uses bpNichol's poetic methods on Nichol himself to create a film that is subversive, entertaining and visually arresting.


LEGS: A Big Issue in a Small Town
Director: Beatrice Alda/Jennifer Brooke (USA)
When a very large and controversial piece of art gets publicly displayed in a small town, opinions start flying and feisty people take legal action. Experienced through the eyes and voices of the town's colorful residents, both newcomers and established folk reveal struggles to fit in, to have a voice, to be respected, to be heard. In the process, they let slip their own prejudices as they categorize and discriminate against their neighbors on the basis of race, sexual orientation, nationality, and socioeconomics.


TateShots
Directors: Various/Tate Gallery (UNITED KINGDOM)
Tate's short film series exploring artists, artworks and artistic practice relating to the Tate collection and beyond featuring artists such as Rodney Graham, Abraham Cruzvillegas, Nicola L, Agnes Martin, and inspired by artists such as John Singer Sargent and Man Ray.


TRUE BELIEVER
Director: Dale Schierholt (USA)
The Director offers us an intimate one-on-one visit with the artist in his Venice, California studio. Arnoldi as established himself as one of the most prominent painters in Southern California. He openly discusses his life and work in often raw and emotional dialogue, sharing the doubts and struggles that are at the very heart of the artistic process. Arnoldi's work resides in the Museum of Modern Art, the Metropolitan Museum of Art, the Los Angeles County Museum of Art, the Smithsonian American Art Museum, and the Guggenheim Bilbao in Spain. True Believer is rare opportunity to gain insight to the work of a highly accomplished artist.


9:00
AWARDS GALA


#FAFF