2016 Financial Fortitude Explosion
Description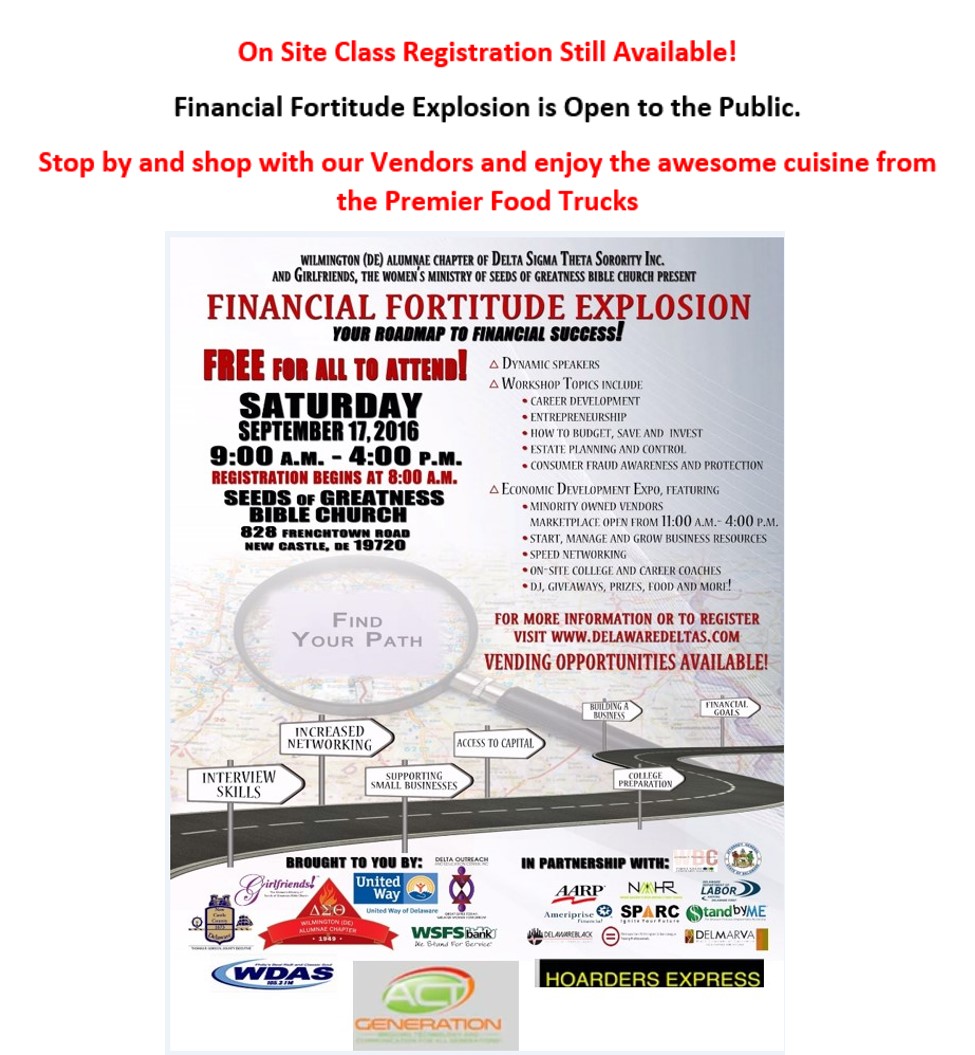 Wilmington (DE) Alumnae Chapter of Delta Sigma Theta Sorority, Inc. (WAC) and Girlfriends, the Women's Ministry of Seeds of Greatness Bible Church present "Financial Fortitude Explosion", a daylong financial literacy, career development and entrepreneur business exposition (Expo). This event is being held in partnership with Delta Outreach and Education Center, Inc., United Way of Delaware, New Castle County, Thomas P. Gordon County Executive and many other well-known community associates.
Financial Fortitude Explosion is FREE and open to children and adults from middle school through retirement. Workshop topics include college and career preparation, financial planning for various stages of life, investment and savings, estate planning, consumer fraud prevention, and starting, managing and growing your business.
Additionally, our Economic Development Business Expo will have over 60 women and minority entrepreneurs promoting and selling their products and services. There will be opportunities for informal career and professional networking, prizes, music, food, giveaways and much more.
Vendor registration is also open. If you are a vendor and a member of Delmarva Black Chamber of Commerce, Delawareblack.com, Metropolitan Wilmington Urban League Young Professionals, The Entrepreneur Business Institute at Seeds of Greatness Bible Church and the Women's Business Institute you may be eligible for a discount. Please see your organization to obtain the discount promotional code.
"Financial Fortitude Explosion" will be held on Saturday, September 17, 2016 from 9:00 a.m. to 4:00 p.m. at the Seeds of Greatness Bible Church, 828 Frenchtown Road, New Castle, DE 19720. Registration is from 8:00 a.m. to 8:45 a.m.

For More Information click here
If you have any questions, contact us at finfort@dstwilmingtonde.org.