2016 EAOP Math & Science Saturday Academy (FREE!)

Saturday, May 21, 2016 at 8:30 AM (PDT)
Event Details
 

RSVP NOW!
Math & Science
A

cademy
(FREE)

 
RSVP NOW to attend our annual Math & Science Academy (It's FREE!!!)
Date: Sat. May 21st, 2016


This is your chance to EXPLORE...DISCOVER....LEARN many fun things about Math & Science!!!!
During this event expect to sink your hands into science by attending a day full of Science and Math exploratory courses.  Students who have attended this workshop/academy in the past have said: "It's a must see!" "I'm so glad I was invited to participate!" "learning the science behind earthquakes was totally cool!"  "I have never seen a brain up close before, that was awesome!"... Don't let this opportunity pass you by, if you are interested in Math & Science, this is the event for you!
Hosted by: UCLA Early Academic Outreach Program (EAOP)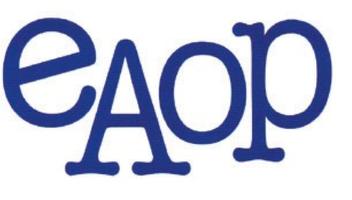 ~~~~~~~~~~~~~~~~~~~~~~~~~~~~~~~~~~~~~~~~~~~~~~~~~~~~~~~~
        Who:  (Students) Grade 6th - 11th
       What:  MATH & SCIENCE ACADEMY
      When:  Saturday, May 21, 2016 
                    9am - 3:15pm
    Where:  UCLA (Charles E. Young South & Manning Drive)
                    609 Charles E. Young Drive East
                    Los Angeles, CA 90095 
Check-in: 8:30am - 9:00am
Charles E. Young Drive South & Manning Drive
(Near Parking Lot 2)

 Transportation WILL BE Provided (see bus schedule below) 
REGISTRATION REQUIRED, PLEASE RSVP NOW!!
Students, Please Bring the following materials with you: 
Lunch 

WILL NOT

 be provided 

*

Students should

 

bring a sack lunch or $7-12  

to purchase on campus

. 

Yo

u 

Will Not

 be permitted to leave the UCLA campus to purchase lunch

Calculator

Pencil and Pen

Scratch paper

All other materials will be provided for you.
TRANSPORTATION Pick up/Drop off Schedule Below
* You can't get on the bus unless you've registered to ride it.  All registration forms MUST be COMPLETE in order to board the bus. Thank You.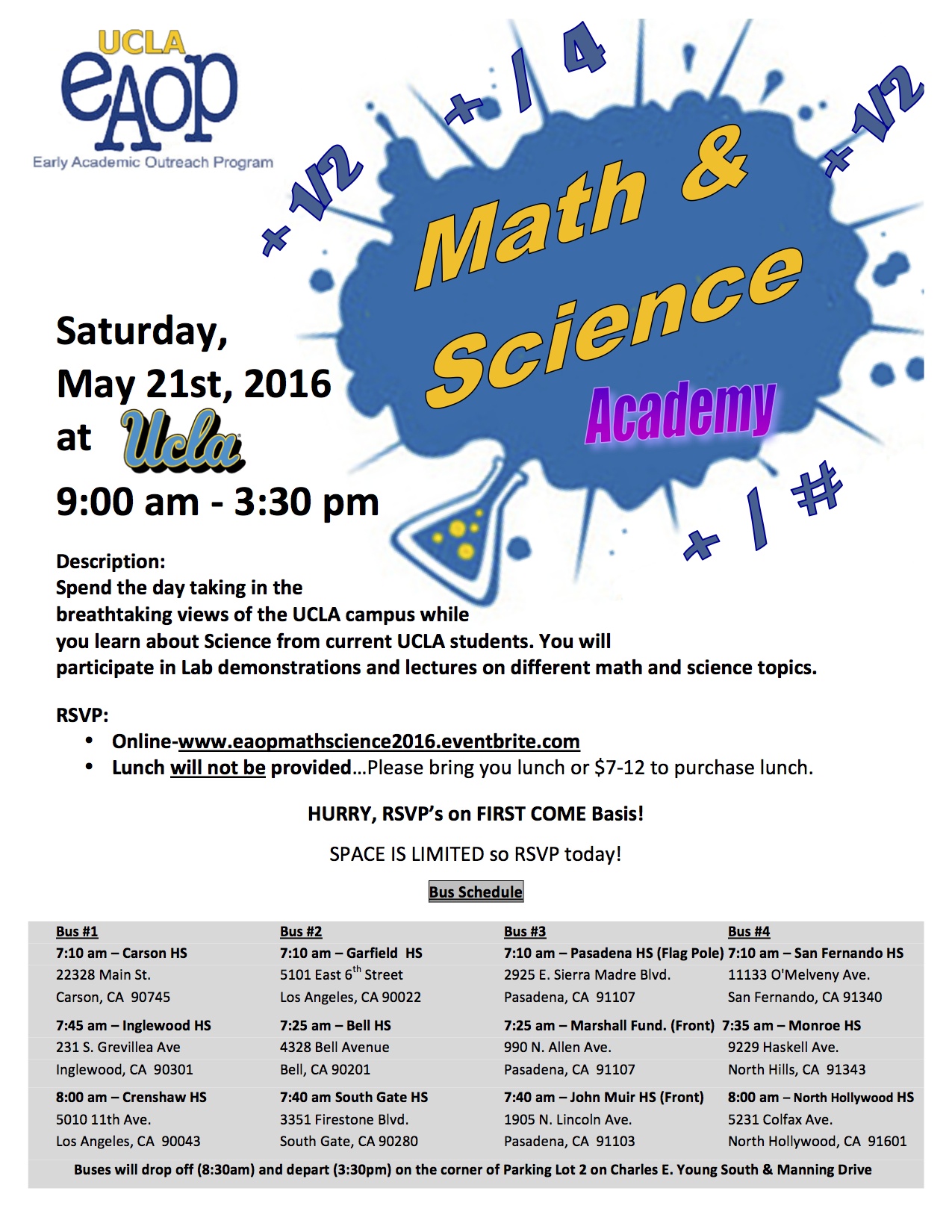 *Note* Buses leave promptly,  Early arrival recommended.
*Pick up Location* typcially pick in the front of the school (Flag Pole, if applicable).
If you have any questions, please call our office (310-794-4074 or email day of for urgent questions: uclaeaop@gmail.com
~~~~~~~~~~~~~~~~~~~~~~~~~~~~~~~~~~~~~~~~~~~~~~~~~~~~~~~~~~~~~~~~~~~~~~~~~~~~~~~~~~~
For more information contact your UCLA EAOP Coordinator or
Email: uclaEAOP@gmail.com
Tel: (310) 794-4074
Have questions about 2016 EAOP Math & Science Saturday Academy (FREE!)?
Contact UCLA EAOP
When & Where

UCLA Campus (Charles E. Young South & Manning Drive)
609 Charles E. Young Drive East
(Near Parking Lot 2)
Los Angeles, CA 90095


Saturday, May 21, 2016 at 8:30 AM (PDT)
Add to my calendar
Organizer
UCLA EAOP
The Early Academic Outreach Program (EAOP) is an academic preparation program established in 1976 by the University of California to expand postsecondary education opportunities for California's educationally disadvantaged students. UCLA EAOP works with students to help them become competitively eligible applicants for college admission, going beyond minimum eligibility.  EAOP works collaboratively with families, educators, schools, communities, and various campus departments to provide pre-college students with challenging academic enrichment activities to promote and cultivate a college-going culture.  EAOP is one of the state's most successful pre-collegiate student academic development programs. UCLA EAOP works with over 15,000 students in middle school and high school each year. This includes working with over 80 schools in 10 school districts. Since 1991, approximately 60% of EAOP seniors meet UC eligibility each year, 82% attend a postsecondary institution upon high school graduation and 62% attend a 4-year institution, with 25% attending a UC school.  EAOP includes:
+  Middle School Program
+ High School Program
+ UCLA Bruin Buddy Volunteer Program
+ EAOP Parent Ambassador Program
Academic Enrichment Activities and Opportunities for Students include: Saturday Academies emphasizing math, critical reading, writing and analytical skills; PSAT, SAT Workshops; Career Workshops, Summer Residential Academic Boot Camps; Academic Advising/IAP Development; Mentoring; Tutorial Assistance and or Referral; Parent/Family Workshops; College Conferences, Concurrent Enrollment; Campus Visits; and Study Skills/Learning Tools Instruction.
2016 EAOP Math & Science Saturday Academy (FREE!)