Location
Dr. Charles H. Wright Museum of African American History
315 E Warren Ave
Detroit, MI 48202
Description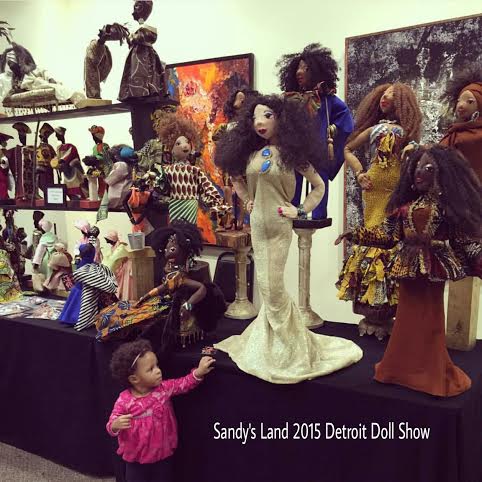 photo from the 2015 of Jaqueline Cole's Dolls and an attendee
Sandy's Land presents 5th Annual Detroit Doll Show
Saturday, November 12, 2016
PURCHASE TICKETS AT THE DOOR FOR $10
1:00 p.m. - 7:00 p.m.
Dr. Charles H. Wright Museum of African American Histor
315 East Warren, Detroit, MI 48201
2:00 pm Artist Corner - guest can purchase cd cover and tee shirt to paint.
3:00 p.m. 14 Inch Fabric Angel Doll Making Workshop taught by Doll Maker LaJeana Kennedy, Owner of Samm's World Doll Company
4:00 p.m. Doll Legacy Award Presentation and Tribute
5:00 p.m. Natural & Beautiful Do's on Dolls by Krystal Flemings who is a master natural hair stylist and artist
5:30 pm Doll Look Alike Contest
6:30 pm Announce Raffle Winner
The EVENT is OPEN to the PUBLIC
Check out our Facebook Event Page for Doll Vendors
Sheri Crawley, Founder of Pretty Brown Girll LLC, Honoree
Shamayin Sapphira Shu, Founder of The Avalon Village/Jakobi Ra Park, Honoree
Tribute to Mama Jendayi Iyi, Photographer, Queen Mother Artist Extraordinaire
Early Bird Tickets are priced at $5 until July 30, 2016 or until 200 are sold. Tickets sold the day of the event will be $10. This price is for everyone excluded infants to 12 months. Event is geared toward ages is 3 to 103. Vendors will be Doll Artists, Manufactures and Children Authors.
If you would like to participate as a vendor make sure to submit your website and or pictures of your dolls with a brief description of yourself to sandysland@gmail.com for approval. THANK YOU!
Our Motto is "Love the Skin You're In!" and our tag-line is "Image is Everything" because it is important that children and adults of color see themselve in a positive light. We feature dolls of color that are hand made and manufactured from artist and designers from around the world.
Sandra Epps, Founder created the Detroit Doll Show in 2011 because she believed it was critical for Women and Children to see themselves in the products that they use. Dolls teach children about themselves and the world around them. Playing with dolls help children develop cognitive, fine motor and self-help skills. Often times then not some brown teenagers and children struggle to love themselves because of the negative stereotype protrayed in media, in addition to society's depiction of "beauty."
The Detroit Doll Show is about celebrating diversity, culture, fashion, YOUR BEauty and having FUN.
www.detroitdollshow.blogspot.com www.sandyslandtips.blogspot.com
Vendors please send short bio and photos to sandysland@gmail.com
For questions call 313-492-6953