2016 DCCFF Spotlight Screening "Song of the Phoenix "|华盛顿华语电影节特别展映影片《百鸟朝凤》

Thursday, September 22, 2016 from 8:00 PM to 10:20 PM (EDT)
Event Details
百鸟朝凤 Song of the Phoenix
时长(Length):107分钟 (107 minutes)
导演 (Director):吴天明 (Tianming Wu)
主演 (Cast):陶泽如,李岷城 (Zeru Tao, Mincheng Li)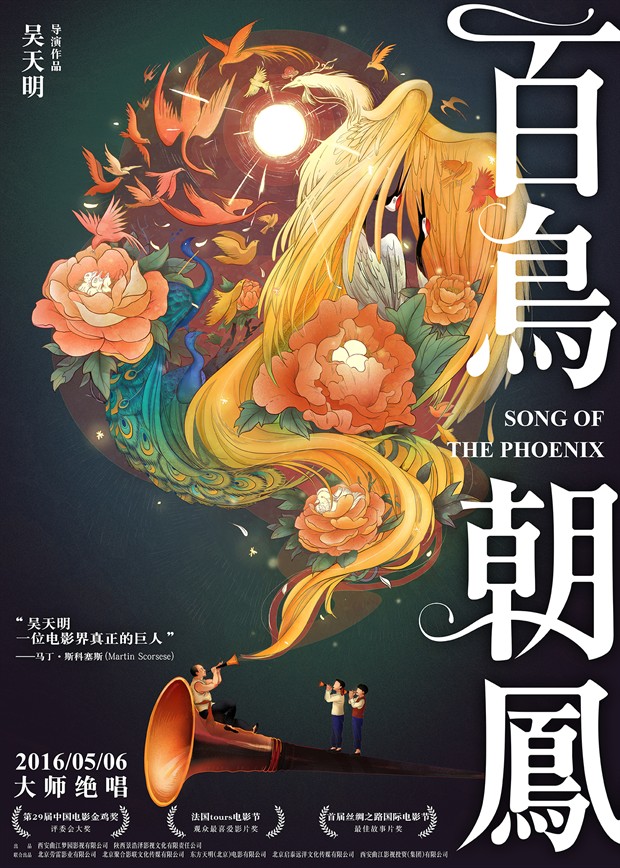 预告片(Trailer):https://youtu.be/jUK9GeWIvmo
简介:在无双镇,吹唢呐这种传之久远的民间艺术,绝不止于娱乐,更具意味的是它在办丧事时是对远行故去者的一种人生评价——道德平庸者只吹两台,中等的吹四台,上等者吹八台,德高望重者才有资格吹"百鸟朝凤"。"百鸟朝凤"这支高难度的曲子,也只有领军的唢呐高手才能胜任。整个无双镇,只有四方闻名的焦家班班主焦三爷能吹"百鸟朝凤"。焦三爷老了,急需培养接班人。挑谁?培养谁?怎样培养?如何率先垂范?徒弟游天鸣初进焦家班时年幼稚嫩,对焦三爷十分敬畏,虽然心有不甘被父亲"抛弃"在焦家班学艺,但仍有为争家门荣光全力博取师父赞许的信心。能够进入焦家班的学子必须人品端正,忠守唢呐艺人的德行,从骨子里做到"唢呐离口不离手",为考验两个徒弟是否符合标准,陶泽如这个面冷内热的黑脸师父使尽招数。
Synopsis: Song of the Phoenix, the final film of the late director Wu Tianming, charts the life and trials of You Tianming, a young suona (a Chinese double-reed woodwind instrument) apprentice who goes on to form his very own suona troupe at a time when the presence of traditional instruments declines in Chinese society. Tianming faces the harsh reality that his artistic calling is no longer in tune with a modern, urbanized China.
导演简介 (About Director):
吴天明,1984年执导影片《人生》获巨大轰动,好评如潮,获得了第八届电影百花奖最佳故事片奖,1988年导演了电影《老井》,获得第八届金鸡奖最佳故事片奖、最佳导演奖,第七届夏威夷国际电影节评审团特别奖。1994年吴天明执导《变脸》,获得1995年华表奖最佳对外合拍片奖,东京国际电影节最佳导演奖。 2002年执导张瑞敏原型创作电影《首席执行官》。2012年在《飞越老人院》中饰演老周。2013年9月凭借电影《百鸟朝凤》在第22届金鸡百花电影节获得了评委会特别奖。吴天明导演是中国电影的领军人物,除本人拍摄过多部优秀作品外,还带领一代人创造辉煌,为中国电影做出了巨大的贡献。
Wu Tianming  was a Chinese film director and producer who was considered one of the leading "Fourth Generation" directors. Born in Sanyuan County, Shaanxi Province, China, Wu Tianming attended the Beijing Film Academy, majoring in film directing after the Cultural Revolution. Wu was the head of China's renowned Xi'an Film Studio from the beginning of 1984, until political differences forced him to flee to the United States in 1989. At Xi'an Studio he nurtured prominent "Fifth Generation" directors Zhang Yimou and Chen Kaige. Wu returned to China from his U.S. exile in 1994, and directed the acclaimed film The King of Masks. He died on March 4, 2014 from a heart attack, at the age of 74.
Have questions about 2016 DCCFF Spotlight Screening "Song of the Phoenix "|华盛顿华语电影节特别展映影片《百鸟朝凤》?
Contact DC Chinese Film
When & Where

Landmark E Street Cinema
555 11th St NW. Washington, DC 20004
The corner of E and 11th. The entrance is on E street, between T-Mobile and Qdoba.
Washington, DC 20004


Thursday, September 22, 2016 from 8:00 PM to 10:20 PM (EDT)
Add to my calendar
Organizer
DC Chinese Film
Founded in 2011, DC Chinese Film Festival (DCCFF) is run by passionate volunteers who share the same vision: to break cultural barriers and bring about social change through the power of film. Every two years, we bring together artists, film professionals, film lovers, and scholars to Washington DC, the capital of documentary and independent filmmaking, for a week-long treat of rare screenings, cutting-edge panel discussions, and networking events.
2016 DCCFF Spotlight Screening "Song of the Phoenix "|华盛顿华语电影节特别展映影片《百鸟朝凤》