2016 Conference of the Mormon Transhumanist Association

Saturday, April 9, 2016 from 9:00 AM to 6:00 PM (MDT)
Event Details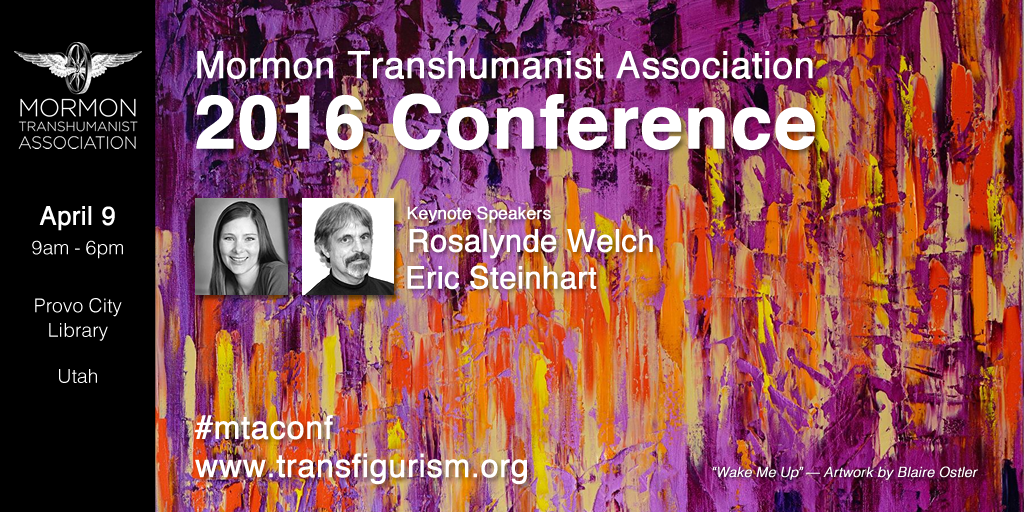 The 2016 conference of the Mormon Transhumanist Association will be held on Saturday 9 April 2016 from 9:00am to 9:00pm in Provo, Utah, at the Provo City Library. Speakers will present on the themes of Mormonism, Transhumanism and Transfigurism, with particular attention to topics at the intersection of technology, spirituality, science and religion. Previous conferences sponsored by the Mormon Transhumanist Association include the 2015, 2014, 2013, and 2012 conferences of the Mormon Transhumanist Association, the 2010 Transhumanism and Spirituality conference, and the 2009 Mormonism and Engineering conference. The conference is open to the public. 
Paper Submissions
The deadline for paper submissions is 1 February 2016. Please submit your papers soon! More details can be found on our call for papers.
Keynote Speakers
Rosalynde Welch holds degrees in English literature from Brigham Young University and the University of California, San Diego, where her dissertation focused on private conscience in early modern English literature. She writes on interreligious issues for the St Louis Post-Dispatch, and she blogs on Mormon issues at timesandseasons.org. She also serves as the managing editor of the Mormon Review, and she steals the occasional afternoon to pursue her own research agendas in early modern literature and Mormon literature and philosophy. Rosalynde and her husband, together with their four young children, make their home in St Louis, Missouri.
Eric Steinhart is the author of Your Digital Afterlives: Computational Theories of Life After Death and Professor of Philosophy at William Paterson University. He works primarily on metaphysics using contemporary analytical and logical methods and tools. He is also interested in historical metaphysical systems (particularly Plotinus, Neoplatonism, and Leibniz). Steinhart grew up on a farm. He was originally trained as a computer scientist and mathematician, and worked as a software designer for several years. Some of his algorithms have been patented. He holds advanced degrees in philosophy. His past work has concerned Nietzsche as well as metaphor (analyzed using possible worlds semantics). He has written extensively on the metaphysics and computation. He is featured in the film Chronotrip, a documentary about time travel. He is increasingly interested in the philosophy of religion, focusing on the intersection of the formal sciences and theology. He is especially interested in alternatives to Abrahamic religion. He affirms the existence of transfinitely endless hierarchies of sets, computers, languages, games, strategies, and minds. He believes in the existence of more things than you do. He also likes New York City, New England, mountain hiking, all sorts of biking, chess, microscopy, and photography.
Other Speakers
Ben Blair holds a PhD in Philosophy and Education from Teachers College, Columbia University, and is a Co-Founder of Teachur.co, a platform to de-institutionalize education. He and his wife, Gabrielle Blair, are the parents of six children, and live in Oakland, CA.
Blaire Ostler is a designer and artist. She holds a BFA degree in design, and specializes in abstract modern art. Her paintings can be seen throughout residences and businesses in Seattle. She and husband Drew have three children whom Blaire currently homeschools. She is passionate about esthetics, design, art, spirituality, photography, gender equality, animal ethics, and early childhood education. She is CEO and a board member of the Mormon Transhumanist Association.
Caleb Jones lives in the Pacific Northwest is a husband, father, engineer, and a practicing member of the LDS Church. He has a Computer Science degree from BYU and works as a Systems Architect at Disney focusing on large-scale data. He is passionate about science & religion particularly in areas such as astronomy, network science, emergentism, religious cosmology, and transhumanism. His introduction to transhumanism came from the writings of Freeman Dyson and have developed through associations with the MTA. In addition to blogging on the MTA blog transfigurism.org, Caleb also blogs about network science analysis and visualization on allthingsgraphed.com and co-authors the blog navigatingdiscipleship.com with his wife.
Carl Youngblood has been an avid technology enthusiast since early childhood, and has been earning a living as a software engineer since 1997. He was a Mormon missionary for two years in Brazil, where his newfound aptitude for language led him to eventually get a degree in Portuguese from Brigham Young University, and later a masters in Computer Science from the University of Washington. Carl's struggle to apply his faith meaningfully in today's rapidly-changing world led him to co-found The Mormon Transhumanist Association in 2006. Carl is passionate about science, technology, religion, philosophy and the performing arts. Carl is vice president, a board member, and a founder of the Mormon Transhumanist Association.
Chris Bradford was born in Utah, but soon moved to Washington DC and then overseas for his father's employment. He has lived in Egypt, Germany, Jordan, Pakistan and Italy, where he served an LDS mission. A self-taught programmer, he manages social & mobile development at Ancestry.com. He has a degree from Brigham Young University in linguistics. Chris and wife Lucy have five sons and three daughters. Chris is passionate about science, technology, religion, philosophy, and the performing arts. Chris is a board member and a founder of the Mormon Transhumanist Association.
Jacob Baker is a PhD student in Philosophy of Religion and Theology at Claremont Graduate University. He is working on a doctoral dissertation that explores the inherent unthinkability of the problem of evil in philosophy and theology as central to its status as a "problem." 
James Carroll is a transhumanist Unitarian Universalist Buddhist Possibilian, and a Bayesian Utilitarian. He has a PhD in computer science, and a minor in Ancient Near Eastern history. As a graduate student he taught Pearl of Great Price, Isaiah, and the Book of Mormon in the BYU Ancient Scripture department. He is currently a scientist at the Los Alamos National Laboratory doing ensemble machine learning research and computer assisted radiographic image analysis for nuclear stockpile stewardship. His interests include artificial intelligence, machine learning, statistics, linguistics, consciousness, comparative ritual, RC model planes, and photography.
Jared Anderson is the president and founder of the Olam Institute, a religious non-profit that nurtures constructive approaches to religion and religious education. His primary goal will be to establish Religious Humanism, first online and then in physical communities. Jared has taught religion courses over the past ten years at Westminster College, the University of Utah, and the University of North Carolina at Chapel Hill, where he is currently completing his PhD.
Jon Bialecki is a fellow in the School of Social and Political Science at the University of Edinburgh. His academic interests include the anthropology of religion, anthropology of the subject, ontology and temporality, religious language ideology, and religious Transhumanist movements. He received his BA, MA, and Ph.D. from the University of California, San Diego, and his JD from the University of San Diego. His work has been published in several edited volumes, as well as in academic journals such as the South Atlantic Quarterly, American Ethnologist, Anthropological Theory and the Journal of the Royal Anthropological Institute; he was also recently a co-editor of a special issue of Anthropological Quarterly that focused on Christian Language Ideology.
Joseph West is a PhD candidate in sociology at University of Arizona. He has a Bachelors in Philosophy from University of Utah, and a Masters in Sociology from University of Arizona. His research focuses on religion, social networks, culture and social movement mobilization. Joseph is a single dad of two children. He spends his spare time reading, watching movies, and enjoying good conversation. Joseph is a board member of the Mormon Transhumanist Association.
Lincoln Cannon is a technologist and philosopher, and a leading advocate of technological evolution and postsecular religion. He has two decades of professional experience in information technology, including leadership roles in software engineering and marketing technology. Lincoln holds degrees in business administration and philosophy. He is married with Dorothée Vankrieckenge, a French national, and they have three bilingual children. Lincoln is president, a board member, and a founder of the Mormon Transhumanist Association.
Michaelann Bradley is the marketing & communications manager for the local Provo United Way and specializes in creating systems and operations that enable meaningful social impact. She is passionate about fundraising and online crowdfunding, using technology to foster community, and radical self sufficiency empowered by the internet. In addition to her involvement with the MTA, she serves as treasurer on the board of the group LDS Earth Stewardship. She and her husband Don live in Provo, Utah.
Micah Redding grew up as a preacher's kid, spent eight years as a rock musician, and was once involved in the high-speed pursuit of a spy plane. Now he develops software, and writes about the intersection of human values and technology. Micah is executive director, a board member, and a founder of the Christian Transhumanist Association.
Nathaniel Givens is a writer, entrepreneur, and tech worker. He has degrees in math (BS, University of Richmond), systems engineering (ME, University of Virginia), and economics (MA, University of Michigan.) Nathaniel operate Difficult Run (a blog about politics, policy, and philosophy) and The Loose Canon (a blog about science fiction). He also writes for Times and Seasons, First Things, Real Clear Religion,Meridian, and Utah Politico Hub. He helped found a mobile software development studio in 2011 that was sold in 2015. In his day job, he is director of client solutions for a boutique software development consultancy. He lives in Williamsburg, VA with his wife and two children.
Tom W. Bell's religious views have passed from childhood faith (Methodist-style) to militant atheism, then shrugging agnosticism, and of late:  recreational theology. He earned a B.A. in philosophy from the University of Kansas, an M.A. in philosophy from the University of Southern California, and a J.D. from the University of Chicago. Tom serves on the faculty of Chapman University, Fowler School of Law, where he teaches all of the first-year common law courses and electives in high-tech and intellectual property. He has published papers on copyright, Internet law, polycentric law, constitutional law, prediction markets, and the Third Amendment (that's the one about quartering troops). His books include Intellectual Privilege:  Copyright, Common Law, and the Common Good (Mercatus, 2014) and Your Next Government?  From The Nation State to Stateless Nations (Cambridge University Press, forthcoming 2017). Through his consulting firm, Archimediate LLC, Bell advises companies developing special economic zones on the design, installation, and support of private legal systems.
Schedule
| | | |
| --- | --- | --- |
| 9:00 AM | Key to the Science of Theology | Lincoln Cannon |
| 9:20 AM | Transhumanism as Grace | Chris Bradford |
| 9:40 AM | Diversity of God | Blaire Ostler |
| 10:00 AM | "Help thou mine unbelief": Rescuing faith in a postsecular era | Carl Youngblood |
| 10:20 AM | An open letter to the lost children of Mormonism | Joseph West |
| 10:40 AM | Doubt, hope, and speculation: A preliminary ethnographic sketch of the Mormon Transhumanist Association | Jon Bialecki |
| 11:00 AM | Keynote: "A Material Girl in a Material World: Mormonism, Materialism and Gender" and Q&A | Rosalynde Welch |
| 12:00 PM | Lunch |   |
| 12:40 PM | Seven Steps Toward an Authored Universe | Tom W. Bell |
| 1:00 PM | Meaning and the Broken Myth: Maintaining a Sense of Value and Purpose During a Faith Transition | James Carroll |
| 1:20 PM | Zion as Superorganism | Nathaniel Givens |
| 1:40 PM | Artificial Intelligence and Suffering | Michaelann Bradley |
| 2:00 PM | Reverse-Engineering Religion | Jared Anderson |
| 2:20 PM | Seek Ye First the Kingdom of God: Religion, Disaffection, and the Prospect of Community | Ben Blair |
| 2:40 PM | "Unto what shall I liken?": Semiological Insights on Revelation | Caleb Jones |
| 3:00 PM | Break |   |
| 3:40 PM | The Horror of Transhumanism at the Limits of Thought: The Unthinkable, the Non-Human, and the Universe-without-Us | Jacob Baker |
| 4:00 PM | The Infinite Resurrection | Micah Redding |
| 4:20 PM | Keynote: "Eternal Progression" and Q&A | Eric Steinhart |
| 5:20 PM | Panel discussion and Q&A with Chris Bradford, Rosalynde Welch and Eric Steinhart |   |
| 5:55 PM | Farewell | Chris Bradford |
| 6:30 PM | Dinner at Los Hermanos |   |
Registration Discount
If you are a voting member of the association, a speaker at the conference, or a sponsor of the conference, your registration is free and the association will give your guest a discount. Also, if you represent a media outlet and would like to report on the conference, your registration is free. If any of these cases apply to you, please contact an association officer or email admin@transfigurism.org for your access code before registering.
If you are a student, unemployed or resident of a less-developed country, discounts are available at registration time. Conference organizers will ask you to provide evidence of your student, unemployed or residency status when you check in at the conference.
Travel Assistance
The association may cover up to 50% of your travel costs to attend the conference if you meet the following criteria:
1) You must be a voting member of the association.
2) You must present at the conference.
3) You must live at least 300 miles from Provo, UT.
If you meet the above criteria, you may request assistance by contacting an association officer or emailing admin@transfigurism.org.
Food
Lunch and dinner on the day of the conference are included in the reservation price.
Lodging
The association cannot directly cover lodging expenses. However, association members living in Provo and nearby areas may be able to help. We encourage members willing to provide lodging in their homes and members seeking lodging to communicate on the association Google group and Facebook group.
After-Conference Activities
Our monthly Sunday evening meetup will be held the day after the conference. We invite conference attendees who are still in town to attend this event at 8pm the following day. If there is sufficient interest, we will also organize a day-time tour of the area that day. If you would like to participate, please indicate your interest during registration, so that we may make appropriate arrangements.
When & Where

Provo City Library, Bullock Room
550 North University Avenue
Provo, UT 84601


Saturday, April 9, 2016 from 9:00 AM to 6:00 PM (MDT)
Add to my calendar