2016 Chicago St. Pats Trolley Bar Crawl

Saturday, March 12, 2016 from 8:00 AM to 2:00 PM (CST)
Event Details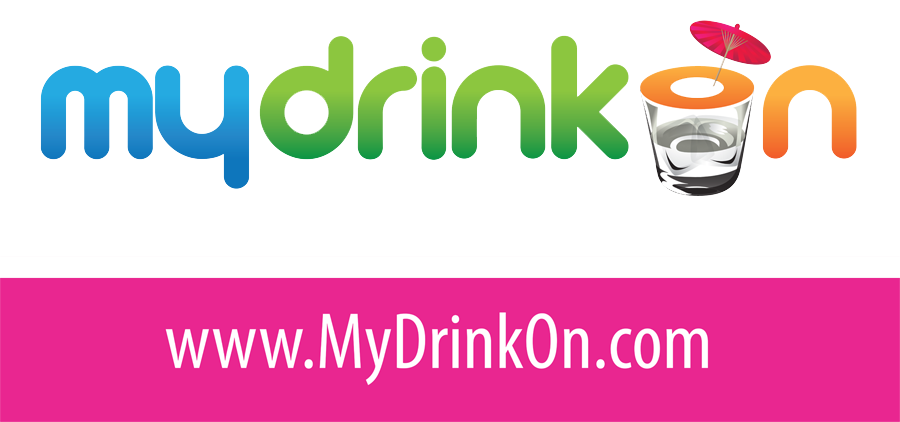 Join My Drink On (MyDrinkOn.com) for the largest St. Pats event in Chicago! Dawn your green or orange as you wet your beaks and break through this winter cold, travel miles through our great city flaunting your Irish pride and embrace the company around you supporting your shenanigans!  The crawl begins at 8am with trolley service going from 9am-1230pm & includes (2) $5 gift cards featuring Bushmills (food and beverage), drink specials, Photo Hunt for prizes, St. Pats medallion & more!

Updated information & specials @ StPatsTrolley.com

Save additionally for a short time with our partners Zozi Groupon & Living Social!

We will only sell 1,000 tickets this year, buy early or we could be out! Once sold out, check out our event in Wicker Park! StPatsCHI.com!


Have a large group or want to get Paid to Party!? Email info@mydrinkon.com and we will hook you up! We offer free tickets and $$$$ to share on Social Media & with your friends!

Check Out last year's event photos on MyDrinkOn.com or Facebook.com!
Contact info@mydrinkon.com with questions and group rates!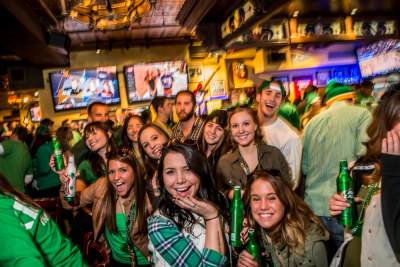 Who:
Only 1000 Tickets will be sold this year (Past years we have brought out over 4,000 people)!
What:


Tickets Include: 


Admission to participating venues (no cover charge at any venue)

(2) $5 Promo Cards Featuring Bushmills (Food & Drink)

 

Trolley Transportation (9AM-1230PM)

Drink Specials

St Pats Medallion

Photo Hunt for Prizes and Shenannigans!

Uber Credit MyDrinkOn for $30 (up to, new users) (www.uber.com/go/MyDrinkOn)
Where (are subject to change):

Pre Check Offered 4 Nights (530PM-9PM) Pick Up Packets For All Friends!

Tuesday: Woodhaven 712 N Clark
Wednesday: Barn & Co. 950 Wrightwood
Thursday: LA Social 2263 N Lincoln
Friday: Hard Rock Cafe 63 W Ontario
Saturday (8AM-10AM) 2001 N Orchard
 Venues - 
Beaumont Bar and Grill (2020 N Halsted St #1) - $4 Nutty Irishman, $4 Shamrock Shake Shots, $4.50 Guiness, $4.50 Bushmills, $5.50 Corn Beef Sandwiches w/Fries
Mason (2138 N Halsted) - Free Breakfast & Specials
Fairways (1141 Armitage) - $4 Green Miller Lite, $Fireball & $5 Jameson
Shoe's Pub (1135 Armitage) - $4.50 Coors Green Beer, $8 Irish Carbombs, $6.50 Guinness
O'Malley's West (2249 N Lincoln Ave) - $5 Bushmill shots, $5 Mini Carbombs (Bushmills) & $10 Coors Light Pitchers
Lion Head (2251 N Lincoln Ave) - $5 Bushmills & $5 Heineken Bottles. 
Redeem card for food buffet! Starting @ 8am ( Eggs, pancakes and Hasbrowns ) 
Lincoln Park Tavern (2238 N Lincoln Ave)  - $3 Green Beer, Canon Blast Shots, $5 House Drinks & Bombs
Max Bar (2247 N Lincoln Ave)
Kelsey's (2265 N Lincoln Ave)
LA Social (2263 N Lincoln Ave) - $5 Bushmills, $5 Domestics
Barn & Company (950 W Wrightwood Ave) - $5 Bushmills
Gamekeepers Tavern and Grill (345 Armitage Ave) - $5 Smirnoff Bombs, $5 Jameson Shots, $12 Domestic Draft Pitchers
Stanley's (1970 N Lincoln Ave) - $5 Bushmills & $5 Green Bud Light
Joe's on Weed Street (940 W Weed St) -$5 Green Bud Light Draft, $5 Bushmills Shot
Pomp & Circumstance (1400 N Wells)
Declan's (1240 N Wells) - $5 Bushmills Shots
McFadden's (1206 N State Pkwy) - $ 7 Bushmills Shots, $5 Miller Lite, $ 5 Coors Light. Entertainment: Tilt walkers, face painters, leprechauns & cash giveaways for contests!
Tripoli Tavern (1147 W Armitage Ave) - $4 Bushmills Shots & $4 Samuel Adams Shots
Detention Nightclub (9 W Division St)
Underground Wonder Bar (710 N Clark)
Woodhaven (712 N Clark) - $5 Green Beer, $7 Bushmills Shots, $2 Jello Shots (3 for $5)
Hard Rock Cafe (63 W Ontario) - $5 Bud Light Drafts & $6 16oz Goose Island 312, Green Line & Bud Light Aluminum Bottles, $3 Jello shots, $6 Irish Car Bombs & $6 Bushmills
The Godfrey Hotel (127 W Huron St) *Opens @ 10am* - $3 Miller Lite Bottles, $8 Patty Bombs (Vodka, Melon Liqueur, Fresh Sour and Red Bull Edition)
Four Farthings (2060 N Cleveland) - $4.50 Domestic Bottles, $6 Fireball Shots, $6 Finlandia Cocktails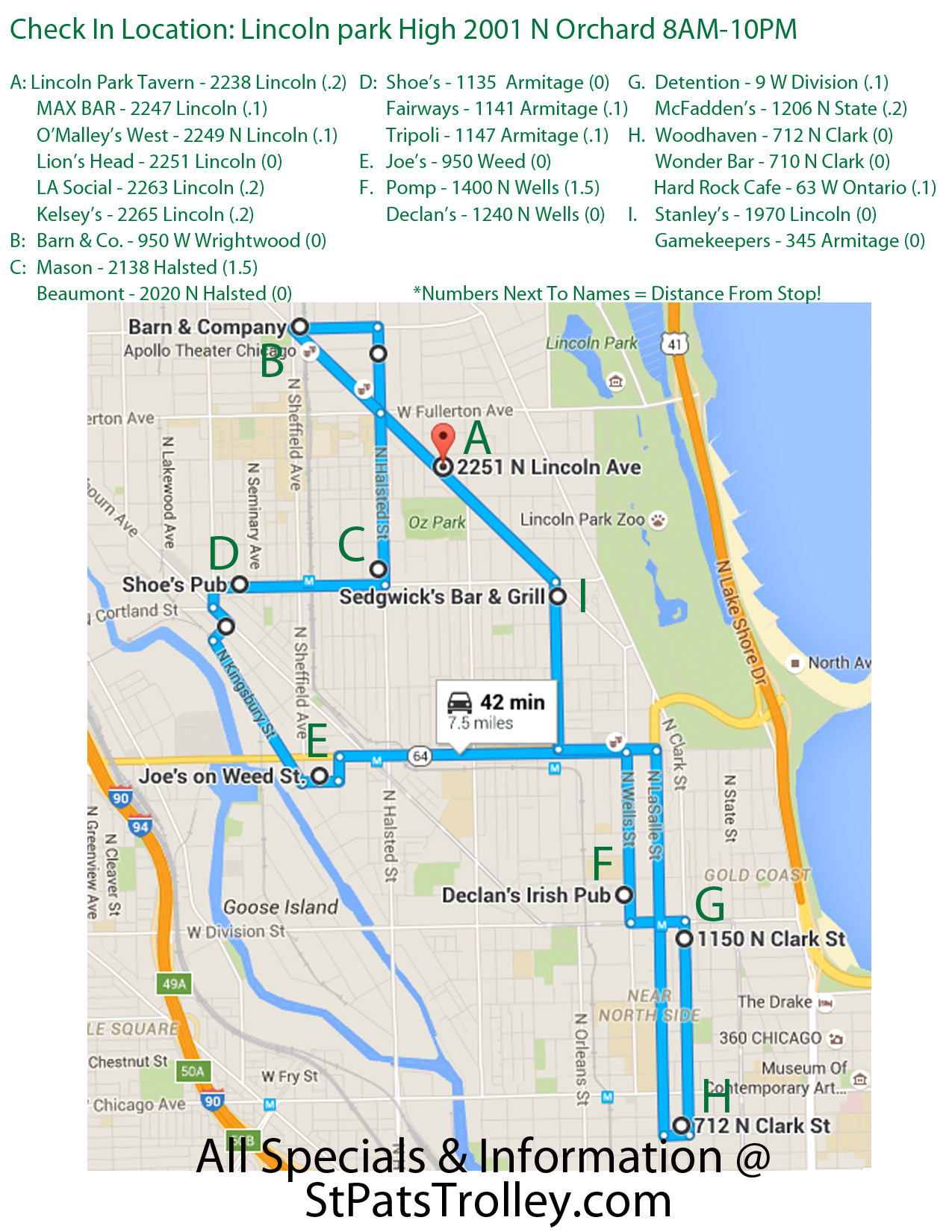 When:
Saturday, March 12th, 8am-2pm
*Portion of proceeds will benefit Local Charity!

Venues & Specials to be updated Shortly! (*Venues Subject To Change)

Save $$$ by sharing the event on Facebook!


Win a pot o gold on St. Pats by participating in our Photo Hunt!

For each photo use the following (Facebook, Instagram or Twitter):

For each photo use the following:
Tag @MyDrinkOn #Bushmills #CHI #StPats

1st Place Most pictures wins cash prize and event tickets all year!
2nd Place wins smaller cash prize and event tickets all year!
3rd Place wins event tickets all year!

Photo 1:
Photo with someone with a beard

Photo 2:
Doing an Irish Jig

Photo 3:
Group photo all wearing green

Photo 4: 
Pinching someone not wearing green

Photo 5: 
Photo of "Kiss Me I'm Irish" Slogan

Photo 6:
Photo with a four leaf clover/Shamrock

Photo 7:
Photo with a leprechaun

Photo 8:
Photo of group cheer with drink or shot

All Guests Must Be 21+ w/ID

No Refunds 

Bars Subject To Change 

Please contact info@mydrinkon.com for questions and group rates!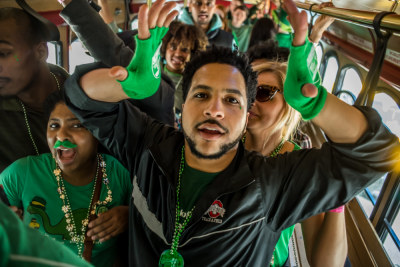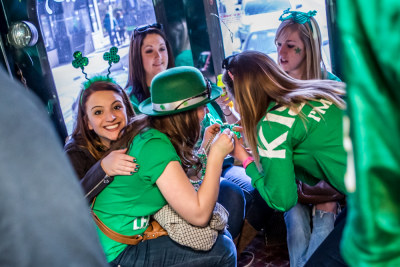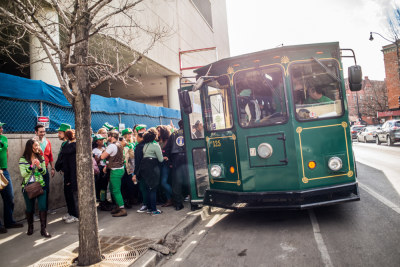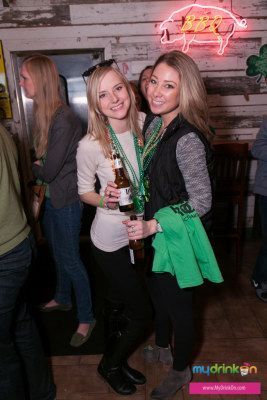 Check out MyDrinkOn.com for our Holiday Trolley & Limo Events, Bi-Weekly Trolley Tours, Tasting Events, & More Events in 2016! 

About: MyDrinkOn (MyDrinkOn.com) now services 10 cities in the US with great events such as Pub/Trolley Crawls, Tastings, Yacht Parties, Holiday Themed Events, Private Parties and Charity Fundraisers! Our focus is solely throwing a great event, great experiences and having awesome memories! That is why our life motto is "Make Every Ounce Count!"
You will pick up 1 wristband (do not lose, need to get on trolleys) and packet (valid at select locations and we will announce were) SEE FAQ BELOW! THIS WILL HELP ANSWER MANY QUESTIONS!

FAQ:

Q: Can I pick up for my friends on Saturday March 12th?
A: No, every person who shows up to check in Saturday can only claim 1 packet for each person they are with. So we suggest pre-check-in for your friends! We will have dates each night the week before the event!

Q: Do I have to check in?
A: Yes! You must get your packet so you can board the trolleys and get your gift cards!

Q: Can I pay cash or credit at the door!?
A: NO! All sales must go through StPatsTrolley.com!

Q: If I have my materials from pre-check-in where do I start?
A: At any bar you like! Once you have your wristband and materials you are ready!

Q: Where are the stops and how do I know they are a stop?
A: Stops are in loading zones or bus stops: Map is available acloser tot he event date and provided the day of!

Q: Do we get express entry into the bars?
A: No, it is a crazy day and there could be lines. You will need to wait, walk to a close bar also on the event or get back on a vehcile.

Q: Is there cover at any of the bars?
A: Not for you!

FYI: If you bought a ticket from another site you must register on ours before you pick up your materials, so if you have friends who bought else where, kindly remind them to REGISTER!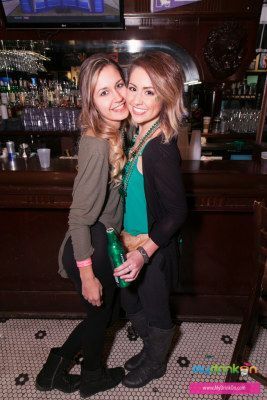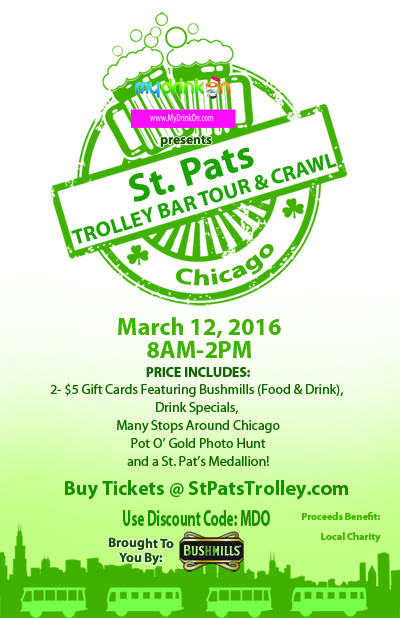 What to Know 
FAQs
 Are there ID requirements or an age limit to enter the event?
You must be 21!
What are my transport/parking options getting to the event?
Paid parking options are in the area, but we suggest Uber (Code MyDrinkOn) or Taxies!
Enjoy $30 towards first ride with Uber credit to the event with code MyDrinkOn (New Users Only)!


Where can I contact the organizer with any questions?
Info@mydrinkon.com or for group rates!

Is my registration/ticket transferrable?
Yes, log back into your account or email us!

Can I update my registration information?
Yes, log back into your Eventbrite account.

Do I have to bring my printed ticket to the event?
Yes or have it on your phone. We will scan it upon arrival.

What is the refund policy?
We do not offer refunds for this event.

The name on the registration/ticket doesn't match the attendee. Is that okay?
Not an issue as long as the ticket is printed or on a phone we can scan it. Attendee still must be 21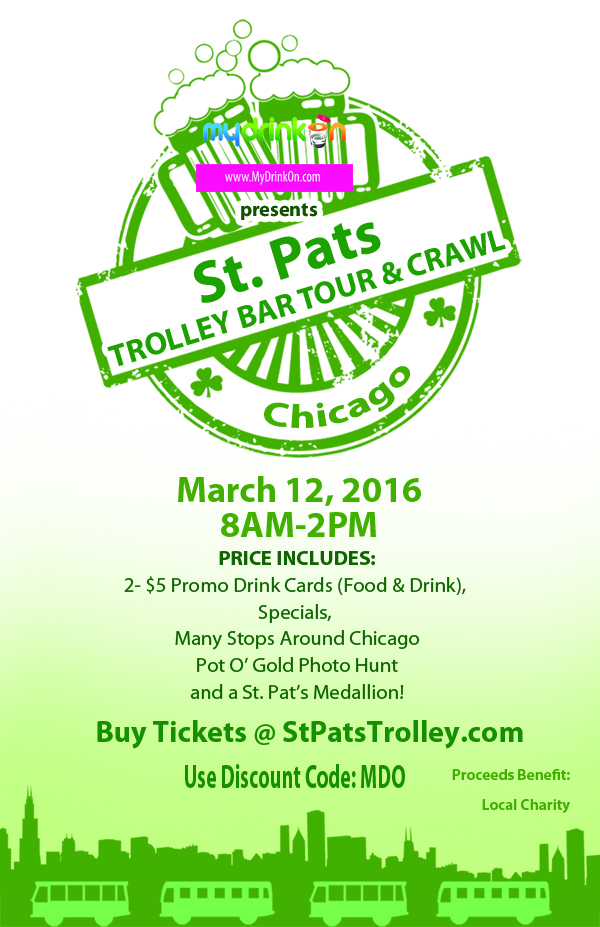 When & Where

Pre Check Locations Below - Day Of @ LP High School Various Locations Lincoln Park, Old Town, River North
2001 N Orchard
Chicago, IL 60614


Saturday, March 12, 2016 from 8:00 AM to 2:00 PM (CST)
Add to my calendar
Organizer
My Drink On (MyDrinkOn.com)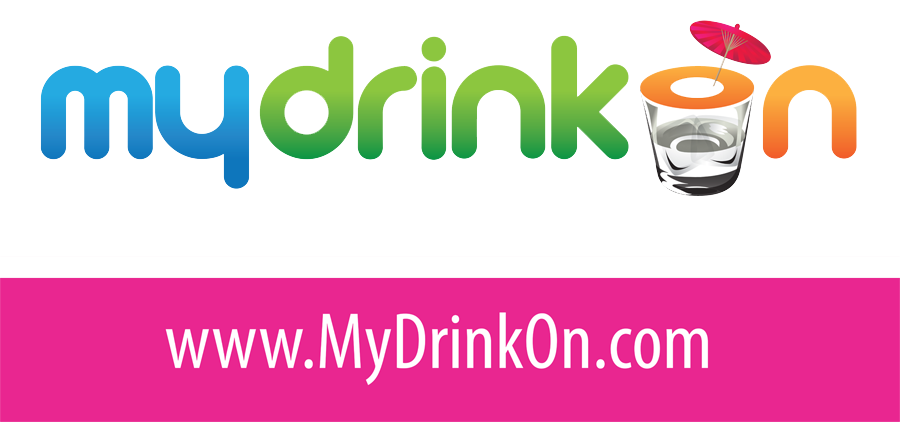 2016 Chicago St. Pats Trolley Bar Crawl