2016 Chicago Innovation Summit
When and where
Location
Chicago Symphony Orchestra Buntrock Hall 220 South Michigan Avenue Chicago, IL 60604
Description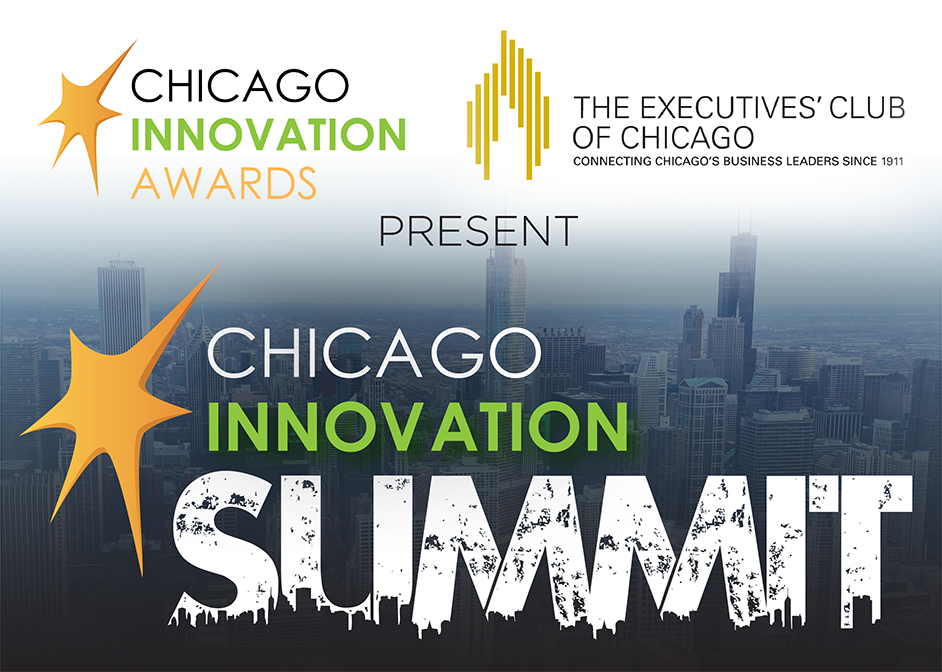 The Chicago Innovation Awards and the Executives' Club of Chicago are partnering for the first ever Chicago Innovation Summit! Featuring top innovation minds and leaders, this half-day event will showcase new ideas and strategies to help grow your business.
1:30pm-2:00pm: Registration
2:00-3:00pm: Innovation from the Top
3:15-4:15pm: Awareness, Capital and Talent
4:30-5:30pm: Growth through Disruption
5:30pm-6:30pm: Networking, drinks & hors d'oeuvres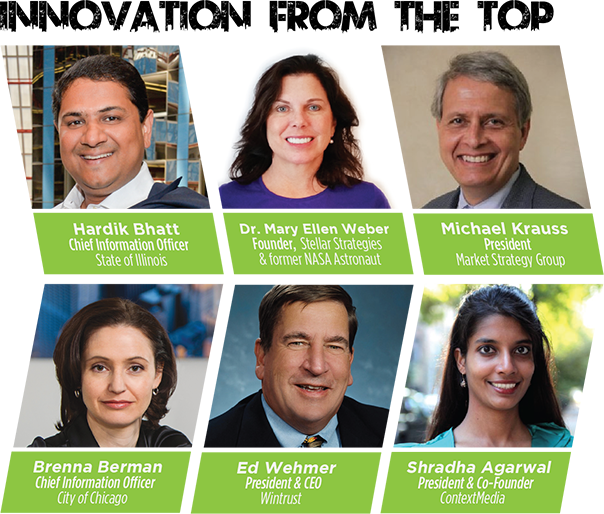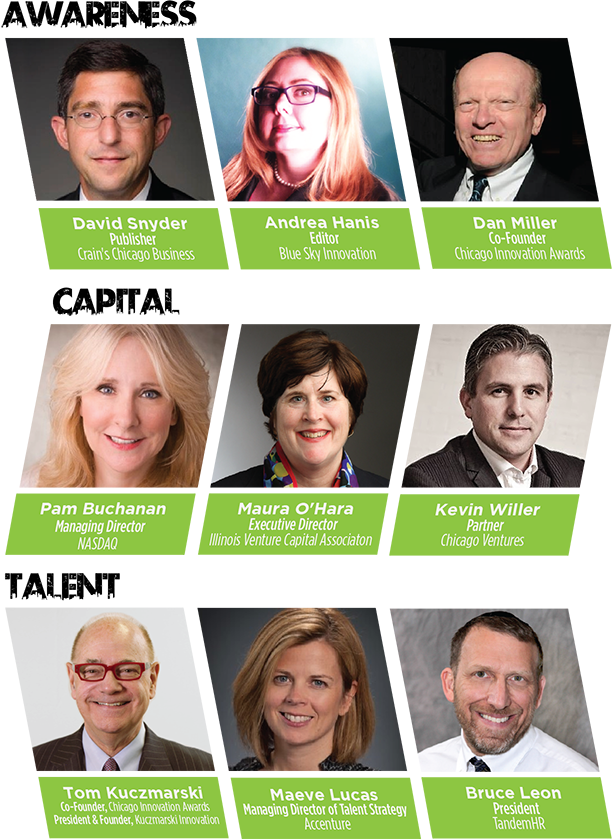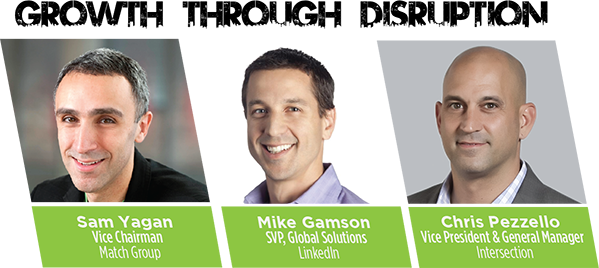 Like past Chicago Innovation Awards events, we expect this event to sell out. Please RSVP soon if you plan to attend.
Food and drinks are complimentary, and provided by Blue Plate.
About our partner: The Executives' Club of Chicago
The Executives' Club is Chicago's premier membership organization and business forum. For more than one hundred years, The Club has been a valued resource for Chicago's business leaders - connecting members, providing opportunities for strategic relationship development, access to intellectual exchange and world class speakers, and enhanced exposure to the broader business community.
Driving to the Chicago Innovation Summit?
We recommend reserving parking in advance with SpotHero!
SpotHero is a parking reservation service that connects drivers to discounted, convenient parking. Download the SpotHeroiPhone |Android app or visit the Chicago Symphony Orchestra SpotHero Parking Page to find and reserve convenient parking with rates up to 30% off drive-up.
New to SpotHero? Download the app and enter promo code INNOVATION for an extra $5 off parking. That's $5 off already discounted rates!
Speaker Bios
Shradha Agarwal
Shradha Agarwal is the President & Co-founder of ContextMedia, a healthcare media company that delivers lifestyle education to 20M patients each month nationally. Her organization has doubled its revenue, profitability and distribution year-over-year while being consistently recognized for its culture, customer service and technology leadership. Shradha also co-founded JumpStart Ventures in 2011 to fund other passionate entrepreneurs who are executing ambitious solutions in healthcare, education and media communications. In 2015, ContextMedia received a Chicago Innovation Award for their Exam Room Tablet.
Brenna Berman
Brenna is CIO and Commissioner of the Department of Innovation and Technology for the City of Chicago, where she focuses on integrating advanced analytics and data-driven decision-making, and setting a new standard for government IT and connectivity. Prior to government, Brenna spent 10 years at IBM, where she worked closely with government agencies across the world to leverage technology and analytics to improve the services they provide to their residents.
Hardik Bhatt
Hardik Bhatt is the Secretary Designate of the newly formed Department of Innovation and Technology and the Illinois State CIO in Governor Rauner's cabinet. Hardik leads 1,700 IT employees and over $1B of technology budget, including a P&L, for digital transformation of Illinois Government. Hardik also built and led the Smart Chicago program, which is considered a national model. Prior to joining the public sector, Hardik worked as a consultant with Oracle corporation in the US and Tata Consultancy Services (TCS) in India. Hardik has an MBA from Kellogg and Bachelor degree in Computer Science from India.
Pam Buchanan
Pam Buchanan is Managing Director at the Nasdaq Stock Market and has worked at Nasdaq for the last 10 years. She was responsible for IPOs in the West, including Silicon Valley, San Francisco, Los Angeles, San Diego, Phoenix and Denver. She has worked with high-profile companies such as Tesla and Facebook. She is now working out of the Nasdaq Chicago office and continues to work with IPOs and also Nasdaq listed companies.Prior to Nasdaq, Pam worked in the financial services industry at Deutsche Asset Management for 18 years.
Michael Gamson
Michael Gamson, also known as Mike, has been Senior Vice President of Global Solutions at LinkedIn Corporation since January 2011. Gamson oversees various functions ranging from field sales and professional services representatives, to research analysts, account managers and operational experts. Previously, Mike was Director of Product Marketing at Advent Software, a provider of enterprise software for investment managers, Mike began his career as an entrepreneur in Costa Rica, founding a restaurant and boutique hotel in 1996. Mike holds a BA from Amherst College.

Andrea Hanis
Andrea Hanis is the editor of Blue Sky Innovation, a Chicago Tribune premium content site about innovation, entrepreneurship, Chicago's tech community, creative workplaces and big ideas. Blue Sky Innovation also publishes the Blue Sky Vault, a business resource with guides to top innovators, events, coworking spaces and educational resources. Its Innovation Hub presents content from top providers including Inc. magazine and groups including the Chicago Innovation Awards, Chicago Ideas Week and the City Club of Chicago. Andrea is a graduate of Indiana University and previously worked at Crain's Chicago Business and the Chicago Sun-Times.
Michael Krauss
Michael Krauss began his career in packaged goods marketing and helped launch the number two chocolate chip cookie brand, Keebler's Chips Deluxe. He migrated from chocolate chips to computer chips and was part of the team that created Andersen Consulting. He later grew OmniTech Consulting --- a business strategy and change management services firm that was acquired by Diamond Technology Partners. His current professional services venture, Market Strategy Group, focuses on helping organizations develop and execute strategies to achieve growth and align teams within those organizations to succeed.
Thomas D. Kuczmarski
Thomas D. Kuczmarski, president of Kuczmarski Innovation, is a nationally recognized expert in the innovation and development of new products and services. Over the course of his career, he has helped hundreds of clients, ranging from small businesses to Fortune 100 corporations, learn to systematically unlock the value of innovation. The author of six books and many articles, Kuczmarski has taught product and service innovation at Northwestern University's Kellogg Graduate School of Management for 32 years. Kuczmarski is also the founder and co-chair of the Chicago Innovation Awards, which recognizes each year the most innovative new products, services, business models and processes developed in the Chicago area.
Bruce Leon
Bruce Leon is the founder of Tandem HR, a professional employer organization listed among Crain's "Fast Fifty" as well as its "Best Places to Work" list. Bruce started his entrepreneurial endeavors in 1996, offering full-service healthcare solutions, and it wasn't long before he recognized a unique need in Chicago for an unbundled, high-touch, consultative professional employer organization. He then incorporated Tandem Professional Employer Services, now Tandem HR, which has grown to 140 employees and processes $400 million in payroll for 9,300 client employees and boasts a 96% retention rate.
Maeve Lucas
Maeve Lucas leads the Integrated Talent Strategy function globally for Accenture. She works as an internal consultant to client facing leaders and HR Business Partners to create market leading talent strategies that enable each business to attract and retain the most specialized talent in the market. Maeve lives in St. Charles and is married and has two teenage daughters.
Dan Miller
Dan Miller is a prominent Chicago area journalist. He was the publisher and executive vice president of The Heartland Institute. As business editor of the Chicago Sun-Times, he co-founded the Chicago Innovation Awards with Tom Kuczmarski. Before that, he worked as business reporter for the Chicago Daily News, served as chairman of the Illinois Commerce Commission from 1996-2000, and helped launched Crain's Chicago Business, serving as editor for its first decade.
Maura O'Hara
Maura O'Hara is the Executive Director at the Illinois Venture Capital Association (IVCA), a trade association that promotes the venture capital/private equity industry in Illinois. Maura has 25 years' marketing, strategy and consulting experience. Prior to joining the IVCA, Maura worked at Sears, Helene Curtis' manufacturing facility and Stevenson & Company. Maura has a Bachelor of Arts in Economics from the University of Illinois – Urbana and an MBA from the Kellogg School at Northwestern University. Maura also serves on the board of the Chicagoland Entrepreneurial Center.
Chris Pezzello
With more than 20 years in the advertising industry, Chris Pezzello has extensive experience in television, professional sports, Out of Home, and transit advertising. He currently leads Intersection's Chicago office as Vice President and General Manager, overseeing contracts with the Chicago Transit Authority and PACE. Chris works with the Intersection team to develop new products and services and invests in media platforms that enable cities, businesses and communities to drive engagement and innovation. Intersection is leading the consortium behind LinkNYC, the largest and fastest free public Wi-Fi network in the world – an aspiration Chris wants to bring to the Chicago market to enhance the lives of Chicagoan's and tourists.

David Snyder
David Snyder is Publisher of Crain's Chicago Business, which operates the nation's leading local business newspaper, three daily news Web sites--ChicagoBusiness.com, ChicagoRealEstateDaily.com, ChicagoHealthCareDaily.com. He was named Publisher in October 2010, having previously served as Associate Publisher, the paper's No. 2 management position. In June 2011 he was named a vice-president of Crain's parent company, Crain Communications Inc. He is a member of The Chicago Club, The Commercial Club of Chicago, the Economic Club of Chicago, the City Club of Chicago and the Executives' Club of Chicago.

Dr. Mary Ellen Weber
Dr. Mary Ellen Weber is founder of Stellar Strategies, LLC, consulting in strategic communications and in strategies for high-stakes operations. Weber was a NASA Astronaut for ten years and a veteran of two spaceflights. She also held key positions in space operations, as well as with NASA headquarters in technology transfer, strategic communications, and program oversight, and she is the recipient of the NASA Exceptional Service Medal. More recently, Weber was Vice President for nine years at the University of Texas Southwestern Medical Center, an internationally-renowned research center, hospital complex and medical school in Dallas, Texas.
Ed Wehmer
Ed Wehmer is the Founder, president and chief executive officer of Wintrust Financial Corporation, a financial services holding company with banking assets of more than $20 billion and wealth management assets in excess of $19 billion. Banking has been the primary focus of Ed's career, beginning at the accounting firm Ernst & Young, LLP, where he specialized in the banking field focusing mainly in the area of bank mergers and acquisitions for seven years. After leaving Ernst & Young, Ed was senior vice president and chief financial officer of River Forest Bancorp, a $4 billion banking holding company in Chicago. While there, he was also president of the firm's largest subsidiary, Lincoln National Bank, in Chicago.
Kevin Willer
Kevin Willer is a Partner at Chicago Ventures, a seed-stage venture capital fund where he oversees fund management, deal sourcing and investments, and working with portfolio companies. Prior to Chicago Ventures, Kevin was the President & CEO of the Chicagoland Entrepreneurial Center, which manages, operates, and programs 1871. Before that, Kevin co-founded the Google Chicago office. Kevin was named to Crain's "40 Under 40" list as well as Crain's Tech 50 list.

Sam Yagan
Sam Yagan is Vice Chair of The Match Group, which owns many of the top-used dating apps including Match.com, Tinder, and several other innovative companies. Previously, Sam co-founded Excelerate Labs (now Techstars Chicago) to provide seed funding and mentorship to support new entrepreneurs in Chicago. To date, this program has launched 40 new companies and created over 150 new jobs. Looking further back, Sam was the Co-founder of Sparknotes, which sold to Barnes & Noble for $30 million, and the Co-founder of OkCupid, which was bought by The Match Group for $90 million.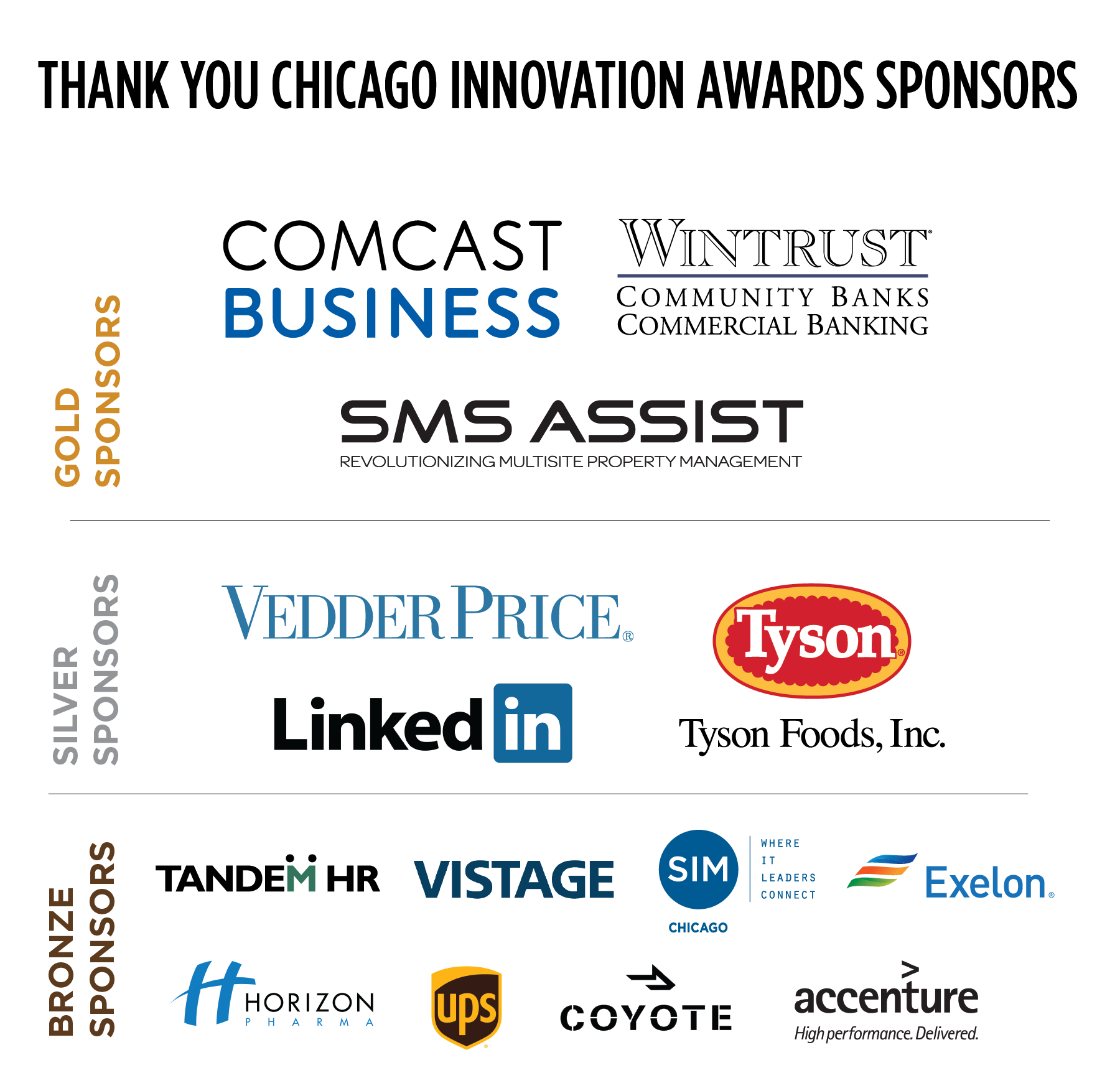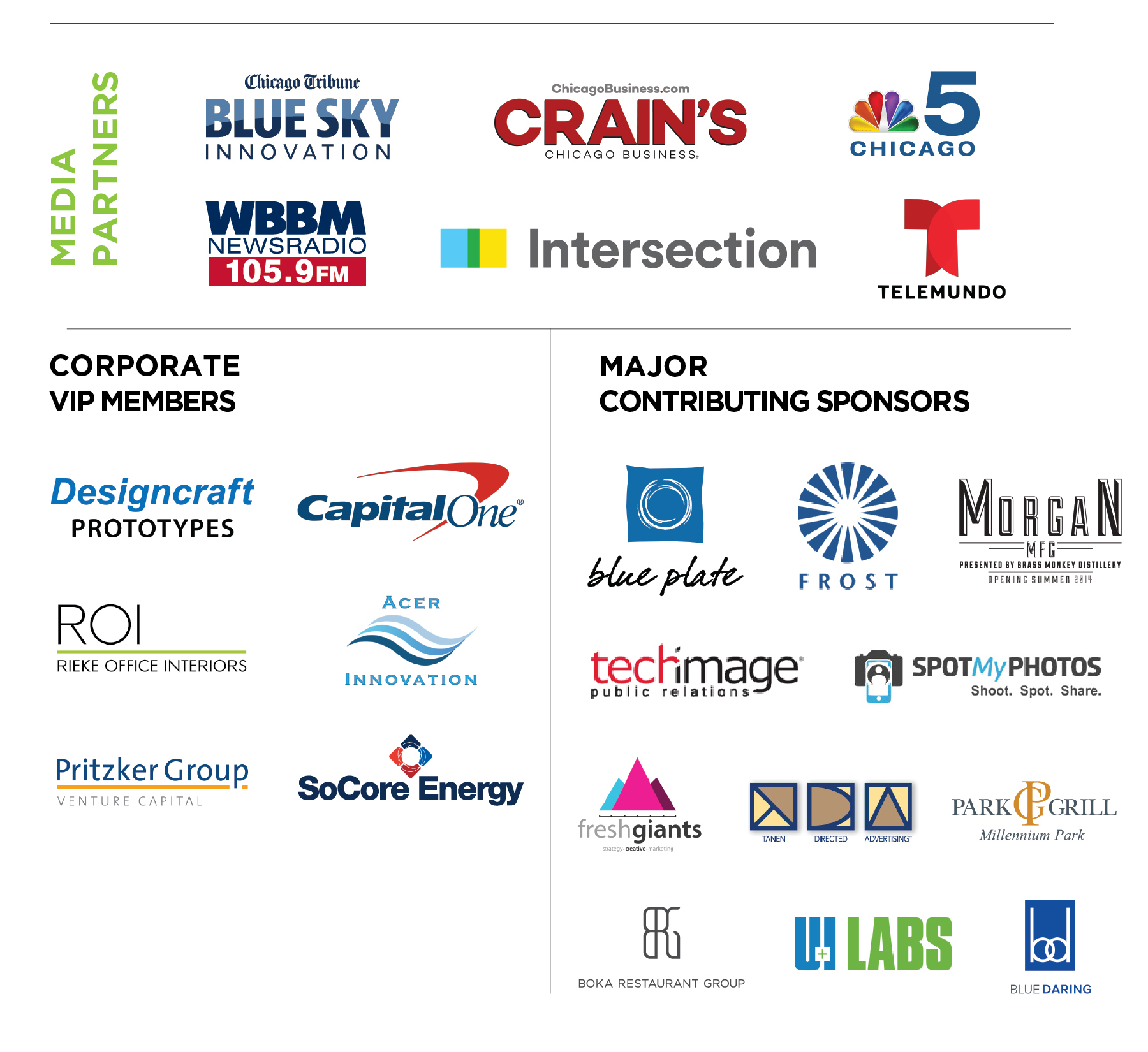 ---
Founded by Tom Kuczmarski of Kuczmarski Innovation and Dan Miller