Description
The 2016 Asian Focus Career Development Conference (VI)
Thank you for your interest in the 2016 Asian Focus Career Development Conference (VI). Registration came in faster than expected and exceeded MAXIMUM room capacity at 185 within a short period. This project is an annual event and 2016 marks our 6th annual conference. Please direct all questions to the "HOST" organizations instead.
Please direct all your QUESTIONS to one of the "HOST" organizations listed below. Thank you!
* Asian Focus (Lily Chan): inquiries@asianfocusnc.org
* CSSFA-NCSU (Rui Li) :

rli11

@ncsu.edu
* SASE-NCSU (Joseph Thai):

jbthai

@ncsu.edu


__________________________________________________________________________________
Presented by Asian Focus NC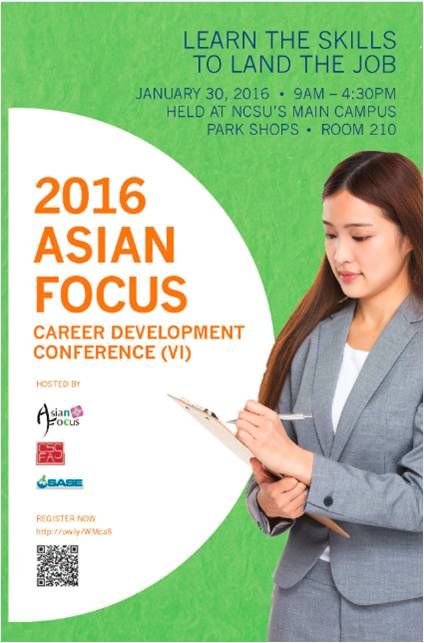 Free Admission! Registration Required!
Do you know the keys to hiring and job searching? Are you equipped with the best resume and interviewing skills to stand out above your competitors?
Presenters at the Asian Focus annual Career Development Conference can answer that question for you and more. The conference offer hands-on training from top-notched HR professionals and executives. Coming meet the recruiters, network and learn from the best and prepared for your next job opportunity and land that job.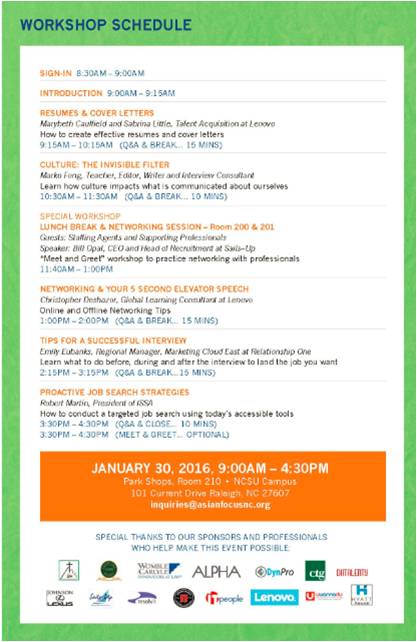 More about the Career Conference: The primary goal of the Career Development Conference is to offer a platform to help job-seekers and graduates be better prepared for entry into the workforce. We do this by encouraging participation from skilled professionals, agencies and sponsors in the promotion of education and diversity. The first Career Conference was introduced in 2010, as a program to help displaced Asian workers better prepare for re-entry back into the workforce. This program was well received and had been hosted annually since.
If you think this program can be beneficial to you, join us on Jan. 30th at NCSU. This invitation has been extended to your group and friends! All Asian Focus programs are open to Asians and non-Asians. Register and join us on the 30th if you feel this program can benefit you.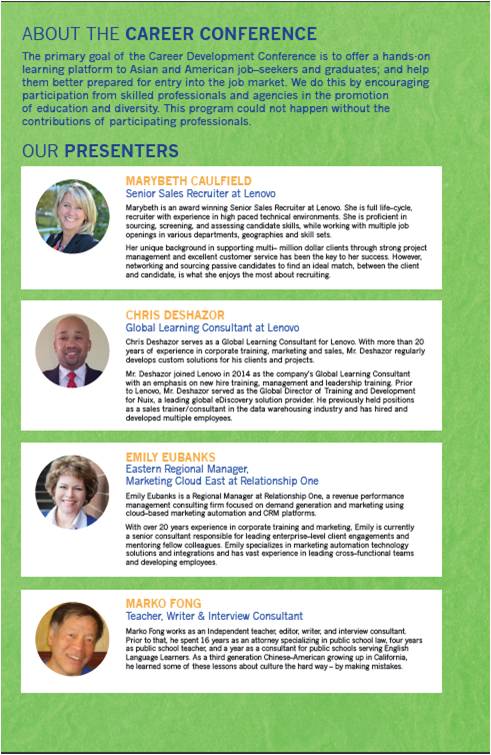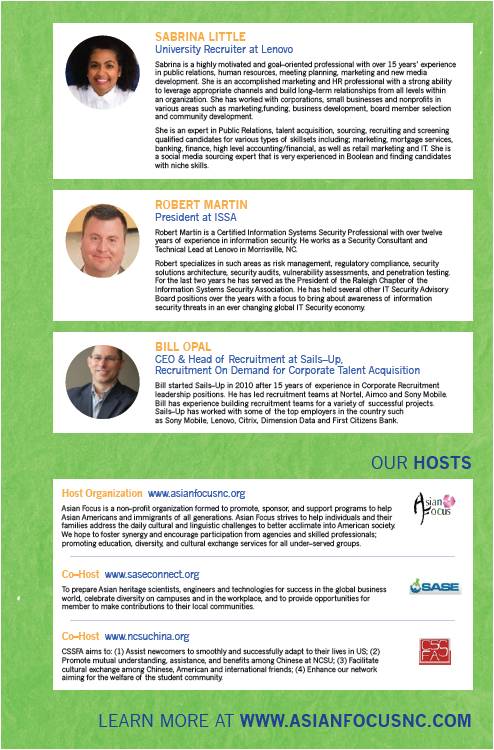 MAP to Parkshops -- Please use entrance from the Current Drive entrance -- (Current Drive on the left side of the building)

For questions, email: Inquiries@asianfocusnc.org | Asian Focus: http://www.asianfocusnc.org/
Co-hosts: CSSFA: http://www.ncsuchina.org/ | SASE:https://www.facebook.com/SASE.NCSU/