Description
2016 BREAST HEALTH WORKSHOP
---
It's timely to chat about breast cancer prevention because the National Cancer Institute announced recently that there will be a 50 percent increased risk of new cases of breast cancer diagnosis by the year 2030. That's 1 in 2 women! No wonder we are so concerned and scared! Breast cancer—especially the hormone-driven type that's related to what you eat and drink—is on the rise.

Fortunately, there are many things you can do to turn the tide on breast cancer. IT'S ALL ABOUT PREVENTION: using radical prevention of your first breast cancer diagnosis, prevention of breast cancer recurrence, using food as medicine, modifying your risk factors, and most importantly but often neglected, monitoring your progress.

I believe it's time for a meaningful revolution in healing.

Don't wait for the dreaded breast cancer diagnosis to get with the program, or step up to a better program of breast cancer diagnosis. If you've already received a diagnosis, or simply want to learn natural ways to prevent it, don't wait around powerless...Step into action.

Prevention Is Real...And we're here to help.

I am very excited to announce an intensive yet empowering workshop, specifically designed to teach women of all ages about multiple strategies to care for the health of their breast.

This veritable tour de force involves two critical collaborations:

Caroline Aslanian (owner of BarefoodAngel.com) - Aside from being my sister, Caroline is a holistic nutritionist (one of the very few that I trust), a real foodie, a mother, and a wife. By formulating methods that sustain healthy living, she has become a food educator, speaker, and an advocate of conscious living. She will bring her considerable food and nutrition experience to teach you about which foods work synergistically with your biology to promote a healthy breast.

Astrik Vardanyan (CEO of HaikProject) - Astrik is a Medical Anthropologist, and CEO and co-founder of haikProject. She is one of our community's biggest proponents of women's health. She will cover many aspects of breast health with specific focus on preventive and non-invasive imaging diagnostic modalities that will be game changers in your journey.


These words don't even begin to cover what Caroline and Astrik really bring to the table. Seriously! You need to see them in action to feel the passion they feel for helping people transform their health. What I can promise you is that you will not be disappointed at what you will receive during this workshop.

–––––––––––––––––––––––––––––––––––––––––––

ARE YOU READY FOR YOUR TRANSFORMATION?

Astrik, Caroline and I strongly believe that you receive the information that you need, when you need it…as long as you are open to receiving it. When women hear our call, it is because something inside them has opened to the need for a radically different perspective, especially when it comes to breast health. That something stems from a deep sense that they are watching an experience of struggle that feels between them and themselves.

Ready to go deeper in the rabbit hole?

–––––––––––––––––––––––––––––––––––––––––––

DATE: Saturday, October 1, 2016

TIME: 10AM - 4PM (street parking...plan to arrive early to find parking)

LOCATION: Glendale Heritage Gardens. 141 S. Cedar St., Glendale, CA 91205.

PRICING:

EARLY BIRD VIP*: $249 (+fees). Ends on Wednesday June 15, 2016 at 7PM.

PREMIER**: $399 (+fees). Begins June 16, 2016 and ends on Wednesday, August 31, 2016 at 7PM.

PREMIER PLUS ONE**: $599 (+fees). Save $199 when you bring your daughter (or mother or friend) with you. Begins June 16, 2016 and ends on Wednesday, August 31, 2016 at 7PM.

GENERAL: $599 (+fees). Begins September 1 and ends September 23, 2016 at 5PM.

GENERAL PLUS ONE**: $899 (+fees). Save $199 when you bring your daughter (or mother or friend) with you. Begins September 1, 2016 and ends on Friday, September 23, 2016 at 7PM.
**Limited seating available. Registration will end once space is filled**

____________________________________________

What you will learn:

Preventive measures to breast health.

Non-invasive diagnostic modalities to monitor breast health.

Important laboratory tests that measure and track your hormones and levels of 'bad' estrogen.

How to bio-hack your body's individual biochemistry to ensure breast wellness and health through your 20s, 30s, 40s, 50s, 60s and beyond.

Caring for your hormones and stress levels.

Tips on reducing toxic burden of the liver and support proper elimination of 'bad' estrogens.

Stress management techniques to tame your inner inflammation.

Foods that support your biology and simple recipes for you to prepare them at home.

Lifestyle factors and simple strategies for implementing them into your daily routine.

What are your options if you receive the dreaded breast cancer diagnosis (there are a lot)?

How to avoid needless mastectomies.

and much much more.
What will be provided:

Yoga (wear comfortable clothing to move in)

Healthy, organic, non-GMO lunch, specifically prepared with ingredients that promote breast health.

Healthy snacks and beverages (water, green tea, etc)

Yummy 'hormone balancing" recipes that you can make at home.

List of high quality supplements and how to get them at discounted prices.

Access to local 'non-invasive' breast screening centers + coupons.

Stress management strategies.
What your registration buys you:
Time Value ($3,550+) - With access to 3 experts for 6 hrs. This is more than $3,500 value of time alone. It's the next best thing to a "one-on-one".

Actionable material ($350+) - Access to material and information that you can implement daily. These will serve as a guide in your journey towards a healthier breast.

Recipes ($100+) - Access to full recipes for preparation of the same healthy, organic foods that you will enjoy during lunch and more.

Discounts - You will also get access to a private portal for ordering supplements (recommended by Dr. G.) at 20% discount. In addition, you will also get discounts (TBD) for non-invasive imaging diagnostic modalities to monitor your breast health.



Hope to see you all on October 1,
Robert

---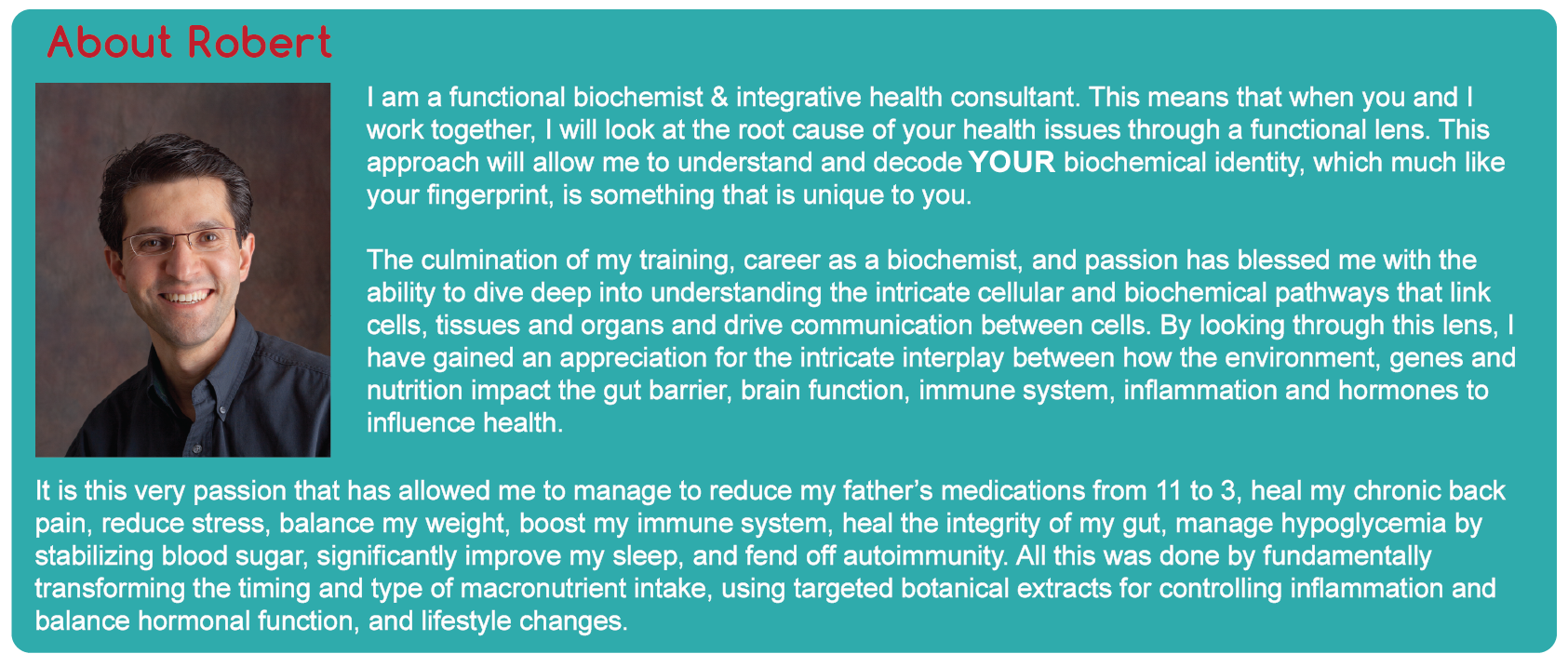 FAQs
What are my transport/parking options getting to the event?
Glendale Heritage Gardens is located at the corner of Harvard and Cedar streets in Glendale. Parking is on the street so we recommend you get there early to find a spot. We will begin promptly at 10AM.

What are the refund policies?
We issue refunds as follows:
EARLY BIRD / PREMIER / PREMIER+ONE- 50% fee will be assessed for issuing a refund for these triers ($125 for Early Bird and $199 for Premier, respetively). At least 4 weeks notice is required. After September 1, no refunds will be issued as we cannot reissue the discounts.

GENERAL / GENERAL+ONE- $175 fee will be assessed for issuing a refund. At least 1 week notice is required. After September 24, no refunds will be issued for this tier ticket.
Where can I contact the organizer with any questions?
Email us using the contact the organizer button. Make sure you refer to "Breast Workshop" in the subject line.