2016 Best for Families Celebration Presented by Main Line Parent & Philadel...
Description
The Philadelphia Family and Main Line Parent LOVE Awards Celebration
Join us from 7:00 to 9:00 pm on Wednesday, June 15th at The Woman's Club of Bala Cynwyd for a fabulous cocktail party for the Philly Family and Main Line Parent Communities to celebrate the Philadelphia and the Main Line's Best for Families.

What's more, your admission to this event gives back! This event raises funds for the SIX grants we had out each year through our A+ Educator Awards and Community Builder Awards. Thank you in advance for helping us help our community.

ONLINE DISCOUNT TICKET SALES FOR THE CELEBRATION WILL CLOSE ON FRIDAY JUNE 10TH. Last minute tickets may be purchased until they are sold out for $80.

Special thanks to our event photographer, MadCris Images, who will be on site to captire your red carpet moment!

All winners and the top two finalists of the 2016 LOVE Awards will be listed in Main Line Parent's June issue and Philadelphia Family's July issue in our Best for Families feature. Subscribe as a Supporting or Sustaining Member of Philadelphia Family or Main Line Parent to ensure you're among the first to get your hands on a copy!
Winners and Finalists who support our magazine receive EXTRA PERKS, including discounted admission as "VIP Brand Partners" and more! If you didn't get in for our June/July Issues, contact marketing@familyfocusmedia.com to sign up to be a Brand Partner with us this fall!
Donate to our silent auction: Show off your business even more and help us raise more for these amazing grant programs by donating an item to the Best for Families Celebration silent auction. Just fill out the form!

Contribute swag to the gift bags for our first 100 guests: Just fill out this form and deliver your items to our Wynnewood office by Friday, June 10th. (Free for Brand Partners, nominal charge of $25 + swag for all others).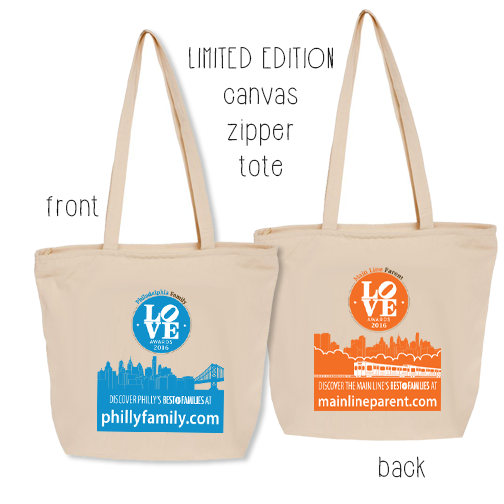 EVENT AGENDA
6:30 PM VIP Winners and Finalists arrive
6:45 PM Best for Families Toast
7:00 PM Community Members and General Admission Arrive
8:00 PM Silent Auction closes, LOVE Awards remarks
9:00 PM Event concludes