2016 ASCE 3rd Annual Jog-A-Thon

Saturday, November 12, 2016 at 9:00 AM (PST)
Event Details
TODAY IS THE LAST DAY TO SIGN UP!!!  If you haven't done so already, please sign up on Eventbrite right away.  We need to get a final head count.  Pledges can be added after the event has concluded (through 12/12/2016), giving you more time to fundraise for your organization.
Lace up your running shoes, the Jog-a-Thon is on!
Join us, on November 12th at Trident High School, 1800 West Ball Road in Anaheim, for our 3rd Annual Jog-A-Thon to raise funds for ASCE OC, LA, and SB-RC Student Chapters and ASCE OC, LA, and SB-RC YMF Groups! 
The Jog-a-Thon is a huge fundraising opportunity for universities and YMFs. Your Eventbrite ticket, and the pledges you secure, will do directly to your ASCE YMF or University organization. Higher attendance and more pledges, means larger budgets for conferences and activities throughout the year.
How can you find pledges?  Ask your:
Family

Friends

Co-workers

Company
Jog-A-Thon Participants will receive raffle tickets based on the total amount of funds/pledges they collect. Raffle prizes will be awarded at the event!
The Jog-A-Thon will also provide a unique networking opportunity to run, jog, or walk alongside Civil Engineering Leaders in our community, who will also participate.
HOW DOES THE JOG-A-THON WORK?
STEP 1:  Register as a Student or YMF/Professional Jog-A-Thon Participant at: www.ascejog16.eventbrite.com.
STEP 2:  Collect pledges (either on an estimated per/lap basis or a lump sum amount) prior to Jog-A-Thon. Pledge Donations can also be made via credit card on the Eventbrite link shown above.
STEP 3:  Walk/Jog/Run on the Day of the Jog-A-Thon (9:30 AM-11:30 AM)
                 Wear comfortable clothing/shoes. Don't forget a hat and sunscreen!
STEP 4:  Total Fundraising Pledge Amounts will be determined during the event, raffle tickets will be distributed, and raffle prizes will be announced!
FUNDRAISING DETAILS / RAFFLE PRIZES
 Raffle tickets will be distributed to each participant based on the amount of pledge amounts collected as shown below. Raffle prizes will be announced shortly before the day of the event.
FREQUENTLY ASKED QUESTIONS (FAQs): 
Q: Do I have to walk/jog/run the entire 2 hours (9:30-11:30AM)?
A: No – you can participate for any amount of time within the 2 hours allotted. Breaks are encouraged!
Q: Do I have to be an ASCE member to participate?
A: No, anyone can participate.
Q: Are there restrooms available?
A: Yes – women's and men's restrooms are located next to the track facility.
Q: Are refreshments provided?
A: Yes – water and light snacks will be provided. Please note: No outside food/drinks are allowed on the track (except water).
Q: Who are the Civil Engineering Leaders that will be participating in the ASCE Jog-A-Thon?
A: Individuals who represent local/county agencies and ASCE Branch/Section/Region will participate.
Q: Is onsite parking available?
A: Yes – free parking is available on-site.
Q: Can individuals making pledges be provided with a receipt for their donation for tax purposes?
A: Yes, receipts can be provided to all individuals that contribute to the ASCE Jog-A-Thon. Contributions, donations, and sponsorships are tax-deductible to the extent permitted by law.
Have additional questions? Contact us:
Email/Phone:
ASCE – Jog-a-Thon Co-coordinator – Alex Maher Alexander.maher@mbakerintl.com or 949.855.7088
ASCE – Jog-a-Thon Co-coordinator – Oscar Rivera orivera@deainc.com
ASCE – YMF University Outreach Chair – Gaby Gonzalez gonzalez.gabreelle@gmail.com
ASCE – YMF President – Nestor Godinez ngodinez@slrconsulting.com
For more information, and to keep track of your pledge sponsors please download the following forms: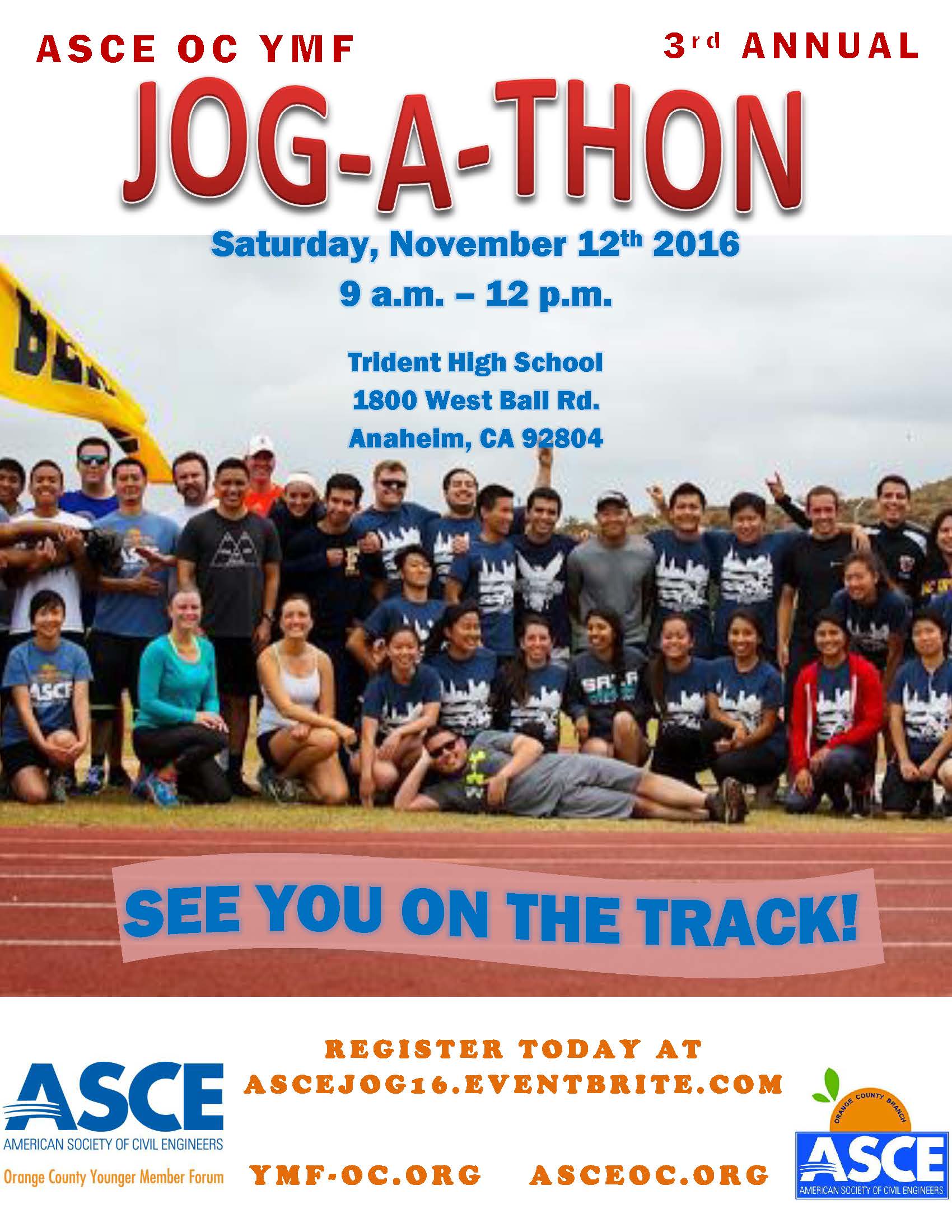 Please read our event guide page (http://ymf-oc.org/about/rules) for our current general event and ticket buying guidelines.
When & Where

Trident High School
1800 West Ball Road
Anaheim, CA 92804


Saturday, November 12, 2016 at 9:00 AM (PST)
Add to my calendar
2016 ASCE 3rd Annual Jog-A-Thon