2015 Youth Ministry Best Practices Conference
Sales Have Ended
Ticket sales have ended
Thank you for attending this historical event designed to bring youth pastors, youth ministers, youth leaders, and parents together..
Sales Have Ended
Ticket sales have ended
Thank you for attending this historical event designed to bring youth pastors, youth ministers, youth leaders, and parents together..
Description
TO LEARN MORE ABOUT OUR 2015 YOUTH MINISTRY BEST PRACTICES CONFERENCE AND OUR SPEAKERS, PLEASE VISIT www.ybuedu.org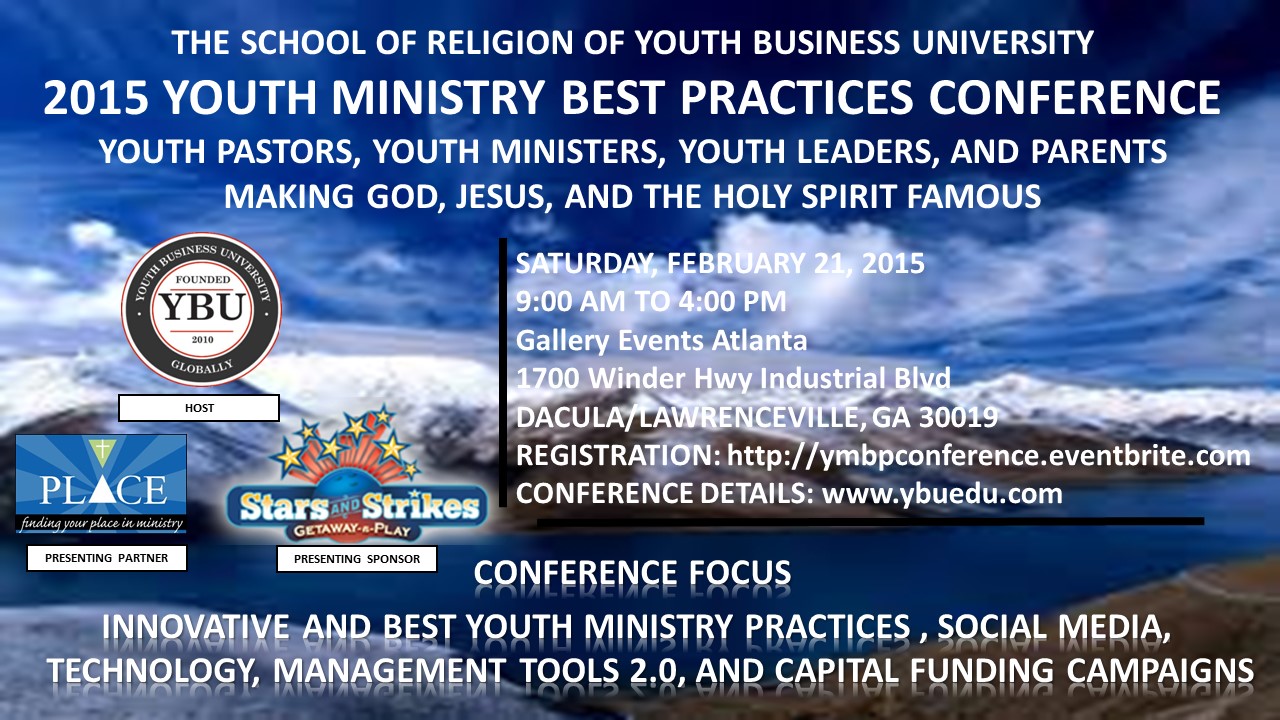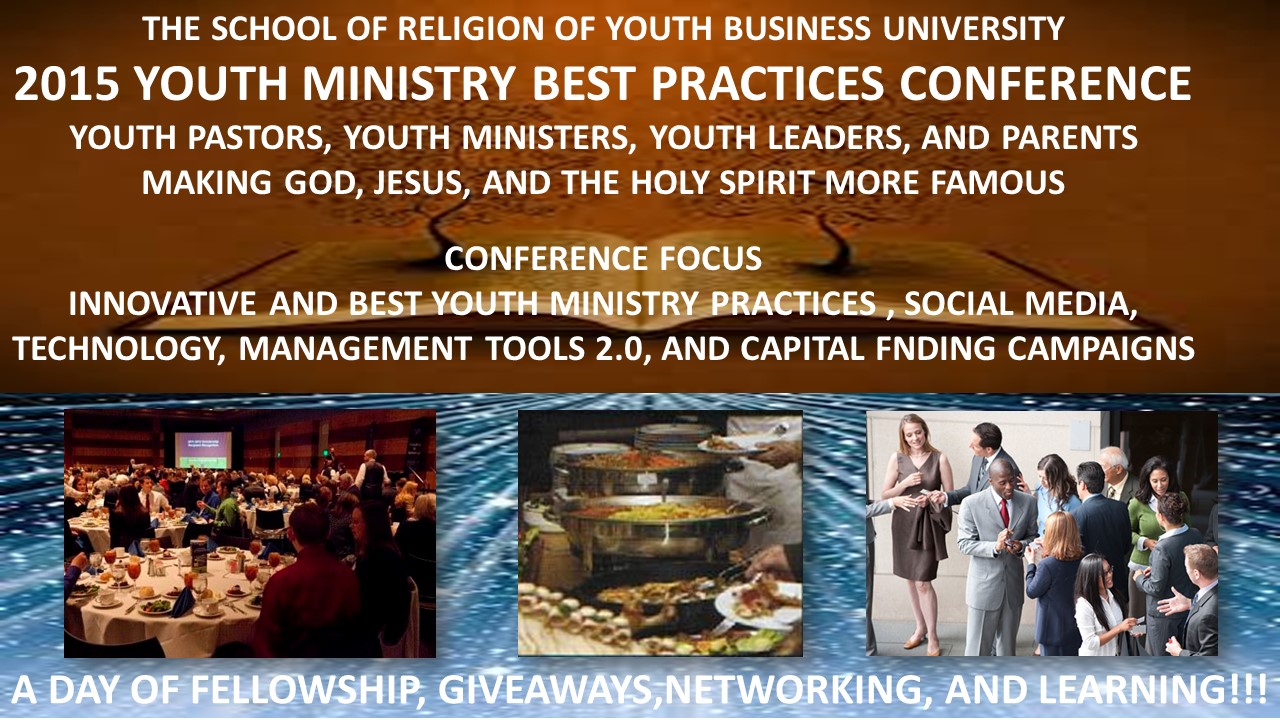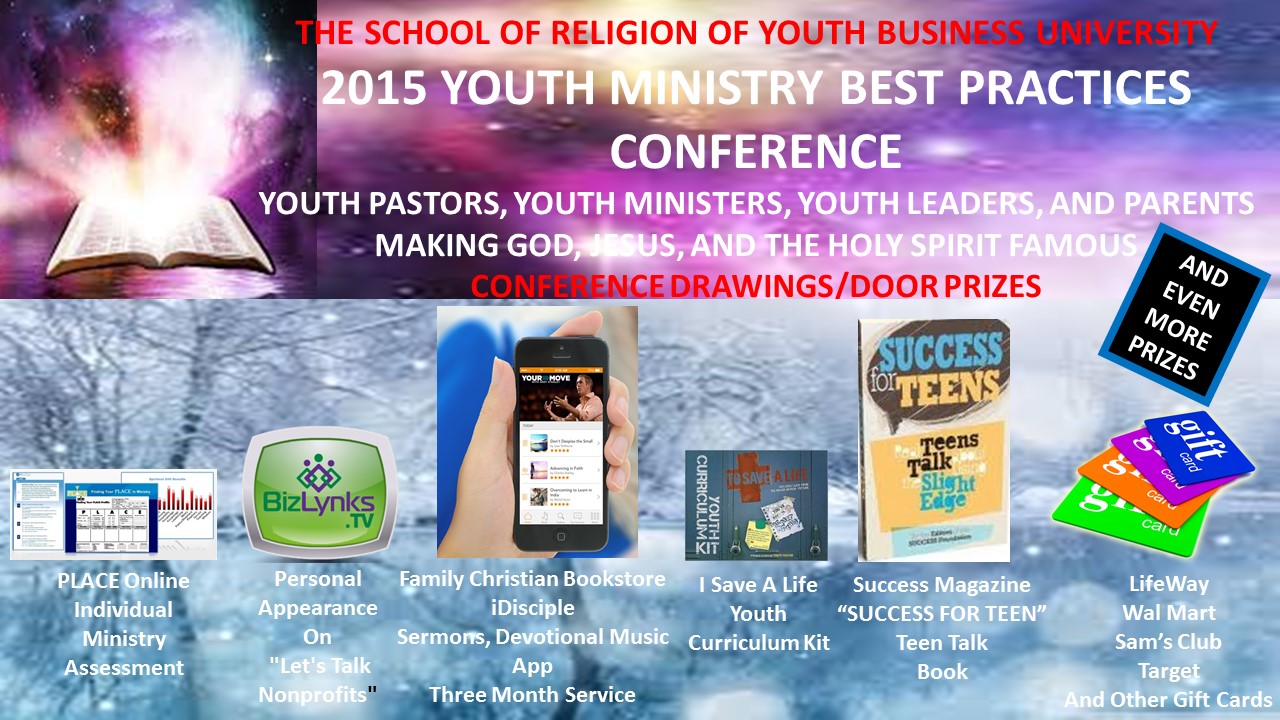 JEFFERY D. HENDERSON, HOST
Youth Business University
Founder and CEO
ROBERT M. TRACY, MC
Streams Flow Media Group, LLC
Founder and CEO
TWANDA BLACK, MC
Radio Station KISS 104.1
Radio Host
JONATHAN A. ADKINS
DJ Bravado Music Services, LLC
AKA DJ Bravado
JAY MCSWAIN
Place Ministries
Founder and President
ATHONY ADAMS
World Changers Church International
Youth Pastor
MARTHA KATZ
GA Health Foundation
Chair of Board of Directors
EDDIE VELEZ
Visible Church
Pastor
PASTOR SABRINA MCKENZIE
The Epic World Center
Dancing Preacher
Dr. MARSHALL KREUTER
Retired Professor Public Health
Georgia State University
Stephen Sherman
Senior Librarian
Foundation Center
DANNY BLITCH
Grant Professionals Foundation
Vice Chair
DOMINIC STOKES
Community Teen Coalition
Founder and, CEO
GERSON D VASQUEZ
U. S. Census Bureau
Dissemination Specialist
BRYAN TAYLOR
Anderson Taylor, LLC
Founder & CEO
STEFON LEE ADAMS
Next Level Youth Sports Camps
Retired NFL Player
TROY RINER
Let's Konnect
Founder & CEO
KEITH GROSZ
Benefit Bar
Founder and CEO
JEROME ADKINS
World Fellowship of Jesus Christ
Pastor
Organizer of 2015 Youth Ministry Best Practices Conference
4 Quarters is partnering Youth Sports University (YSU) to help YSU raise funds to serve Youth Student-Athletes Foster Care Youth Student-Athletes, Special Needs Youth Student-Athletes, and Disadvantaged Youth.  Youth Sports University is under the umbrella of Youth Branding University.  Youth Branding University is a "501 (c) 3 Non-Profit Organization (2010)" and received "Consent for Name Reservation (2011)" from the Postsecondary Education Commission of Georgia pertaining to the Secretary of State Business Services and Regulation Department.
Youth Branding University (YBU) is a relevant comprehensive youth organization simulating a "University" designed to educate, elevate, empower, encourage, energize, engage, enrich, equip, and expand today's global youth.
Our motto is to train and develop future CEO's, executives, professionals, entrepreneurs, motivational speakers, spiritual leaders, community activists, financial advisers, doctors, scientists, engineers, technologists, artists, mathematicians, politicians, professional athletes, and leaders with a global mindset.

While Youth Branding University's "Main Vision/Purpose/Mission" is to "Save The Youth Now – A Time To Value, Serve, Promote, Brand, and Market Our Youth Initiative," our ultimate objectives include concentrating on serving the needs of "ALL YOUTH"
YBU is different compared to other youth organizations because we are about relevant results and outcome for all youth from elementary school youth to senior citizens along with their engaged parents.
Since 2010, Youth Branding University has served elementary school, middle school, high school, and college students along with parents/adults in the following areas:

Art

Branding

Engineering

Entrepreneurship

Financial Empowerment

Math

Reading

Research

Science

Technology

Youth Talent Bureau

Athletics

Conferences, Events, Seminars, and Workshops
We provide the highest quality of education in a "personal environment", guided by our university's motto, "A Time To Value, Save, Serve and Promote Today's Youth!!! If Not Now, Then When?"

Thus, Youth Business University will interact with the education, foster care, church, youth organization, juvenile justice, adult organization, and government communities to locate youth facing life challenges and assess how our programs can have the greatest impact.