Description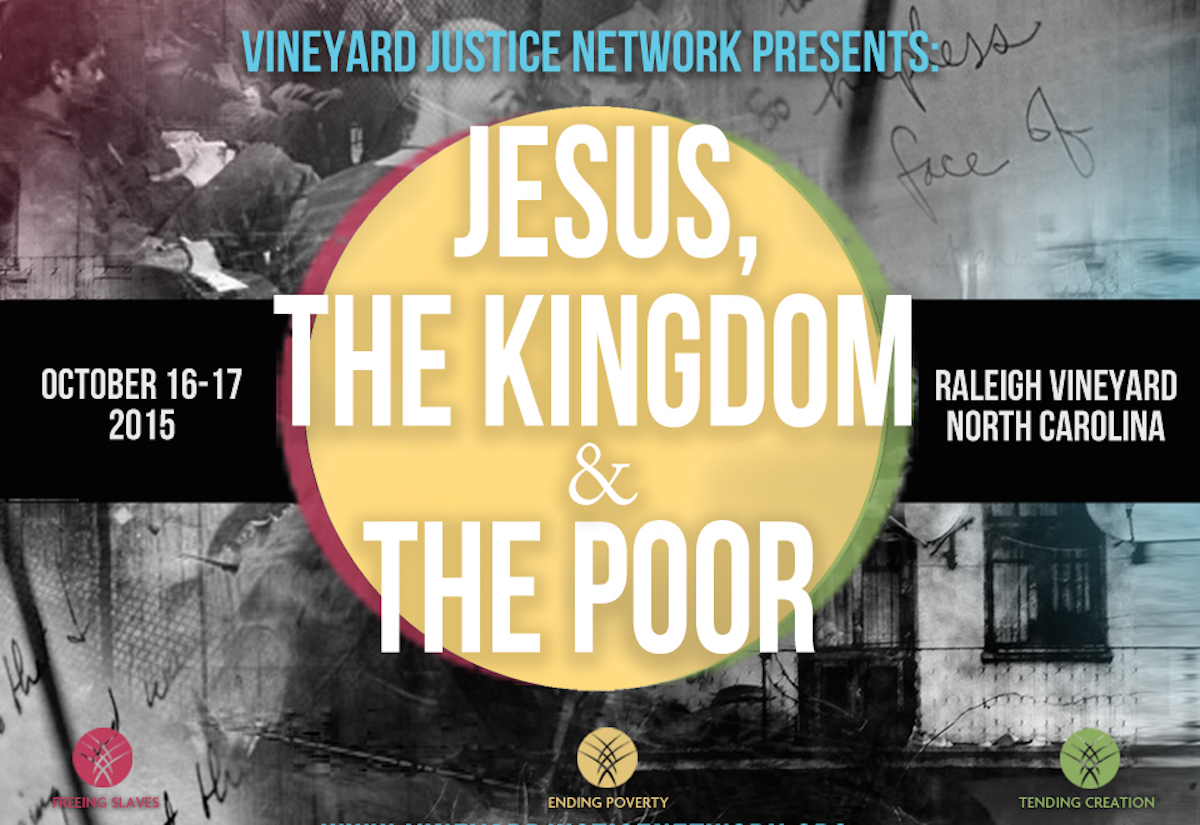 ALL MEALS INCLUDED | SPECIAL HOTEL RATES | HOST HOUSING AVAILABLE
How is God calling you and your church to serve the poor? Are your engaging your head, heart, and hands? Does your church already have community partnerships or do you run your own food pantry or homeless outreach? Or maybe you're just beginning your compassion and justice journey.
Come to VJN FORUM 2015 to get the resources you need to dive deeper into ending poverty in your community and developing a Kingdom, Jesus-centered approach to the poor.
A Forum on Ending Poverty
This year, we're focusing our time on one of VJN's key issues: Ending Poverty. We will tackle it through unpacking the relationship between Jesus, the Kingdom, and the Poor.
How do churches pursuing the Justice of the Kingdom be culturally relevant to the poor and marginalized communities in their own backyard?

What does reconciliation (with God and with each other) look like in your neighborhood/town/city?

How do compassion and mercy lead us to justice?

What does the mission of God (Jesus) have to do with justice?

How do you transition your church, small group, ministry, or church-plant to be more missional in identifying and addressing poverty within your own community?

How can your children's ministry and youth group integrate a Kingdom approach to serving alongside the poor?
Why do we need a Vineyard Justice Network?
Vineyard Justice Network (VJN) does not exist to promote a singular ministry, nor are we trying to start a non-profit for Vineyard USA. Instead, we're focusing on bringing together our Vineyard church pastors and leaders who are already tackling one of the three targeted areas of structural, systemic injustice: human trafficking, poverty, and the environment.
VJN offers a new space to have conversations that either aren't happening, are happening in isolation, or are sporadic. Within our movement, we so rarely even celebrate or highlight the significant justice work that is going on in our Vineyard churches. We recognize that it is essential for existing Vineyard pastors and leaders to shape the conversation with an "inside-out", rather than a "top-down" approach.
In particular, part of the leading edge of VJN points to the question: what does it look like and mean for the poor to lead the way in ending poverty? This can be reframed to: what does it look like and mean for the exploited to lead the way in ending exploitation, the trafficked to lead the way in ending trafficking, the homeless to lead the way to ending homelessness, the undocumented immigrant to lead the way in immigration reform?
Schedule
Friday, October 16
4:30-6:00 PM Registration
6:00-7:00 PM Dinner (provided on site)
7:00-9:00 PM Session 1: "Shaping Our Community View." Learn from Dr. Turner, a seasoned civil rights activist and pastor who will help us understand the racialization of poverty and the bigger picture in terms of poverty's impact on a community.
Saturday, October 17
8 AM-9 AM: Continental Breakfast and Registration
9 AM-10:30 AM Session 2: "Developing the Heart." A conversation led by Kathy Maskell on how to talk about and understand the importance of the role of compassion and justice in disciple-making.
Panel: Suhail Stephen Vineyard School of Justice (Canada), Brian Metzger Raleigh Vineyard, Don Hall Raleigh Vineyard, Amy Raburn Vineyard North
10:45 AM-12:30 PM Session 3: "Developing the Hands." What does a justice disciple look like in public? A session led by Dr. Turner on reaching and serving your community through a grassroots, advocacy approach.
Response Panel: Hugh Hollowell Love Wins, Liz Theoharis Kairos Center/Poverty Initiative, Stephen Hamilton Vineyard Justice Network, Charity Havercroft Iverness Vineyard
12:30-1:30 PM Lunch (provided on site)
1:30-3:45 PM: practical workshops that will dive into the nuts and bolts on various ways to engage with ending poverty:
1:30-2:30pm
Prison Ministry and Reintegration |

Karen Swanson Director, Institute for Prison Ministries at the Billy Graham Center | Wheaton, IL
Re-Thinking Food Pantries | Amy Raburn

Pastor, Vineyard North | Wake Forect, NC

Homeless Outreach with Love and Dignity | Hugh Hollowell

Executive Director, Love Wins | Raleigh, NC

Volunteerism vs. Servanthood | Dave Hanson

Executive Director, Sunrise Outreach Center | Assistant Pastor, Yakima Vineyard
2:40-3:40pm
Reading the Bible with the Poor | Liz Theoharis

Co-Director, Kairos Center | Founder & Coordinator, Poverty Initiative | NYC

A Missional Approach to Urban Ministry | Andrew Lee Director of Ministry Support, The Urban Ministry Institute (TUMI) | PA

Mercy and Justice in our Immigrant Communities | Beth Watkins Immigration Counseling Services, Vineyard Community Center | Columbus, OH
3:45-5:30 PM Session 4: "Developing our Heads." Deepen and press into our Vineyard Kingdom-worldview when reading what the Bible has to say about the poor. Led by Dr. Liz Theoharis.
Response Panel: Andrew Lee TUMI, Lyn Burnhope

Aylesbury Vineyard Church (UK),

Michael Raburn Vineyard North
5:30-6:00 PM: Reflections & Coming Up, Commissioning by Dr. Turner, Communion
Speakers
Friday, October 16
Dr. William Turner Professor, Duke Divinity School | Durham, NC
Dr. Turner is Professor of Homiletics and Preaching at Duke Divinity School. Professor Turner's ongoing work focuses on pneumatology and the tradition of spirituality and preaching within the black church. Articles on "Black Evangelicalism," "The Musicality of Black Preaching," and "The Black Church and the Ecumenical Tradition" reflect his teaching and writing interests. He taught in the areas of theology and Black Church Studies and directed the Office of Black Church Affairs prior to his appointment in homiletics.
Professor Turner travels widely as a preacher and lecturer. He retains active involvement in church and community activities. Dr. Turner held positions within Duke University in student affairs and Afro-American Studies before joining the Divinity School faculty. Before that, he played football for Duke. He is the pastor of Mt. Level Baptist Church in Durham.
Saturday, October 17
Hugh Hollowell Executive Director, Love Wins | Raleigh, NC
Hugh Hollowell is the founder and executive director of Love Wins Ministries, where they believe the opposite of homelessness isn't housing, but that the opposite of homelessness is community. In addition to his duties there, he is a sought after writer and speaker about issues of faith and homelessness, having been published in Sojourners, The Christian Century, and has appeared on both Fox News and NPR. Hugh lives in downtown Raleigh, North Carolina with his wife, where they co-parent two cats and four chickens. He stays pretty busy, but still manages to read over 100 books a year. With apologies to Counting Crows, grey really is his favorite color, and he loves peanut M&Ms.
Liz Theoharis Co-Director, Kairos Center | Founder & Coordinator, Poverty Initiative | NYC
The Reverend Dr. Liz Theoharis is the Co-Director of the Kairos Center and a Founder and the Coordinator of the Poverty Initiative. She has spent the past two decades organizing amongst the poor in the United States, working with and advising grassroots organizations with significant victories including the Coalition of Immokalee Workers, the Vermont Workers Center, Domestic Workers United, the United Workers Association, the National Union of the Homeless and the Kensington Welfare Rights Union. She has led hundreds of trainings, Bible studies, and leadership development workshops; spoken at dozens of conferences and keynote presentations across the US and globally; and published several articles and book chapters sharing her vision that poverty can be ended and that the poor can be agents of social change. Liz received her BA in Urban Studies from the University of Pennsylvania; her M.Div. from Union Theological Seminary in 2004 where she was the first William Sloane Coffin Scholar; and her PhD from Union in New Testament and Christian Origins. The title of her dissertation was "Will the Poor Be with You Always': Towards a Methodological Approach of Reading the Bible with the Poor." Liz is an ordained minister in the Presbyterian Church (USA).
Brian Metzger Lead Pastor, Raleigh Vineyard | Raleigh
Brian joined the Raleigh Vineyard family in August, 2012. He's been married to Donna for almost 30 years and they have 3 adult children and two daughters-in-law. Brian enjoys stories, listenting to them and telling them. He makes time for movies, comics and theology (not necessarily in that order). He loves Jesus and is working to see the Church become an outpost of heaven here on earth.
Kathy Maskell VJN Steering Committee | Pastor of Discipleship, Blue Route Vineyard | PA
Kathy Maskell is the pastor of discipleship at Blue Route Vineyard, and she also leads the Vineyard Justice Network. Raised by Buddhist parents in San Diego, Kathy began her eastbound journey by first studying literature and poetry at the University of Chicago. While there, she got rocked by Jesus's kindness and power. Kathy then pursued a teaching career, spanning from elementary to high school. While in New Haven, CT, Kathy worked for six years as the U.S. Advocacy Director of Love146, a leading anti-trafficking organization, and co-planted Elm City Vineyard Church. Kathy's M. Div. work at Union Theological Seminary (NYC) focused on the study of abolitionist movements, developing Biblical resources on justice and exploitation, and analyzing poverty as a root cause of human trafficking alongside leaders of poor-led organizations.
Dr. Michael Raburn Pastor, Vineyard North | Wake Forest, NC
Dr. Raburn grew up in Plant City, FL in a family deeply embedded in the Pentecostal movement. The son of a general contractor, Michael worked his way through college and graduate school in an array of blue and white collar jobs, all of which influenced his research and/or personal development in unintended (and sometimes surprising) ways. With over 20 years of ministry experience, Michael serves as lead pastor of Vineyard North in Wake Forest, NC. He earned a Ph.D. in theological ethics and public policy in 2013 at Duke University with a dissertation that focused on the ethical commitments that attended the birth and decline of the Pentecostal movement and has two books forthcoming: After Satisfaction: Explaining Atonement in a Post-Evangelical World and Ding Dong the Witch is Dead: A Eulogy to the Evangelical Movement. Michael and his wife Amy have seven children ranging in age from 22 to 2.
Steven Hamilton Steering Committee, VJN | Founder, Baltimore Vineyard Mission | MD
Steven Hamilton seeks the Justice of the Kingdom as a disciple of Jesus. He is a Spiritual Director, community organizer and subversive catalyst for the Kingdom of God. Embracing a holisitc ministry of biblical justice, he has helped liberate and restore victims and survivors of human trafficking for over a decade. He has worked in both public and private endeavours in this area, in various roles with the Department of Homeland Security, as Chair for Public Awareness for the Maryland Human Trafficking Task Force and as a leader with Safe House of Hope. Steven is the founding leader of the Vineyard Urban Mission/Baltimore.
Suhail Stephen Director, Vineyard School of Justice | Winnipeg Centre Vineyard, Canada
Workshop Facilitators include
Karen Swanson Director, Institute for Prison Ministries at the Billy Graham Center | Wheaton, IL
Liz Theoharis Co-Director, Kairos Center | Founder & Coordinator, Poverty Initiative | NYC
Dave Hanson Executive Director, Sunrise Outreach Center | Assistant Pastor, Yakima Vineyard

Worship Leaders
Sarah Brusco Vineyard Cleveland
Jason Phillips Raleigh Vineyard
Michael Raburn Vineyard North
Travel and Lodging
Airport
We recommend you fly into Raleigh-Durham International Airport (RDU) as it is a short 20 minute drive or shuttle to the church.
Hotels
Hampton Inn, $99/night, includes breakfast (mention Vineyard Justice Network when booking)
6412 Capital Blvd., Raleigh, NC 27616 | 919.876.5650
Courtyard Raleigh North/ Triangle Town Center, $110/night (mention Vineyard Justice Network when booking)
3401 Sumner Blvd., Raleigh, NC 27616 | 919.645.0088
Host Homes
Raleigh Vineyard would also welcome the opportunity to place people in host homes. For more info, email vineyard[at]raleighvineyard[dot]org.
Scholarships
We have a limited number of travel scholarships available. If you'd like to apply, please send an email to contact[at]vineyardjusticenetwork[dot]org with the total cost of your travel budget, as well as the amount you're requesting.
Organizer of 2015 VJN Forum: Jesus, the Kingdom, and the Poor//Raleigh//Oct 16-17
 THE VINEYARD JUSTICE NETWORK EXISTS TO EMPOWER VINEYARD PASTORS AND LEADERS TO PURSUE AND ENACT THE JUSTICE OF GOD'S KINGDOM.VJN WILL EQUIP YOU BY CONNECTING THE WORK OF HEART, HEAD, AND HANDS WITH KEY ISSUES OF STRUCTURAL INJUSTICE AND LEADERSHIP. VJN IS DEDICATED TO SHOWCASING THE WORK OF VINEYARD CHURCHES AS THEY CONFRONT INJUSTICE, CREATE SOLUTIONS, AND SHARE THEIR STRUGGLES.
 VJN PROFILES VOICES FROM THE FRONT LINES, WRITES BOOK REVIEWS, AND OFFERS TRAININGS TO KEEP THE VJN COMMUNITY ON TOP OF CURRENT RESEARCH AND PRACTICE.
We offer holistic wisdom to all our churches, along with many easily-accessed resources for getting started and growing with a missional, kingdom-centered approach. OUR NETWORK ALREADY SPANS VINEYARD CHURCHES ACROSS 32 STATES, IN EVERY REGION. WE'RE ALSO ENGAGED WITH SISTER NETWORKS IN VINEYARD CANADA, UK&IRELAND, AND VINEYARD NORDIC.
The VJN Steering Committee is currently led by Dave Hanson, Kathy Maskell, and Cheryl Pittluck. 
www.vineyardjusticenetwork.org