2015 US Technical Championship National Finals - IUPUI - Indianapolis, IN - Nov 14, 2015

Saturday, November 14, 2015 from 9:30 AM to 4:00 PM (EST)
Who's Going

Loading your connections...
3 of your friends are going.
Share it to get more people on board!
Share

Sara Haughty
San Francisco, California

Luke Picard
London, United Kingdom

Rick Vespucio
Florence, Italy
Event Details

Congratulations on being selected to the US Technical Championship – National Finals Event. Your skills on the pitch have shown you can "Make the Difference". At your local and regional events, you showcased your abilities on the ball. Competing in the USTC - National Finals event, you will be amongst some of the top players in your age group representing 18 different states across the country. We applaud you and your accomplishment thus far.
...Your journey is not finished yet...
This November, we are holding the Finals Event for the US Technical Championship. The Finals are being held Saturday, November 14th, 2015 at IUPUI's Michael A Carroll Track & Soccer Stadium. This is a beautiful turf facility in the heart of downtown Indianapolis.  
Here is a preliminary itinerary for the USTC National Finals Event:
9:30am – 10:20am Registration
10:20am – 10:45am Welcome message and presentation
10:45am – 11:00am Walk from Lecture Hall to Carroll Stadium, organize into groups
11:00am – 2:30pm Field competition  (12:15pm - 12:30pm Break for snack and drink)
2:30pm – 3:00pm Clean Up and walk back to Lecture Hall
3:00pm – 4:00pm Award Ceremonies and dismissal
As is typical of many competition & award events, times can tend to run a little longer. Our goal is to wrap up the event by 4:00pm that Saturday, and will ensure the festivities are completed no later than 4:30 for those flying out Saturday afternoon.
Travel:
Most families are driving or flying into the Indianapolis area. Our recommendation is to come in Friday to avoid any travel delays Saturday morning. We will be done early enough on Saturday for most families to get home Saturday night.
We do not have arrangements with hotels this year. You are welcome to book any needed hotel reservations or flights through the travel websites, travel agents, or other means.
Upon arrival in the Indianapolis area, rental cars are readily available, as are cabs for transportation to IUPUI.
For those driving in, there will be designated parking areas. We are currently negotiating the cost of parking with IUPUI and will communicate that, as soon as we can.
Travel expenses are the responsibility of those families attending the event.
Evaluations:
Players are evaluated in two areas; their technical skills/footwork and creativity/personality. The US Technical Championship is derived from Rene Meulensteen's philosophy of developing technical, creative and confident players. Rene has identified four different 1v1 situations. The USTC trains players how to recognize the various 1v1 situations and better understand the skills used to master them. The players are provided a platform to showcase these skills individually as well as in small sided games as part of a member of the team. This is the technical component.  Your son or daughter is encouraged to display confidence and personality, fueled by their footwork and creative mind. Can you dominate the 1v1 situation? Can you be unpredictable and exciting on the pitch? Pass or dribble?  Are you making good decisions?  Are you confident to use the skills you possess and willing to take a risk?  This is the creative and personality component.
Players are evaluated during in all phases of play during the USTC National Finals. Those with the highest scores in both technical and creative components are selected as winners.
There are 4 age groups. 6-7. 8-9. 10-11. 12-13. Boys and girls compete together in the 6-7 and 8-9 groups. Boys and girls compete separately in the 10-11 and 12-13 age groups. In all age groups, we plan on 1st, 2nd, and 3rd place awards in each age group, dependent on the number of participants.
Evaluators:
We will have licensed soccer coaches on staff at the event.
Awards:
It is important to note that we are diligently working with our partners to provide a great award package for those competing in the USTC National Finals. We will continue to update you on the prize list as soon as those awards are confirmed.
Every participant registering for this event will receive:
USTC National Event dri-fit jersey
Trophy from the local or regional event
1

st

, 2

nd

, and 3

rd

 place winners will receive:
US Technical Championship full warm-up
Invitation to compete in the NTK, National Technical Championship, in the Netherlands!
Invitation to attend a Dutch Soccer Camp in the Netherlands, summer 2016 (details coming)
Special Guests:
We will release the list of special guests very soon. We are working to have College coaches, University coaches, & OPD coaches attending and evaluating the USTC National Finals. We are also working with our partners to have representatives from State Soccer Organizations, US Soccer, NSCAA, Super Y, as well as several others. We will continue to update our guest list in the coming weeks.
Cost:
Cost is only $35 for you to compete in the USTC National Finals Event!
Once registered, you will receive a confirmation from us acknowledging your participation, and providing you with your ticket to the USTC National Finals
FAQ:
I have previously filled out a contact verification form on Survey Monkey, does that register me for the finals?
No! You still need to register to attend the finals. You will receive confirmation and a ticket to print and bring with you to the USTC National Finals Event. 
What is the USTC Technical Championship?
The USTC is the US Technical Championship. This is our second annual National Finals Event, where players from around the country compete in different age groups for the title National Technical Champion. More information can be found on our website, www.USNationalChampionship.com
How many days is the competition?
1 Day, Saturday, November 14th.
Will we be out early enough to fly out on Saturday?
Yes, we plan to wrap up the event by 4:00pm and will have everyone out no later than 4:30pm
We competed in the Super Y – Regional Scouting Series. Is this the USL experience?
No, your selection to the National Pool provides you the opportunity to compete in the USTC National Finals Event. You will still work with the YSL regarding the teams to be forms spring of 2016 for the USL Experience.
What age group will my son/daughter be competing in?
We have four age groups.
6 – 7 age groupsBoys and Girls compete together
8 – 9 age groupsBoys and Girls compete together
10 – 11 age groupsBoys compete. Girls compete. 

They do not compete together.
12 – 13 age groupsBoys compete. Girls compete. 

They do not compete together.
What determines the age group I compete in?
The year you were born, will determine the age group you compete in.
2008 – 2009You compete in the 6-7 age group
2006 – 2007You compete in the 8-9 age group
2004 – 2005You compete in the 10-11 age group
2002 – 2003You compete in the 12-13 age group
If you are now 14 but were 13 on January 1 of this year, you can still compete in the 12/13 age group
How much playing time will I get?
Everyone plays. There are not substitutions, unless playing in a 4v4 game. In that case, if there is an extra player, they rotate in about every minute of play. Down time is kept to an absolute minimum
What costs will I incur for attending the event?
All travel costs are the responsibility of the family attending. There is a cost to compete in the event, which is $35.
Will you have food and water available?
We will not have food available. Players are encouraged to bring along healthy snack options for nourishment during the day. We will have water at the field for those competing.
Will you have someone on staff in the event a player gets hurt?
Yes! We will have a certified sports trainer on staff at the event to help with any player needs.
Who can I  contact with questions?
Contact:
Sales and Marketing Director Kevin Butler
Email: kevin@sportpartnersusa.com 
Phone: (616) 635-3600
On behalf of SportPartnersUSA-Meulensteen Academy I look forward to seeing you on November 14th.  Best of luck to all.  Will it be you who earns the title 2015 US Technical National Champion?

Erwin van Elst                                                                                                                                                                 President - SportPartnersUSA 
When & Where

Indiana University - Purdue Indiana University
420 University Blvd.
Indianapolis, IN 46202


Saturday, November 14, 2015 from 9:30 AM to 4:00 PM (EST)
Add to my calendar
Organizer
SportPartners USA - Meulensteen Academy
Rene Meulensteen Academy
"MOVES & SKILLS"
Positive development program for your child
Curriculum that makes each player the best they can be
Comprehensive curriculum that addresses a player's technical, tactical, mental, and physical aspects.
You get the world's best soccer skills teaching method. 
Desigend by Rene Meulensteen, UEFA-Pro Licensed and former First Team Coach of Manchester United.
The "Moves & Skills" program has been presented in 2013, 2014, 2015 at the NSCAA Convention - the largest soccer coaches event in the world.  SportPartnerUSA-Meulensteen Academy owner and head instructor, Erwin van Elst is scheduled to present at the NSCAA summer symposium in Orlando, FL, July 30 - August 1, 2015.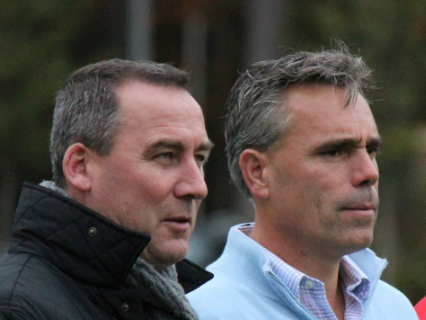 2015 US Technical Championship National Finals - IUPUI - Indianapolis, IN - Nov 14, 2015