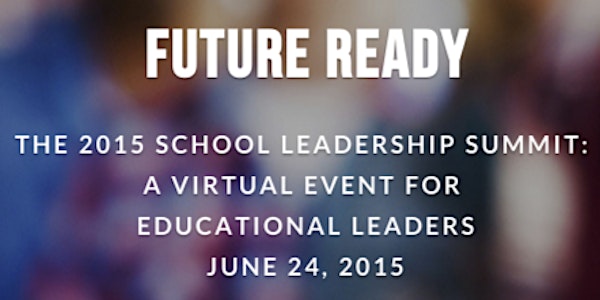 2015 TICAL School Leadership Summit - Future Ready Schools
Description
Each year TICAL holds an annual School Leadership Summit. This year's Summit, on June 24th, will focus on the pillars of the U.S. Department of Education's Future Ready Pledge. The Pledge is a commitment by district leaders to work with educators, families, and community members to make all schools in their districts Future Ready.
The main event site is at http://www.FutureReady.education.
Future Ready highlights the critical role of district leaders in setting a vision and creating the environment where educators and students access the tools, content, and expertise necessary to thrive in a connected world. The Future Ready Pledge and Regional Summits are an important step to realizing the goals of the ConnectED Initiative announced by President Obama in 2013 to connect 99% of students to high speed internet and empower teachers with the technology they need to transform teaching and learning.
Keynote speakers and breakout sessions will be aligned to the Future Ready School's framework, and will encourage school leaders and administrators to learn more about the initiative. The event starts at 8:00am US-Pacific Time and finishes at 4:15pm US-Pacific Time.
The School Leadership Summit will be held online using Google Hangouts on Air. The event will be free for all to attend and to watch the recordings.
Admin20.org is the online community-of-practice network for TICAL and the Summit. Continuing networking and conversation will take place on that site, as well as individual connecting between attendees and presenters.