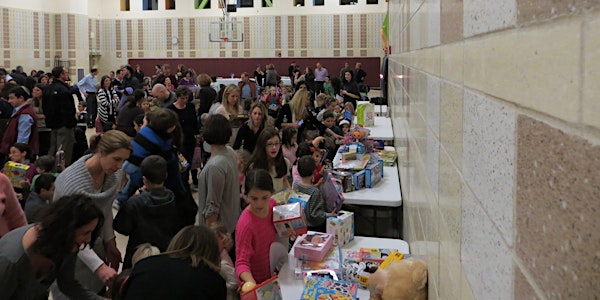 2015 TBS Fifth Night @ Rashi School - Charitable Gift Giving Celebration
Location
The Rashi School
8000 Great Meadow Road
Dedham, MA MA, 02026
Description

The Fifth Night @ Rashi School

What: An opportunity for children to participate in acts of kindness & giving this holiday season
When: Wednesday, December 9th, 6:30 p.m. to 7:30 p.m.
Where: The Rashi School, 8000 Great Meadow Rd, Dedham, MA 02026

Who: All are welcome and we encourage you to share this information with your family, friends and places of work. To help with planning, we kindly request that you Register.

Benefiting: Birthday Wishes - Bringing Birthday Parties to Homeless Children

You are invited to attend the 2015 5th Night Celebration, hosted by Temple Beth Shalom at the Rashi School. The event will be a fun and simple way for children to participate in Tzedakah by giving one night of Hanukkah gifts to a child in need. Coming together to celebrate and donate will help our children learn how their giving will benefit and impact other children and their families and make the holiday even more meaningful.

To help the little ones understand the impact of their gift, and to make the experience more fun and personal, we encourage each child to help select a gift for a recipient of a similar age. We have once again partnered with Birthday Wishes, an amazing organization that is dedicated to bringing birthday parties to homeless children.
After enjoying candle lighting and a light dessert, the children will have a chance to personally donate their specially-chosen presents. A Representative from Birthday Wishes will speak briefly to the children, thank them for their gifts, and describe how their donations will impact the recipients and their families. With the little ones in mind, the organization will be sure to keep the presentations very short, and easy to understand.
To see all of the 2015 Fifth Night Events, please visit www.fifthnight.org

Gift Giving Guidelines
New, unopened and unwrapped gifts

At least one gift per child attending.


If your child is old enough to understand, we believe that having him or her pick a gift for a child of the same age or gender will enrich the experience.



If you have questions, please feel free to contact Robert Glazer at rglazer(at)accelerationpartners.com /(617) 264-0334 or Amy Finn at amyfinn1(at)gmail.com/617-935-9308.
About Birthday Wishes (http://www.birthdaywishes.org)
Birthday Wishes brings the magic of a birthday party to thousands of homeless children each year. Founded in 2002 as a volunteer organization serving one local shelter, Birthday Wishes has expanded its program to serve more than 165 shelters and transitional living facilities in Massachusetts, Rhode Island and Long Island, New York.
Thanks To Our Sponsors