2015 SOUL BEACH MUSIC FESTIVAL

Thursday, May 21, 2015 at 7:00 PM

-

Monday, May 25, 2015 at 10:00 PM (EDT)
Event Details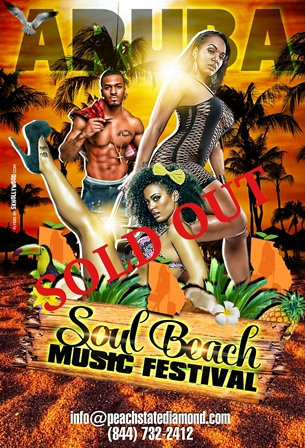 SOUL BEACH MUSIC FESTIVAL
Oranjestad, Aruba
May 21-25, 2015
May 2015, the 15th Annual Soul Beach Music Festival will fly into Aruba for the most electrifying music festival event of the year!
The 2015 Soul Beach Music Festival kicks off Memorial Day Weekend in Aruba's sun-kissed paradise with five days of power packed events.
Join Soul Music Lovers from around the world and take part in amped-up night clubs, sizzling beach parties, music, comedy concerts and much more!
Past line-ups have included Mary J. Blige, R. Kelly, Chrisette Michelle, Jennifer Hudson, Ledisi, Heads of State, Joe, Boys II Men, LL Cool J, Ne-Yo, Robin Thicke, Ashanti, Rickey Smiley, Mark Curry and many more!


We have already made the travel arrangements for you. Our prices are some of the lowest around and you don't have to worry about forking over a lump sum of money. We have very convenient monthly payment plans.
Don't procrastinate, RESERVE YOUR SPACE TODAY!
Packages Includes:
4 night garden view OR partial ocean view accommodations
Roundtrip Transfers (airport/hotel/airport)
Kukoo Kunuku Party Bus* (additional cost)
Room Taxes

Garden View Package Prices - SOLD OUT
$595 per person– Double Occupancy
$475 per person– Triple Occupancy
$425 per person– Quad Occupancy
$1125– Single Occupancy

Partial Ocean View Package Prices - SOLD OUT
$675 per person– Double Occupancy
$585 per person– Triple Occupancy
$525 per person– Quad Occupancy
$1275– Single Occupancy

Kukoo Kunuku Party Bus (Additional Cost)
Hop aboard the Kukoo Kunuku Party Bus and shake your maracas to the beats of today's music on the way to a Champagne toast.
Then we are off to dine in the gardens of Residencia Sylvia, the beautiful home of former Chief of Protocol. There you will be served a local meal under the stars. After dinner, we are off to some or our favorite pubs and "watering holes" where the first drinks, a Kukoo Kunuku specialty drink is on us and all other drinks are at local prices. Along the way, you will learn the island rhythms, catch the island spirit and have a whirlwind of foot stompin'!

Please note, if you purchase the Kukoo Kunuku Party Bus, you will run the risk of missing the Soul Beach events. 
 
If you have found this travel package after payments have began, you are still allowed to register as long as space is still available.  
After initial deposit is made, you should be prepared to bring your payments current within 30 days. 
 
Deposit Deadlines
$50 per person – July 20
$50 or more per person – August 20
$50 or more per person – September 20
$50 or more per person – October 20
$50 or more per person – Nov 20 (50% must be paid by this date – no exceptions)
$50 or more per person – December 20
$50 or more per person – January 20
$50 or more per person – February 20
All remaining balances due, if any – March 20 (no exceptions)

*Single Occupancy accommodations require a $100 initial deposit and $100 monthly deposits.
*Single Occupancy deposit deadlines are the same as outlined above.
What's Not Included:
- Roundtrip Airfare
- Additional island taxes and fees
- Hotel and Bellman gratuities (added to hotel bill at end of stay). 
(Hotel $4 per person, per day and $10 bellman gratuities roundtrip)
- Soul Beach Event activities and tickets
- Transportation to and from the Soul Beach events and activities
- Kukoo Kunuku Party Bus and Dinner (additional cost)
Environmental Levy Tax - On 7/19/13 the Radisson Aruba Resort placed the following statement on their Facebook page:  Update on the Environmental Levy—it has been passed by the Aruban Parliament and will go into effect for all stays arriving as of August 1, 2013. It is a $3 per room, per night Environmental Levy added to each hotel bill.
Transfers
Round trip transfers are included in your package price. 
You will be picked up at the airport and transported to the resort. 
Gratuities for the driver are not included and it is customary to tip the driver. 
Flight itineraries MUST BE RECEIVED by your agent on or before the final payment date, March 20, 2015.
If flight itineraries are not received by March 20, 2015, you will be required to obtain your own roundtrip transfers.
Please note:  We only provide roundtrip transfers based on the dates of this advertised package.
Roundtrip transfers will not be provided for anyone arriving before or departing after our scheduled dates.


Polices, Payments and Fees: 
- Due to contractual obligations, all payments are non-refundable and non-transferable unless travel is purchased.

- We are not affiliated with Aruba Soul Beach Music Festival. Soul Beach Music Festival tickets can be purchased online or via the Concierge desk at our host hotel, Radisson Aruba Resort, Casino & Spa

- A passport is required for this event. Your passport must be valid a minimum of 6 months beyond the completion of travel.

- Please register in the name shown on your passport.

- Each individual is responsible for his/her own roundtrip airfare to Aruba International Airport (AUA). 
- If flight itineraries are not received by March 20, 2015, you will be responsible for obtaining your own roundtrip transfers.

- Travel insurance is available for an additional cost. Please send an email to info@peachstatediamond.com to receive an insurance quote. Be sure to include your full name, address and birthdate, type of accommodations and number of occupants.

- It is best to pay your initial deposit as soon as possible to guarantee you are locked in at the current rates. Rates are subject to increase.

- Payment plans are allowed as a convenience. Failure to make payments as agreed will result in cancellation of your reservation and forfeiture of all monies paid.

- Upon registering for this event, you MUST make monthly payments of $50 or more. Not doing so will result in cancellation of your reservations and forfeiture of all deposits made.

- When initiating a booking within 60 days of departure, the total cost must be paid in full at the time of registration. Payment plans ARE NOT available for new bookings within 60 days of departure.

- Reservations for the occupancy selected are confirmed once initial deposits are received from ALL listed roommates.

- All roommates must make their initial deposits within 7 days of us receiving the 1st roommate's deposit. If all deposits are not received, your accommodations will be confirmed based upon the number of deposits received. (Ex. If quad occupancy is selected and deposits have only been received from 2 listed roommates, your accommodations will be confirmed as double occupancy.)

- It is your responsibility, not the responsibility of Peach State Diamond to ensure your roommate's payments are made in a timely manner. If your roommate does not make timely payments or decides not to attend, you will be required to pay a higher Occupancy Rate.

- Refunds are not provided due to your roommate not making payments or deciding not to attend.

- ALL REMAINING BALANCES MUST BE RECEIVED BY MARCH 20, 2015. NO EXCEPTIONS! Late payments will not be accepted for this trip.

- Checks are not accepted 45 days prior to departure.

- If a payment made via check is returned, a return check fee of $37 will be imposed. Your replacement payment, including the $37 return check fee must be paid within 24 hours via credit/debit card.

- Peach State Diamond reserves the right to use all client images or likeness in connection with still photography or recorded video. Attendance at any Peach State Diamond event gives consent to be photographed for use in print or electronic publicity on social media sites.

- All correspondence regarding this trip is sent via email. Please provide an email address that is checked frequently.

Payment Methods
Trip Website:
www.aruba2015.eventbrite.com
Credit/Debit cards and Electronic Checks are acceptable forms of payment.
There is an additional fee charged for making payments via the trip site.
These fees ARE NOT deducted from the cost of your trip.

PayPal:
If you have a PayPal account, payments can be sent directly to info@peachstatediamond.com . There are no additional fees charged when using this method of payment.
Please be sure to reference which trip you are paying for in the Notes/Message section. Also include a contact number.

Mail:
Peach State Diamond Travel and Tours
Attn: Soul Beach Festival
PO Box 3163
Lilburn, GA 30048
Please be sure to include your email address and contact number.


Contact Us 
Peach State Diamond Travel and Tours
info@peachstatediamond.com
(844)PEACH12


When
Thursday, May 21, 2015 at 7:00 PM

-

Monday, May 25, 2015 at 10:00 PM (EDT)
Add to my calendar
Organizer
Peach State Diamond Travel & Tours is a full service travel agency based out of Atlanta, Georgia that specializes in group, business and individual travel.
We realize that a great vacation is not just about booking airline tickets and making hotel reservations, but rather about creating cherished, unforgettable lifetime memories at affordable prices.
We are certified, licensed, and experienced travel consultants whose focus is on servicing your travel needs.

Business Hours
Monday - Friday, 4:30pm - 8:30pm
trips@peachstatediamond.com


2015 SOUL BEACH MUSIC FESTIVAL