Description
Join the Asian American Arts Alliance for our next October Town Hall arts event! Excited about NY Comic Con 2015? So are we! That's why we decided not to end the excitment there, but rather invite our own lineup of amazingly talented comic artists and illustrators.
As well as featuring some awesome Asian American comic artists/illustrators, we'd love to hear what you've been up to as well! Got an event you want to share? Got a new project you've been working on? Come and let us know! Or if you would just like to come, listen, and network, that's fine too!
For newcomers, here's the deal: Each person pitching their project, performance, event, etc. gets ONE MINUTE to speak. One minute may not sound like much, but actually, a lot can be said in a minute! We recommend practicing beforehand, so you can cram in all the vital info. Showing a video is also fine (as long as it is under one minute!). If you would like your website or an image to be projected behind you as you speak, please email Alex Young at ayoung@aaartsalliance.org with the image or webadress. Go to our tumblr to check out previous Town Halls!
We are all looking forward to seeing your smiling faces and hearing about your wonderful projects. Don't forget to bring something yummy to share at the potluck!
-The Alliance Team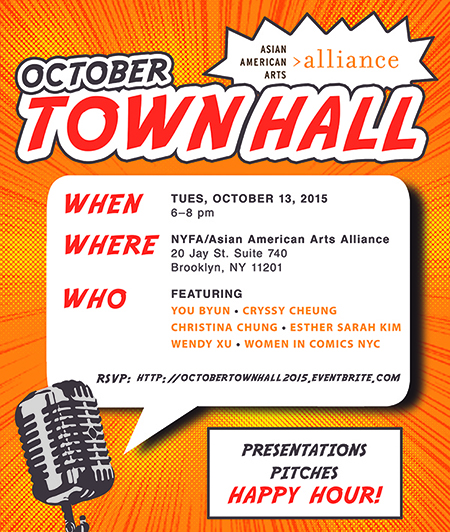 Flyer Design: Miriam Yoo