2015 New Year's Celebration: MOVIE x DJ (Tune In Tokyo) x PARTY

Sunday, January 11, 2015 from 2:00 PM to 7:00 PM (PST)
Event Details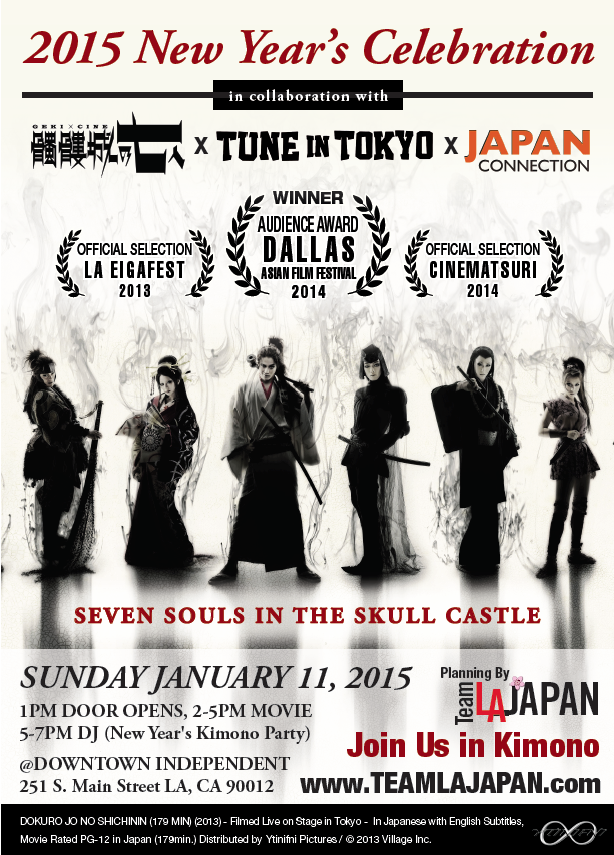 Sunday, January 11, 2015 : New Year's Celebration
{Join us in Kimono! / 着物で映画鑑賞&新春パーティー!}
1 PM: Door Open
1:00PM - 2:00PM:  JAPAN CONNECTION {Meet up! w/Free Japanese Snacks!}
2:00PM - 5:15PM:  MOVIE {SEVEN SOULS IN THE SKULL CASTLE / 髑髏城の七人}(Includes one intermission.)
5:15PM - 7:00 PM:  DJ {Tune In Tokyo} / PARTY
For more information, please visit at www.TeamLAJAPAN.com
==================================================================
About SEVEN SOULS IN THE SKULL CASTLE / 髑髏城の七人
"It's like nothing we've ever seen in America. Japan has done it again! The producer calls it 'geki x cine,' or 'theatre 'times' cinema.' It's a multiplier effect that creates a whole new genre of film-making and takes both movies and live theater to new levels of possibility." - CineMatsuri, Washington D.C. 2014 -
Written by Kazuki Nakashima (Kill La Kill) 
Directed by Hidenori Inoue (Founded the GEKIDAN SHINKANSEN) 
Starring
Shun Oguri, Mirai Moriyama / Taichi Saotome
Eiko Koike, Ryo Katsuji, Riisa Naka 
Rating: PG-12 in Japan (179min.)
Distributed by Ytinifni Pictures / © 2013 Village Inc.
From the top of Japan's entertainment world, theatrical troupe Gekidan Shinkansen brings a new live-theatre style of film screening to moviegoers, as their popular stage performance becomes a production that can be enjoyed "just like a stage performance" in the cinema. Using the latest cinematic techniques, the sweat, tears, and subtle emotions of the actors are brought to life through carefully calculated motion picture projection. With high definition audio systems amplifying the actors' stage presence, experience the living excitement of a performance beyond your wildest imagination. Since the first performance in 2004, this "New Entertainment for the Cinema" has been supported and enjoyed by Shinkansen fans, theatre fans, and film fans, and this latest production has been eagerly anticipated by an explosively growing number of people. The Geki*Cine (filmed live on stage) project was started in 2003.
STORY:  The year is 1590, the 18th year of the Tensho era. After the demise of warlord ODA NOBUNAGA, Japan is about to be unified by TOYOTOMI HIDEYOSHI. However, one man in the Kanto region defies unification. That man calls himself TENMAOH (Mirai MORIYAMA) and leads the KANTO DOKURO-TO (Skull Clan), an armed group hiding in the pitch-black DOKURO-JO (Skull Castle), though he once worked for NOBUNAGA. SUTENOSUKE (Shun OGURI) happens to rescue SAGIRI, a woman who has been chased by the KANTO DOKURO-TO and their bloodthirsty leader, madman TENMAOH. To hide and shelter the woman, SUTENOSUKE meets MUKAIYA RANBE (Taichi SAOTOME) at a brothel district. Manipulated by magical fate, people congregate in the Kanto region. When the shared past between SUTENOSUKE and RANBE, and their relation to TENMAOH, come to light, the dark ambition of TENMAOH is revealed. Without regrets, SUTENOSUKE and his seven souls head for DOKURO-JO, though it is surrounded by 20,000 soldiers, to destroy it and stop TENMAOH's dark ambition.
*************************************************************************************************
PLEASE NOTE:
** Ticket sales are final. 
** On-line sales will end 1day before the film is shown OR sooner, if all seats are sold.
** To change ticket holders, please log in to your Eventbrite account.
Have questions about 2015 New Year's Celebration: MOVIE x DJ (Tune In Tokyo) x PARTY?
Contact Team LA JAPAN
When & Where

Downtown Independent Cinema
251 S. Main Street
Los Angeles, CA 90012


Sunday, January 11, 2015 from 2:00 PM to 7:00 PM (PST)
Add to my calendar
Organizer
Team LA JAPAN
An Arts and Entertainment organization that develops and promotes creative relationships between Los Angeles(USA) and JAPAN(Asia).
2015 New Year's Celebration: MOVIE x DJ (Tune In Tokyo) x PARTY