Event Information
Location
The Great Hall
180 East Fifth Street
St. Paul, MN 55101
Description
Exclusive Pre-Summit Speaker Reception
You're invited to the pre-summit meet and greet reception for speakers and attendees of the 2015 MnSearch Summit! This is an exclusive, invite-only, for MnSearch members and select individuals who are attending the Summit to network with our great search community.
When & Where
Date: Thursday, 6/25/2015
Time: 6pm – 8pm
Location: The Great Hall, 180 East Fifth Street, St. Paul, MN, 55101
Parking Options: There is plenty of on-street parking in the area. There are also a number of parking ramp options. The most convenient ramp is the Lowertown Ramp, located at 316 Jackson St, St Paul, MN 55102. You can enter the Lowertown Ramp southbound on Jackson Street or northbound on N Sibley Steet.
Included: Food, beverages, networking, games and good-times for all
Cost: free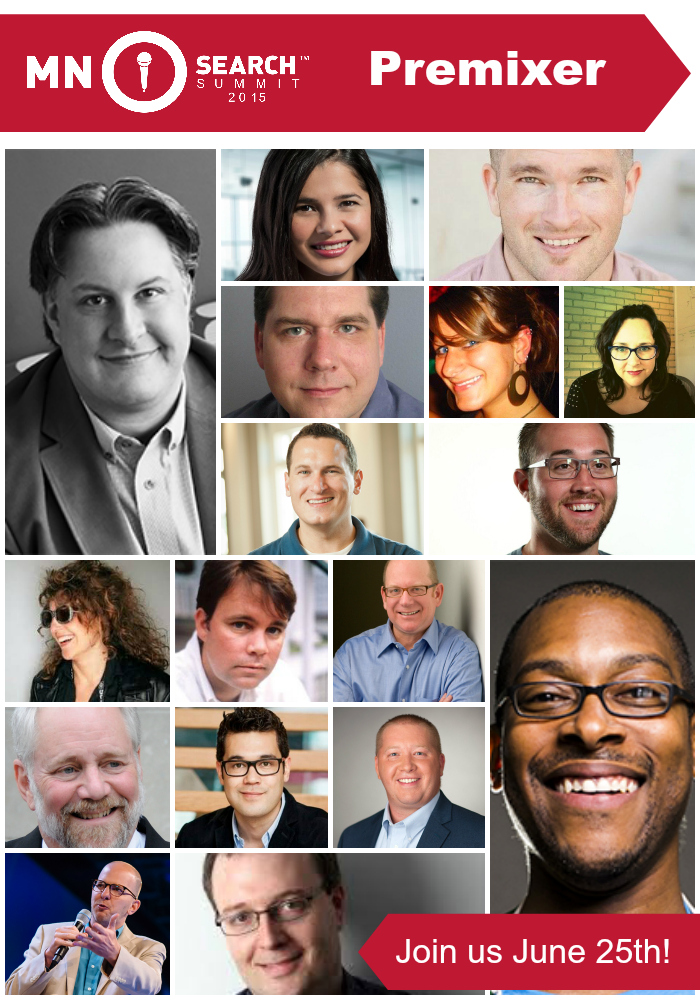 This event will be a chance to talk and network with the top search talent across multiple states in one room. An up-close and personal happy hour exclusively offered to MnSearch members and select individuals attending the Summit.
2015 MnSearch Summit Speakers:
Duane Forrester - Bing

Wil Reynolds - Seer Interactive

Cyrus Shepard - Moz

Bob Stanke - Minnesota Timberwolves

John Gagnon - Bing Ads

Casey Henry - Wistia

Sean Callahan - LinkedIn

Merry Morud - aimClear

Brad Geddes - Certified Knowledge

Ross Hudgens - Siege Media


Aleyda Solis - Orainti

Ian Lurie - Portent Interactive

Mike Blumenthal - GetFiveStars

Loren McDonald - Silverpop

Meghan Casey - Brain Traffic

Jeff Sauer - Jeffalytics

Angie Schottmuller - Interactive Artisan
Date and time
Location
The Great Hall
180 East Fifth Street
St. Paul, MN 55101