2015 K-12 STEM Symposium for the National Capital Region

Saturday, March 7, 2015 from 9:00 AM to 3:00 PM (EST)
Event Details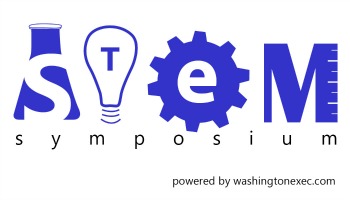 2015 K-12 STEM Symposium
The Parent Factor: How to Engage your Kids in STEM
This all-day free event will include exciting exhibits, inspiring speakers, and panel experts who will highlight just how vital it is to engage parents, students, teachers, corporate/government execs and non-profit representatives alike in Science, Technology, Engineering, Mathematics (STEM) education and careers.
Over 1,500 students, parents, teachers, corporate/government executives, and non-profit representatives are projected to attend.
Mission & Outcome:
Every parent or guardian can be a driving force in a child's pursuit and curiosity of the STEM (science, technology, engineering and mathematics) fields. The positive influence of a parent on a child's academic achievements is irreplaceable. Whether a child is interested in computer coding or chemistry, or has yet to show an interest in STEM, parents need actionable information to spark and motivate their children.
The symposium will provide the opportunity for K-12 students in the National Capital Region (NCR) to showcase their achievements in STEM, and to interact with key business, education, non-profit and government leaders through real-life applications and presentations about how science, technology, engineering and mathematics impacts our community.
From an industry leader perspective, professionals will have the opportunity to establish and strengthen critical relationships between business and education professionals in our region. Leaders will also be able to gauge the STEM proficiency of the local prospective STEM pipeline.
Who Should Attend?
Students (first grade and above), parents, educators, nonprofit leaders, corporate leaders and federal leaders with a vested interest in the National Capital Region (NCR) STEM pipeline.
What to Expect:
The 2015 K-12 STEM Symposium is a free, exciting and all-day forum that equally engages children, parents, and teachers, coupled with corporate, government, academia and non-profit executives alike from the STEM fields.
Activities for the day will include hands-on experiments for children, government and industry exhibitors, student science fair projects and panel discussions with STEM stakeholders. Attendees will also be able to find information about government and industry STEM-related high school and college internships.
Each attendee will receive a Parent-STEM action plan geared towards nurturing a child's curiosity towards the STEM fields.
Bottom Line:
Parents have a key role in engaging children early and keeping them interested in pursuing a STEM career. Get informed. Get excited. Get started.
The 2015 STEM Symposium's action plan for parents and STEM stakeholders is just the beginning. We will continue the conversation online on the STEM Symposium website (www.stemsymposium.com).
For more information, please contact info@washingtonexec.com.
Convened and organized by: WashingtonExec
Event Information:
Date: March 7th 2015

Time: 9:00 am to 3:00 pm
Location: The Nysmith School (13625 EDS Drive, Herndon, Virginia 20171)
Presenting Sponsor
Platinum Sponsor


For more information about this year's event, please visit our website at stemsymposium.com.
The Subway in Fair Lakes will have lunch for sale during the event.  Attendees are also welcome to bring a brown bag lunch.
Convened and Organized by:

By registering for this event, you grant WashingtonExec and its assigns and licensees, the absolute and irrevocable right and permission to use and reuse all photographs, video, audio and photography of which may be included, in whatever format or medium they may appear, together with your name, for purposes of the Company's advertisement, trade or promotion. You agree that the photographs may be combined with other images, text, graphics, film, audio, audio-visual works; and may be cropped, altered or modified.
When & Where

Nysmith School For the Gifted
13625 EDS Drive
Herndon, VA 20171


Saturday, March 7, 2015 from 9:00 AM to 3:00 PM (EST)
Add to my calendar
Organizer
WashingtonExec
WashingtonExec publishes a daily news blog and hosts exclusive events for senior-level executives in the DC-metro area.
Since our events are invitation-only, you will not find information about our upcoming events through our public profile. 
If you are interested in learning more about the organization, please contact info@washingtonexec.com.
2015 K-12 STEM Symposium for the National Capital Region