2015 FL Pomegranate Association Annual Meeting

Friday, October 23, 2015 from 9:00 AM to 3:30 PM
Event Details
Florida Pomegranate Association 

2015 Annual Meeting
Friday, October 23, 2015, 9:00a-3:30p

Citrus Research and Education Center
Ben Hill Griffin Jr, Auditorium
700 Experiment Station Rd., Lake Alfred, FL  33850
** Notice **  Sponsor and Exhibitors Registration Please Visit
https://2015flpomegranatesponsor.eventbrite.com
October 23, 2015 the FPA will hold their Annual Meeting at CREC in Lake Alfred, FL. 
FPA is scheduling a variety of educational programs discussing pomegranate production and essential cultural practices.  John Preece, Research Leader at the National Clonal Germplasm Rep/ARS/USDA/UC and Glenn Wright, Ph.D., Extension Horticulturist for the University of Arizona, The School of Plant Sciences, Yuma Agiculture Center, are our guest speakers. The Gulf Coast Research and Education Center (GCREC), IFAS/UF pomegranate research team will be presenting the latest research information for Florida pomegranates. All current and prospective pomegranate growers and enthusiasts, commercial investors, nurseries, Master Gardeners, and interested homeowners are encouraged to attend.
2015
FL Pomegranate Association Annual Meeting
Co-host University of Florida / IFAS / CREC
 Friday, October 23, 2015
9:00a-3:30p
Program
Moderator: Bill Castle
  9:00 – 10:00 – Registration Open
  9:00 –   9:55 – Meet and Greet with Florida's Pomegranate Growers 
                                  Visit with Exhibitors and Sponsors
  9:55 – 10:00 – Welcome
                                  Cindy Weinstein, President, FPA 
10:00 – 11:00 – What Exactly is a Pomegranate Cultivar? 
                                  Dr. John Preece, Supervisory Research Leader, Horticulturist 
                                  National Clonal Germplasm Repository, Davis, CA 
11:00 – 12:00 – The Arizona Pomegranate Story 
                                 Dr. Glenn Wright, Associate Professor & Tree Fruit Specialist  
                                 University of Arizona – Yuma Agriculture Center 
12:00 – 12:20 – FPA Annual Business Meeting 
                                 Cindy Weinstein, President, FPA 
12:00 – 12:45 – Lunch  (Menu to be announced) 
                                 Chef Prepared and Served on Campus 
12:45 –  2:00 – Pomegranate Taste Test
                                 Experience Over 20 Varieties of FL Pomegranates
  2:00 –  2:30 – Update on Pomegranate Grant Study
                                 Dr. Gary Vallad and UF/GCREC Team
  2:30 –  3:00 – Pomegranates in Georgia: An Update
                                 John Tanner, Georgia Pomegranate Association
  3:00 –  3:30 – Discoveries of an Heirloom Pomegranate Collector
                                 Richard Bonsteel, PomNatural LLC 
---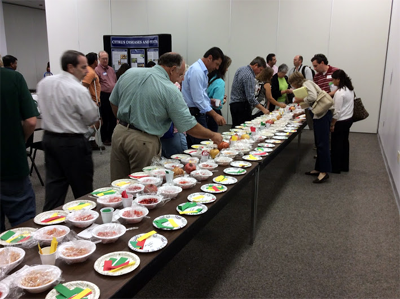 FPA will provide attendees of the 2015 Annual Meeting the opportunity to participate in the famous Pomegranate Taste Test.  You will not want to miss the outstanding selection of the largest collection of Florida-grown pomegranates to be assembled for one event. Attendees are encouraged to participate in this flavor-filled experience and vote for their favorite pomegranate varieties.
---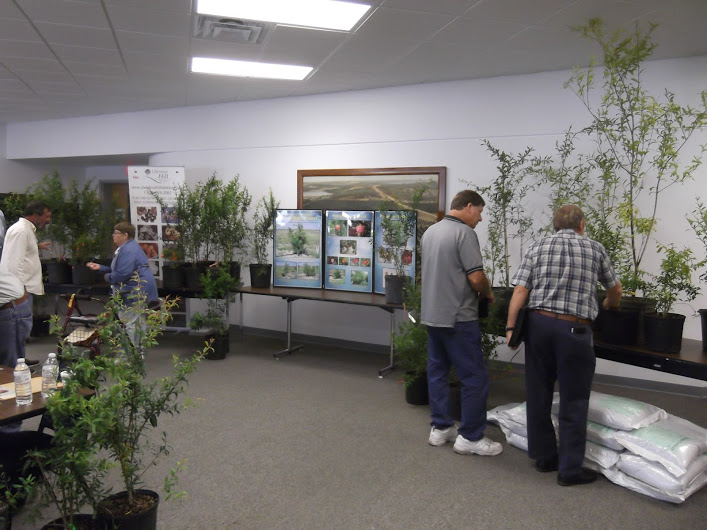 Varietal data will be available to assist attendees in selecting varieties best suited for Florida's varied climates. Representatives of pomegranate nurseries will be on site with a wide variety of pomegranate trees available for sale or to place on order for spring.  
---
- Visit the exhibitors for your growing needs.
- Pomegranate trees for sale.

- Pomegranate Trees and other Great Door Prizes to be awarded.
- Free On-Site Parking is available.
- Pomegranate Infused Lunch is Included with Admission Ticket.

---
REGISTRATION
(FPA Members may register one guest to attend at members price.)
Pre-Registration
January 1, 2015 thru October 19, 2015
Offers Reduced Price Admission Tickets
FPA Members - $25.00/person
Non-Members - $40.00/person
Registration
Register Online October 19, 2015 thru October 23, 2015 and at the Door.
FPA Members - $35.00/person
Non-Members- $50.00/person
Electronic Registration
https://2015flpomegranatemeeting.eventbrite.com     
Eventbrite charges a small Service Fee with each registration.
---
INFOMATION & UPDATES  
http://www.crec.ifas.ufl.edu/extension/pomegranates/announcements/index.shtml
www.floridapomegranateassociation.org
www.facebook.com/floridapomegranateassociation
www.linkedin.com/in/floridapomegranateassociation/
or contact:
Cindy Weinstein: 863-604-3778 / flpomegranate@gmail.com 
---
Join the FL Pomegranate Association today
Receive FPA Member's Exclusive Benefits.
https://www.2015fpamembership.eventbrite.com 
2015 Membership Special: Register your FPA membership for 2 years and pay half price for the 2nd year.

---
Sponsors/Exhibitors Registration 
www.2015flpomegranatesponsor.eventbrite.com
For Information and Registration Assistance Contact:
Debbie, FPA Secretary: flpomegranate.secretary@gmail.com
Emory McTeer: 863.224.6457 / mrgoodberries@tampabay.rr.com
Jeff Groves: 352.318.4992 / blueberries@gru.net
---
It is our Pleasure to Introduce to you the
2015 FL Pomegranate Association Annual Meeting
Sponsors & Contributors
Thank you for Suporting FL Pomegranate Research and Education
BRONZE SPONSORS


Karl Manges
DS&A
509 Boating Club Road, St. Augustine, FL 32084


Joe Peavy

2399 Radio Station Road, Alma, GA. 31510
BREAKFAST TABLE SPONSOR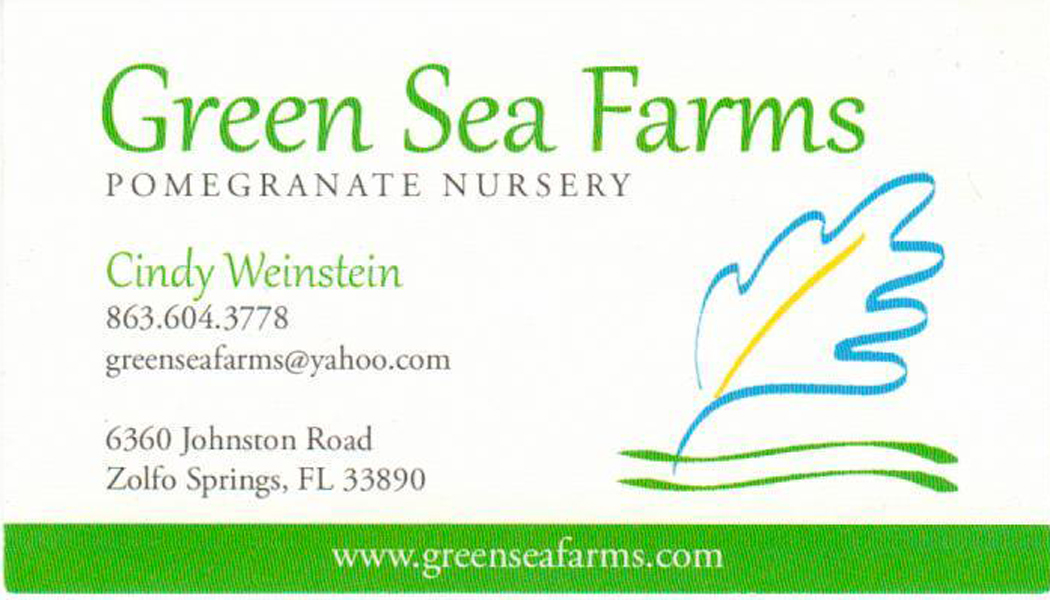 CONTRIBUTERS

 THANK YOU
P & H SOLUTIONS
FOR YOUR GENEROUS DONATION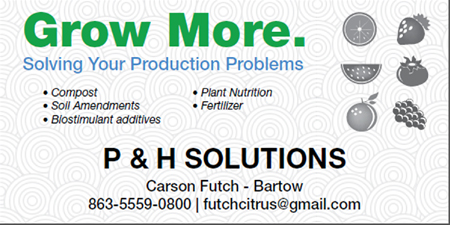 Provider of the Compost Mulch for
FL Pomegranate Project at GCREC
THANK YOU
JAIN IRRIGATION
FOR YOUR GENEROUS DONATION

Provider of the Irrigation Supplies for
FL Pomegranate Project at GCREC
When & Where

Citrus Research and Education Center (CREC)
Ben Hill Griffin Jr, Auditorium
700 Experiment Station Rd.
Lake Alfred, Florida 33850, FL


Friday, October 23, 2015 from 9:00 AM to 3:30 PM
Add to my calendar
Organizer
Florida Pomegranate Association
Contact Information:
Mailing address:
FPA
6360 Johnston Rd.
Zolfo Springs, FL  33890
Telephone:
Cindy Weinstein - 863-604-3778
Email: flpomegranate@gmail.com
Website: www.FloridaPomegranateAssociation.org
www.crec.ifas.ufl.edu/extension/pomegranates/
LinkedIn.com/FloridaPomegranateAssociation

Sponsor: Your support aids in research and education for Florida pomegranates.
Contact: Cindy Weinstein or Debbie Bice at flpomegranate@gmail.com

2015 FL Pomegranate Association Annual Meeting