| | |
| --- | --- |
| 2015 DIAMOND GLAM GIRLFRIENDS CRUISE | |
Event Details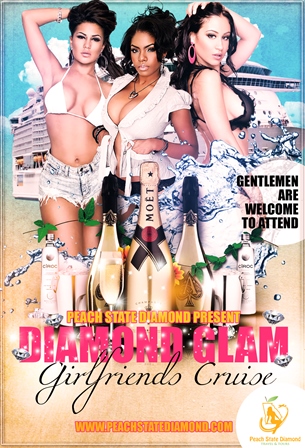 2015 Diamond GLAM Girlfriends Cruise
St. Thomas, Barbados, St. Lucia, St. Kitts, St. Maarten
GENTLEMEN ARE WELCOME TO ATTEND

7 Day Cruise from San Juan, Puerto Rico
October 4 - 11, 2015
PAST GIRLFRIENDS GUESTS WILL RECEIVE $50 OFF THE TOTAL PACKAGE

Cruise Itinerary
Oct 04 – San Juan, Puerto Rico                      10pm
Oct 05 – St. Thomas                                     7am - 5pm
Oct 06 – @ Sea
Oct 07 – Barbados                                        8am - 5pm
Oct 08 - St. Lucia                                         8am - 5pm
Oct 09 - St. Kitts                                          8am - 5pm
Oct 10 - St. Maarten                                     7am - 5pm
Oct 11 - San Juan, Puerto Rico                      7am
 
Cruise Packages
Inside Cabin
$699 per person– Double Occupancy
$599 per person – Triple Occupancy
$1200 - Single Occupancy
quad occupancy not available in this category

Ocean View Cabin
$750 per person– Double Occupancy
$650 per person– Triple Occupancy
$550 per person– Quad Occupancy
$1375 - Single Occupancy

Balcony Cabin
$899 per person - Double Occupancy
$799 per person - Triple Occupancy
$699 per person - Quad Occupancy
$1675 - Single Occupancy

Package Includes
7 Days aboard the Carnival Liberty
All accommodations and meals
Entertainment and most onboard activities
All taxes & port charges
Champagne & Chocolates in each cabin
$25 Onboard Credit
DG Meet & Greet Dinner w/Premium Wine
DG Purple Passion Dinner Party
DG Cocktail Party w/open bar
DG Karaoke Night
DG Club Night
DG Movie Under the Stars
DG Adult Conversations & Cocktails
DG Digital Adult Scavenger Hunt
DG T-Shirt
2 Group Photos

If you have found this travel package after payments have began, you are still allowed to register as long as space is still available.  
After initial deposit is made, you should be prepared to bring your payments current within 30 days.

Deposit Deadlines
$50 or more per person - July 20
$50 or more per person - August 20
$50 or more per person - September 20
$50 or more per person - October 20
$50 or more per person - November 20
$50 or more per person - December 20
$50 or more per person - January 20, 2015
$50 or more per person - February 20, 2015
$50 or more per person - March 20, 2015
$50 or more per person - April 20, 2015
$50 or more per person - May 20, 2015
ALL REMAINING BALANCES DUE, if any – June 20, 2015

Policies, Payments & Fees
-Payments to Peach State Diamond are NON-REFUNDABLE & NON-TRANSFERABLE unless travel insurance is purchased.

-A passport is not required for this event, but they are suggested.

-Please register in the name shown on your passport or government issued identification.

-If you are not traveling with a passport, valid government issued picture identification and a certified birth certificate with seal is required.

-You must provide your own transportation to/from San Juan, Puerto Rico.

-Travel Insurance is available for an additional cost. Please send an email to info@peachstatediamond.com to receive an insurance quote. Be sure to include your full address and birthdate, type of cabin and number of occupants in your email.

-It is best to pay your initial deposit as soon as possible to guarantee you are locked in at the current rates. Rates are subject to increase.

-Payment plans are allowed as a convenience. Failure to make payments as agreed will result in cancellation of your reservation and forfeiture of all monies paid.

-When initiating a booking within 60 days of departure, the total cost must be paid in full at the time of registration. Payment plans ARE NOT available for new bookings within 60 days of departure.

-Reservations for the occupancy selected are confirmed once initial deposits are received from ALL listed roommates.

-All roommates must make their initial deposits within 7 days of us receiving the 1st roommate's deposit. If all deposits are not received, your accommodations will be confirmed based upon the number of deposits received. (Ex. If quad occupancy is selected and deposits have only been received from 2 listed roommates, your accommodations will be confirmed as double occupancy.)

-It is imperative to make sure your roommate's payments are made in a timely manner. It is not the responsibility of Peach State Diamond to keep up with your roommate's payments. If your roommate does not make timely payments or decides not to attend, you will be required to pay a higher Occupancy Rate.

-Refunds WILL NOT be provided due to a roommate's cancellation.

-Gratuities of $12.00 per day are not included. You can pay them in advance. If you choose not to, they will be due on the

-A $75 late fee will be imposed for all payments received after the final payment deadline.

-Checks are not accepted 30 days prior to departure.

-If a payment made via check is returned, a return check fee of $35 will be imposed. Your replacement payment, including the $35 check fee must be paid within 24 hours via credit/debit card.

-All correspondence regarding this trip is sent via email. Please provide an email address that is checked frequently.

-Onboard credits are applicable to the first 2 guests shown on the booking.  They are not applicable to 3rd and 4th guests in the same stateroom.  This is Carnival's policy, not Peach State Diamond.

-Peach State Diamond Travel reserves the right to use all client images or likeness in connection with still photography or recorded video.  Attendance at any Peach State Diamond event gives consent to be photographed for use in print or electronic publicity on social media sites.  

Payment Methods
Trip Website:
www.diamondglam2015.eventbrite.com
Credit/Debit Cards and Electronic Checks are acceptable forms of payment. There is an additional fee charged for making payments via the trip site. These fees ARE NOT deducted from the cost of your trip.

PayPal:
If you have a PayPal account, payments can be sent directly to info@peachstatediamond.com. There are no additional fees charged when using this method of payment.
Please be sure to reference which trip you are paying for in the Notes/Message section. Also include a contact number.

Mail:
Peach State Diamond Travel and Tours
Attn: 2015 Girlfriends Cruise 
PO Box 3163
Lilburn, GA 30048
Please be sure to include your email address and contact number.
Contact Us
Peach State Diamond Travel & Tours
info@peachstatediamond.com
(844)PEACH12

Fantasy Travel Inc
lanise@fantasytravelinc.com
(877)340-1313




Organizer
PEACH STATE DIAMOND
Peach State Diamond Travel & Tours is a full service travel agency based out of Atlanta, Georgia that specializes in group, business and individual travel.
We realize that a great vacation is not just about booking airline tickets and making hotel reservations, but rather about creating cherished, unforgettable lifetime memories at affordable prices.
We are certified, licensed, and experienced travel consultants whose focus is on servicing your travel needs.

Business Hours
Monday - Friday, 4:30pm - 8:30pm
trips@peachstatediamond.com


2015 DIAMOND GLAM GIRLFRIENDS CRUISE