2015 Cross Cultural Fraternal Advisors Institute

Thursday, May 14, 2015 from 9:00 AM to 12:00 PM (EDT)
Event Details
The purpose of the Cross Cultural Fraternal Advisors Institute is to inform campus-based professionals about best practices for advising culturally-based fraternities and sororities. The Institute is also designed to equip campus-based professionals, national/regional officers of culturally-based fraternal organizations, and graduate chapter advisors with strategies to create, sustain and promote culturally-based fraternities & sororities on college campuses. Our faculty members' innovative approaches will leave participants feeling empowered to take the necessary steps to enhance their practice and fraternal communities. 
 The Advisors Institute will take place on the Atlanta Marriott Marquis Downtown in Atlanta, GA Wednesday, June 10 through Saturday, June 13, 2015. Participants will be provided curriculum materials, snacks and full breakfast and lunch (Thursday-Saturday) of the Institute. A welcome reception will be hosted on Wednesday night for participants, faculty & staff of the Institute.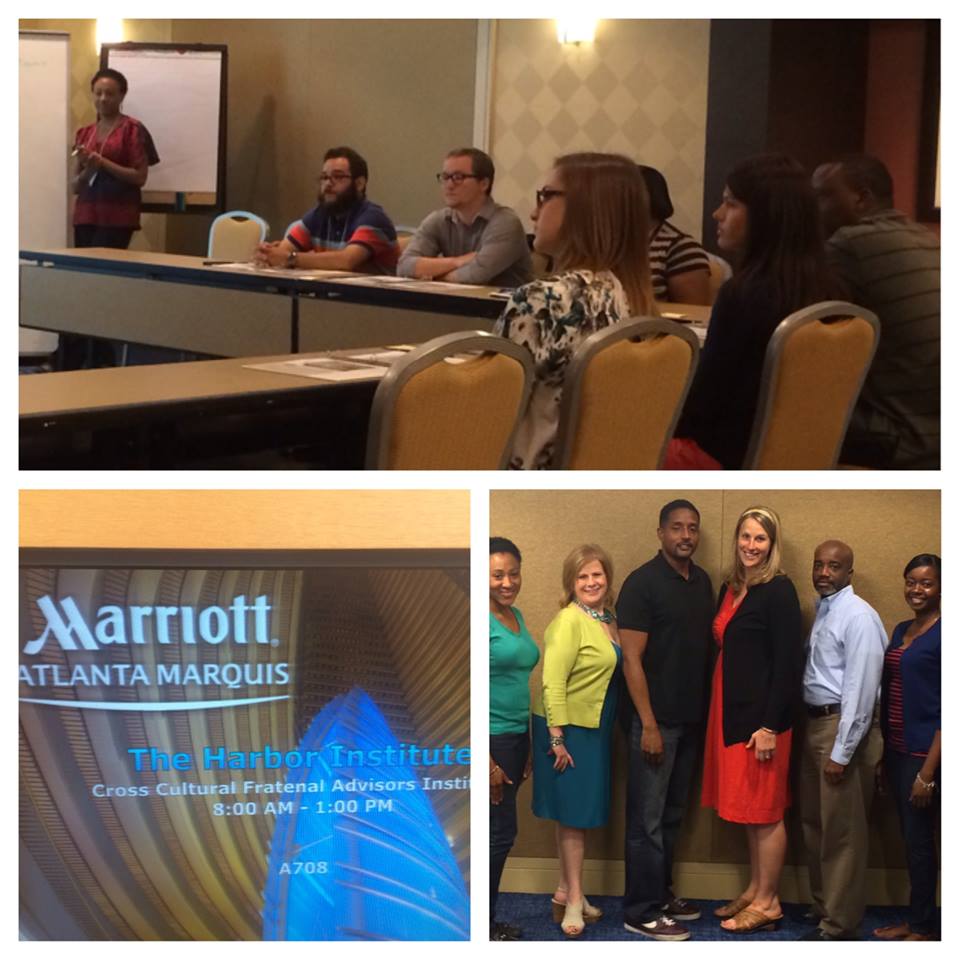 Cancellation Policy: All cancellations must be received in writing. Refunds will be given only for cancellations received thirty (30) days before the beginning of this conference, less a $25 processing fee per person and any credit-card processing fees. No refunds of any kind will be made after this date. Students and/or advisors who register but do not attend the conference will pay the entire registration fee, but name changes to your list of registrants may be made at any time. The Harbor Institute will issue a full purchase-price credit for future conference attendance to any registrant unable to attend the event, provided the Harbor Institute is notified in writing 48 hours before the start of the scheduled event.
Force Majeure: Failure of Harbor Institute to perform any of the provisions of this Agreement by reason of any of the following shall not constitute an event of default or breach of this Agreement: strikes, picket lines, boycott efforts, fires, floods, accidents, war (whether or not declared), revolution, riots, insurrections, terrorism, acts of God, acts of government (including without limitation any agency or department of the United States of America), acts of the public enemy, scarcity or rationing of gasoline or other fuel or vital products, inability to obtain materials or labor, or other causes which are reasonably beyond the control of the defaulting Party.
Organizer
The Harbor Institute
We are an educational consulting firm based out of Washington, DC that offers services and products in the areas of leadership development, risk management, cultural empowerment/competency and financial competency. We service colleges/universities, non-profit organizations and small businesses by providing cutting edge interactive educational programs, engaging and innovative retreats, impactful conferences and institutes, research, on-line modules and curriculum development/assessment. Our mission is...
2015 Cross Cultural Fraternal Advisors Institute