2015 Chongqing-Toronto Job Fair 中国重庆(多伦多)高层人才创新创业洽谈会

Tuesday, October 13, 2015 from 5:30 PM to 9:00 PM (EDT)
Event Details
由重庆市委组织部与重庆市人力资源和社会保障局主办、加拿大中国专业人士协会(CPAC)承办的"2015中国重庆(多伦多)海外高层次人才创新创业交流洽谈会"将于10月13日(星期二)在多伦多举行。这将是您了解重庆、中国中西部唯一直辖市的绝好机会。重庆五所大学、研究院所、公司企业、医疗卫生机构求贤若渴,提供数百个教学、科研和工作岗位,重庆交通大学还将招聘6位学院院长。另外,本次招聘会所提供的各类职位也是形式多样、工作时间灵活,如顾问形式、长、短期、全职、兼职等。欢迎有意者发邮件给CPAC国际合作部(email: guoji@cpac-canada.ca)报名。主办方还将为参会者免费提供丰富的晚餐。
重庆是中国中西部唯一直辖市,国家重要中心城市,长江上游地区经济中心,国家重要的现代制造业基地,西南地区综合交通枢纽,全国统筹城乡综合配套改革试验区。重庆是中国西部最具投资潜力的特大城市,具有五大优势:一、区位条件优越;二、基础设施功能完备;三、工业基础雄厚,门类齐全,综合配套能力强;四、科技教育力量雄厚,人才相对富集;五、市场潜力巨大。
CPAC衷心欢迎有意到重庆自主创业或与当地企事业单位合作的海外高层次人才,或者有重大发明和技术创新,有助于产业转型升级的海外创新型人才报名参会!
主办单位:重庆市委组织部、重庆市人力资源和社会保障局
承办单位:加拿大中国专业人士协会(CPAC)
会议时间:2015年10月13日(星期二)17:45
会议地点: 皇家御宴Royal Fine Dining & Banquet
报名及咨询方式:CPAC国际合作部,电话:416-298-7885 分机101或109
报名须知:免费参会,请务必提前报名注册。因名额有限,请有意前往重庆创新创业的专业人士尽早填写报名表,并用电子邮件的形式发送至:guoji@cpac-canada.ca。主办方将整理和汇集有意回国发展的留学人员就业、创业意向资料,并为暂时没有获得机会的人员做好跟踪关注和未来相关对接。
其他有关洽谈招聘会的详细信息如"重庆人才洽谈会邀请函及参会回执"、"重庆团招聘单位简介"、"重庆交通大学面向海内外公开招聘部分学院院长公告(简本)"、"2015境外引才岗位统计表"等资料请登录CPAC官网:www.cpac-canada.ca 的中文页面查询。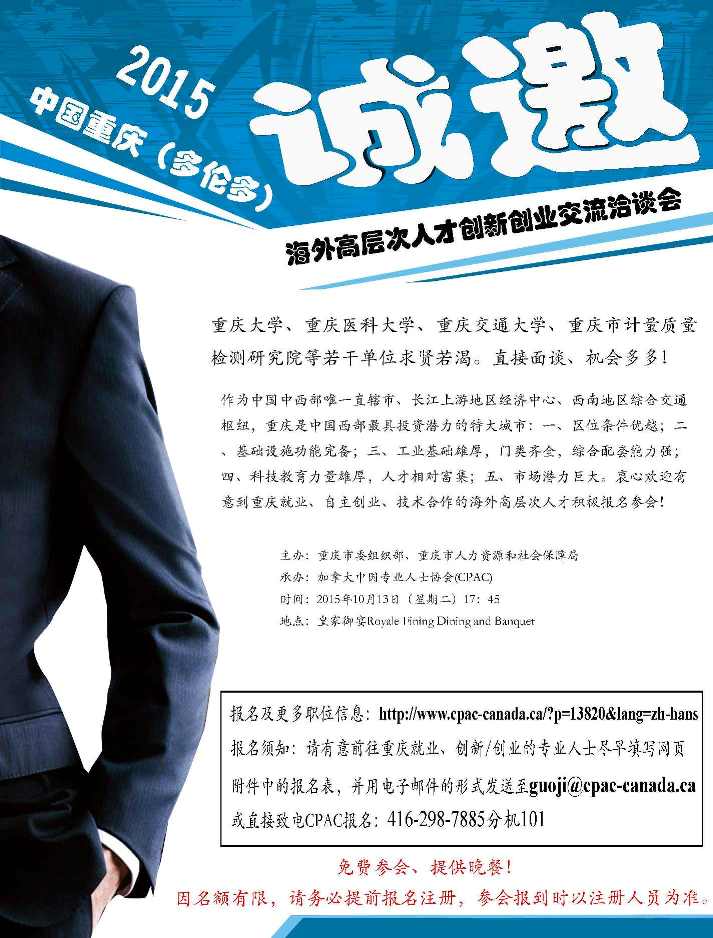 Have questions about 2015 Chongqing-Toronto Job Fair 中国重庆(多伦多)高层人才创新创业洽谈会?
Contact CPAC
When & Where

Royal Fine Dining & Banquet
648 Silver Star Blvd
Scarborough, ON M1V 5N1
Canada

Tuesday, October 13, 2015 from 5:30 PM to 9:00 PM (EDT)
Add to my calendar
Organizer
CPAC
CPAC (formerly Chinese Professionals Association of Canada) is a non-profit organization that has served the interests of the internationally trained professionals community for over two decades, especially in helping them gain credential recognition, cultural integration, employment and career advancement, and international business and professional opportunities. The organization now has 30,000 members from various cultural and ethnic backgrounds who range across a wide variety of professional fields. With the establishment of its Young Professionals Division (Enlight), CPAC has significantly increased its employment and career development services to youth 29 and younger. CPAC as a community service provideris funded in part by different levels of government to provide employment and career development programs to immigrant communities in the Greater Toronto Area.
2015 Chongqing-Toronto Job Fair 中国重庆(多伦多)高层人才创新创业洽谈会