2014 Ugandan Diaspora Social Networking Event, Dec 30th, Serena Hotel, Kla

Tuesday, December 30, 2014 from 6:00 PM to 11:30 PM (EAT)
Event Details
:
On December 30th, 2014, and for the 4th time in our Uganda's history, the immense contribution to the Pearl of Africa from those Ugandans living outside The Motherland will be officially recognized. ( www.ugandandiaspora.com )
The Uganda Investment Authority, the Diaspora Unit at the Ministry of Foreign Affairs and Ugandans in the Diaspora, will celebrate together in the 4th (Fourth) Ugandan Diaspora Social Networking Event.

This year in a break with tradition we shall also introduce the first Diaspora Business Breakfast meeting on Monday 29th December 2014, Moderated by Prof. Dr. Maggie Kigozi our Patron and former Executive Director Uganda Investment Authority this should be a great opportunity to meet and connect with Diaspora Investors and Business leaders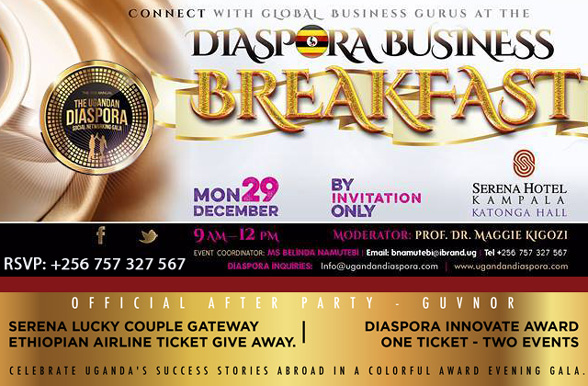 The Monday meeting will start at 9am and run till 12pm at Kampala Serena Hotel's  Katonga Conference Hall.
On Tuesday 30th December 2014 we shall host our main event at Serena Victoria Ballroom – starting with the usual Diaspora Networking followed by the award ceremony and entertainment that will include fashion by Solome Katongole, Martha Jabo and Rachel Nakimera, comedians Salvador Idringi, Herbert Ssegujja Mendo – Seevo and live music from leading entertainers in town.
The fee for this event will be UGX – 150,000 or $60 dollars, the entry ticket at Serena will also get our guests into Guvnor. The official After-party will feature the latest fashion designs from Stella Atal and will be held at Kampala's hippest club – Guvnor and tickets at the door will cost UGX – 30,000 only
In addition to this, Ugandans in the Diaspora are entrepreneurs, diplomats, tourists, academicians, agents of technology transfer and also, philanthropists. In this way, the Diaspora Social Networking Event will celebrate the Ugandan expatriate workforce as a theme by bringing their expertise, ideas and talent to a formal forum where an evening of entertainment will envelop the award ceremony. Social Media and live video streaming will ensure that those who cannot make it from the Diaspora are present in bothbody and soul.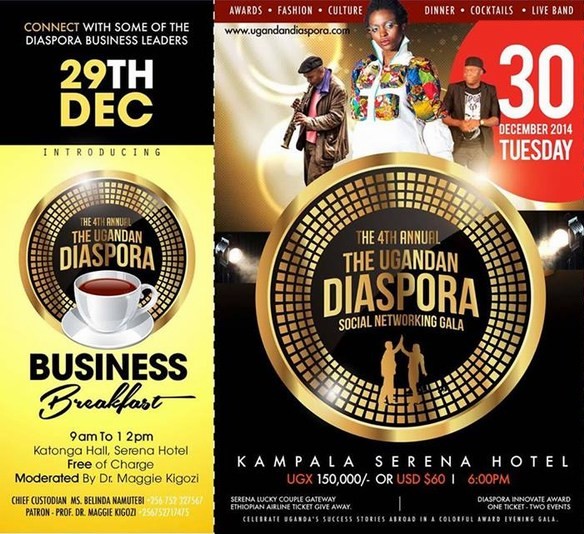 We are working on an exciting Entertainment Line up to build on what we offered at the First, second, and Third Networking events.
This event is slated for December 30th, 2013 at the Serena Hotel in Kampala.
Tickets will be on sale to the general public for Ug Shs 150,000/=.
Date -- Tuesday, 30th December 2013
Venue -- Kampala Serena Hotel
Fee -- $60 or UGX 150,000/-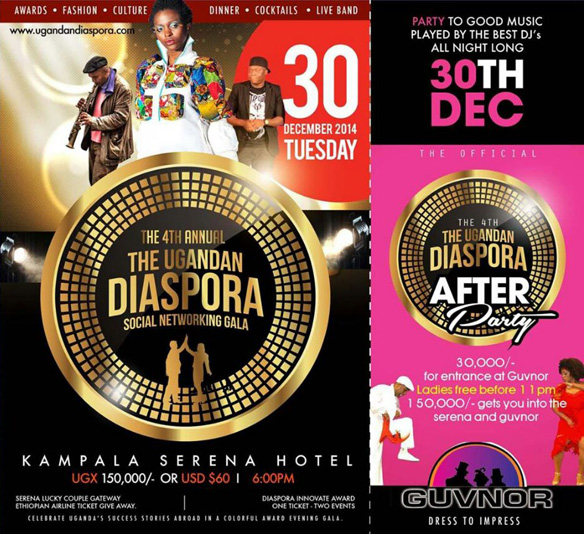 Patron: Dr. Maggie Kigozi, Former Executive Director, Uganda Investment Authority
Event Planner: Ronnie Mayanja, Uganda Diaspora Incorporated
Event coordinator: Belinda Namutebi
Government Liaison: David mukholi, Head of the Diaspora Unit, Ministry of Foreign Affairs
Media Manager: Solomon W. Jagwe
The Ugandan Diaspora Event is held in proud association with:
The Uganda Investment Authority | The Diaspora Unit, Ministry of Foreign Affairs | Post Bank | Ethiopian | NTV | The Monitor | Pepsi | Nile - Vodka Lemon | NHCC |
When & Where

Serena Hotel Kampala, Uganda

Kampala, Kampala
Uganda

Tuesday, December 30, 2014 from 6:00 PM to 11:30 PM (EAT)
Add to my calendar
Organizer
The Uganda Diaspora Network is a forum aimed at bringing together Ugandans who live and work abroad by celebrating their contributions overseas and also encouraging them to give of their time, talents, ideas and expertise whilst inspiring the next generation of Ugandan leaders.
Every year the Ugandan Diaspora Network will organise an annual Social Networking Gala and will also produce a quarterly publication highlighting the successes of the various Ugandans residing overseas! Please send us those inspirational stories and philanthropic work involving Ugandans abroad. We shall share these stories using this platform that is rapidly growing and expanding.