2014 Summer Youth Workshop - The Southern Civil Rights Movement: The Pivotal Role of Young People

Multiple Dates
Event Details
The Fannie Lou Hamer Institute @ COFO will be conducting an Six day (6) summer workshop entitled The Southern Civil Rights Movement: The Pivotal Role of Young People. This years'  theme is "Freedom Summer – Here and Now".
This event is scheduled for Monday, June 16 – Saturday, June 21,2014 and will be held on the campus of Jackson State University, COFO Civil Rights Education Center, 1017 John R. Lynch Street, Jackson, Mississippi. The cost for this workshop is $100. The workshop will feature field trips to civil rights landmarks in Jackson, MS, Philadelphia, MS and Meridian, MS.   Other benefits of the workshop include:
Notebooks and materials;
Lunches, T-shirts and field trips
A workshop ending program conducted by the Hamer Institute faculty and students.
If you have a child or know a child in middle school or high school (7th – 12th graders) we are hoping that you will encourage him or her to apply for the workshop because we believe it is an outstanding way for them to advance socially and educationally over the summer break. 
This six-day workshop is designed for middle and high-school students (7th – 12th graders) interested in learning about the contributions and sacrifices made by people who were their age during the Civil Rights Movement. Participants in the intensive workshop will be guided through the history of the movement via lectures, oral history panels, and group and individual work. The workshop will also explore the nature of American democracy and how engaged citizens can advance democratic ideals in the face of resistance and oppression.
An application form, event flyer and workshop schedule can be found on our website.  We encourage you to duplicate these forms as needed and ask any students you may know to apply well in advance of the DEADLINE, which is May 9, 2014. Information about the Hamer Institute and materials concerning the workshop can also be obtained by visiting our website at www.jsums.edu/HamerInstitute/SCRM.  For more information, please feel free to contact me at hamer.institute@jsums.edu or (601) 979-1562.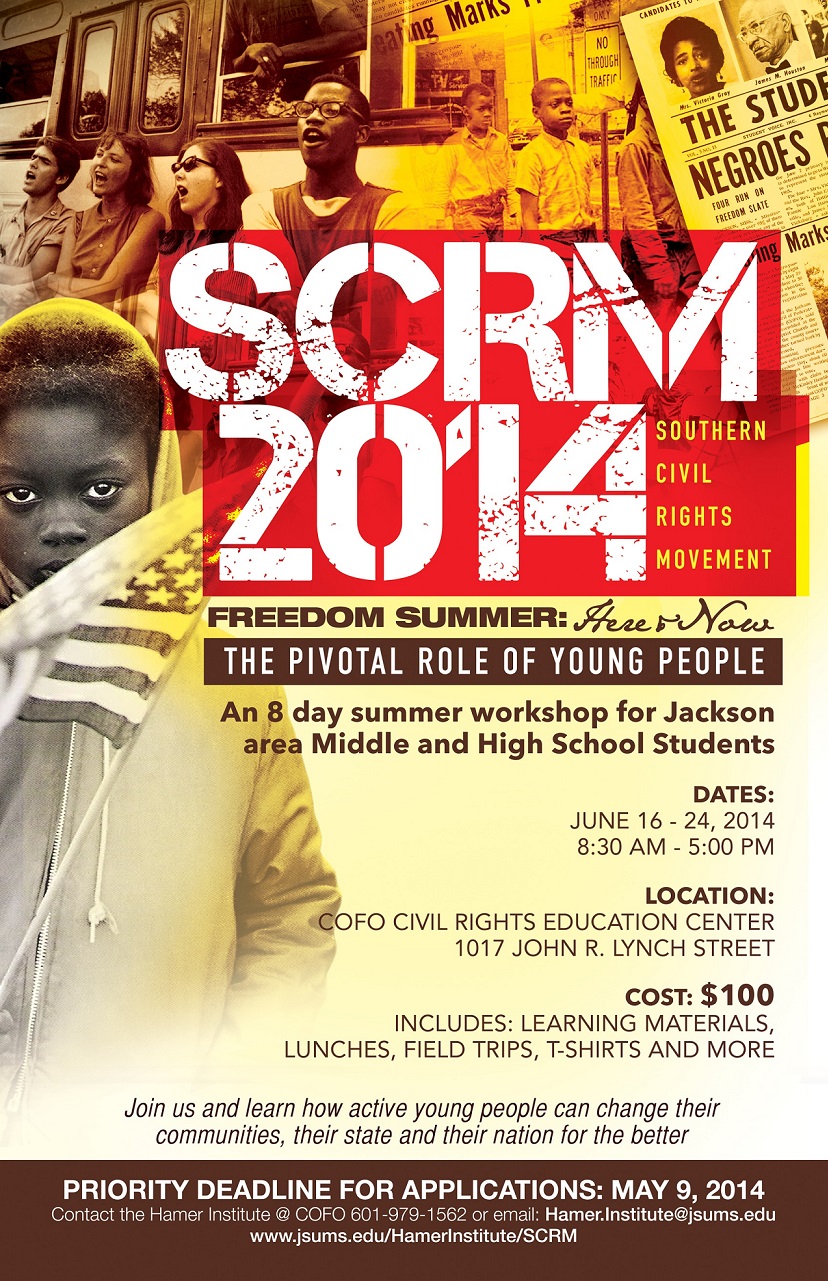 Where

The Fannie Lou Hamer Institute @ COFO
1017 John R. Lynch Street
Jackson, MS 39217


Multiple Dates
Add to my calendar
Organizer
The Fannie Lou Hamer Institute @ COFO
2014 Summer Youth Workshop - The Southern Civil Rights Movement: The Pivotal Role of Young People