| | |
| --- | --- |
| 2014 Spirit of Funk Photo Contest | |
Event Details
The contest has been extended, you can still enter here:
https://funkfoto.eventbrite.com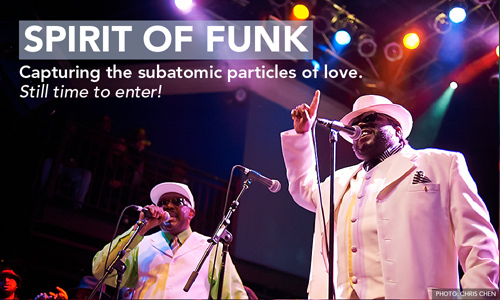 SPIRIT OF FUNK PHOTO CONTEST
FotoDC and BYT are partnering with the Funk Parade organizers for the Spirit of Funk Photo Contest. This category is an effort to capture the subatomic particle of love - the spirit in music that brings people together, makes them want to dance and feel like the world is a good place. It's present in music, but it's present in other endeavors -- it's collaborative, spontaneous, generous, creative, exuberant. All images are welcome including those that were taken prior to 2014.
CASH PRIZES
1st Place - $300
2nd Place - $200
3rd Place - $100
Winners will also receive extensive exposure on the FotoDC and BYT websites through a dedicated gallery, Facebook online galleries, and more. Judges will also select up to 20 Honorable Mentions to be included in the online galleries.
More info and complete contest rules @ fotoweekdc.org
IMAGE UPLOAD
Upon completion of registration & payment you will receive a confirmation email with detailed upload instructions.
JUDGES
TIM CRIPPS - ART DIRECTOR, HUGE, INC.
Tim Cripps has been developing interactive experiences, creating brand identities and supporting a variety of nonprofit and private sector clients for more than 14 years. Before joining Huge, he spent nine years at Threespot, a digital design agency in Washington, DC, where he created award-winning work for clients such as the ACLU, Amnesty International, the Council on Foreign Relations, the Humane Society of the United States, International Rescue Committee, the Knight Foundation, the MacArthur Foundation, NPR, the Robert Wood Johnson Foundation, Sirius/XM, UNICEF, the World Bank, WNYC. Prior to Threespot, Tim worked on the client side for the National Institutes of Health and the Discovery Channel. He has also served on the executive board of AIGA DC, and as a curriculum advisor for the Art Institute of Washington. Tim earned his MPS in the Business of Art and Design from Maryland Institute College of Art and his BFA in Graphic Design from the Rochester Institute of Technology.
JON LEE - COPY LEAD, HUGE, INC.
Jon Lee has over 12 years of experience in digital and specializes in interactive copywriting. At Huge, he is one of the creative leaders of the agency's social media agency of record relationship with Audi, conceiving groundbreaking campaigns such as Audi's Snapchat stunt for the 2014 Super Bowl. Prior to Huge, Jon spent 10 years at AKQA as an Associate Creative Director and Senior Copywriter. While there, his most notable work included the Apple Design Award-winning Together iPad app for WWF, the Cannes Titanium-winning Real Racing GTI for Volkswagen and the MI6 Sharpest Pen Award-winning Fallout 3 Vault Dweller's Survival Guide for Bethesda Softworks. Early in his career, Jon was both a volunteer and a recruiter with the Peace Corps. He holds a BA in Journalism from University of Missouri.
Organizer
FotoDC / FotoWeekDC
FotoDC is a 501(c)(3) non-profit; our mission is to provide exposure for photographers and to make diverse, high-quality photography accessible to audiences through the exhibition of inspiring and provocative images, dynamic programming, and collaborations with the local and international community.