2014 ROASA's 2nd Annual Business Unconditional Love Retreat

Saturday, May 3, 2014 at 10:00 AM

-

Sunday, May 4, 2014 at 3:00 PM (EDT)
Event Details
"MY BROTHER'S AND SISTER'S KEEPER"…Join us as we pass the torch to the next generation of entrepreneurs.  ROASA's 2nd Annual Business Unconditional Love Retreat will serve to expose all who attend to some powerful business owners in the DMV. These professional business owners have extended their hands to young men and women of all races.
Learn from the best of the best on how to take your business to the next level. Extraordinary keynote speakers like Mrs. Peggy Hightower and Peggy Valentine will bless us with their long-term life experience of what a successful person looks like.  Meet powerful life coaches and community leaders like, Gail Crowder, Tawawn Lowe, Tanya McMillian, Yolanda Davis, Adrienne Reeder, Rudy Coleman, Barbara Talley, Denise McDowell, Lisa Dove Washinton, Natalie Foster, Abena Disroe, Nathania Miles Branch, Peggy Morris, James Williams, Genice Lee, Adrienne R., Yolanda Davis, Alyscia Cunningham, Dr. Barbara Reynolds and so many others who come from diverse professional fields and who are excited to share invaluable information and resources to inspire all who attend to pursue their dreams to become an entrepreneur.
On Saturday, May 3rd and Sunday, May 4th, you will learn best practices, tricks of the trade, and do(s) and don't (s) about starting and achieve success in business.  
Participants who attend will experience a peer-to-peer strategy sessions with great established business owners who are eager to pull into you all the important aspect of obtaining a success business. 
Opportunity is knocking and you don't want to be the one who say "I wish had attended!"
If you missed ROASA's 1st Annual Women's Unconditional Love Retreat held last May in Washington, DC…You missed out on some powerful stories and messages from individuals like:
 Mrs. Virginia E. Hayes Williams (Passed Away January 23, 2013)
Dr. Barbara Reynolds
Co-Pastor Mary L. Wilson
Rev Valerie S. Pearson
Dr. E. Faye Williams
Juanita Britton aka BZB 
Beth (E.A.) Sears, Ph.d
Lisa Dove Washington
Sylvia Traymore Morrison
Barbara S. Talley
Miss Emma Ward
Renee Robinson
Carol Travis
Alyscia Cunningham
Michelle Hammonds
Janelle Bruce
Cynthia Wynn-Young
Abena Disroe
Teresa Willis
Dr. Jean Howard-Hill
and our very own Tawawn Lowe, Tanya McMillian and Gail Crowder!
 -Sign up today and serve as a "Professional Adult Speakers" for only $35 ($25 for your ticket and $10 for a youth)!
 -Young Professional Speakers (ages 17-35) pay $10.00 
-Showcase your business on stage (Adult $35 and Youth $10) 
-Participate in breakout session (Adults $35 and Youth $10) 
-Vendors opportunities are available - $125.00 per table
Feel free to donate online at http://www.roasalives.org/Donate_Now.html 
"KEEP IN MIND…YOU ARE YOUR BROTHER'S AND SISTER'S KEEPER!  BRING THEM WITH YOU!"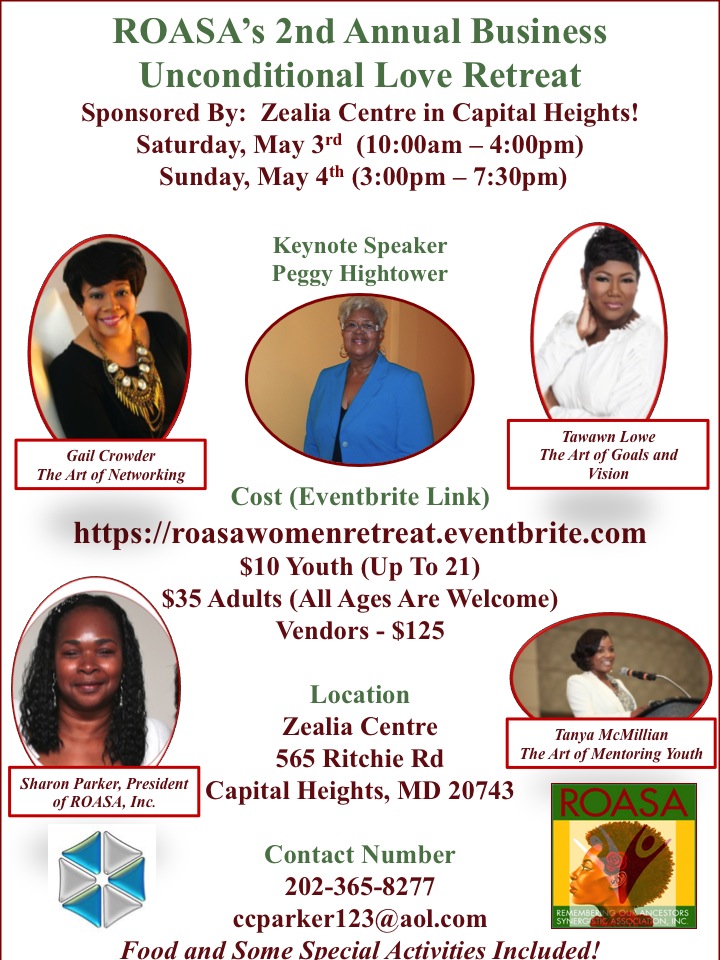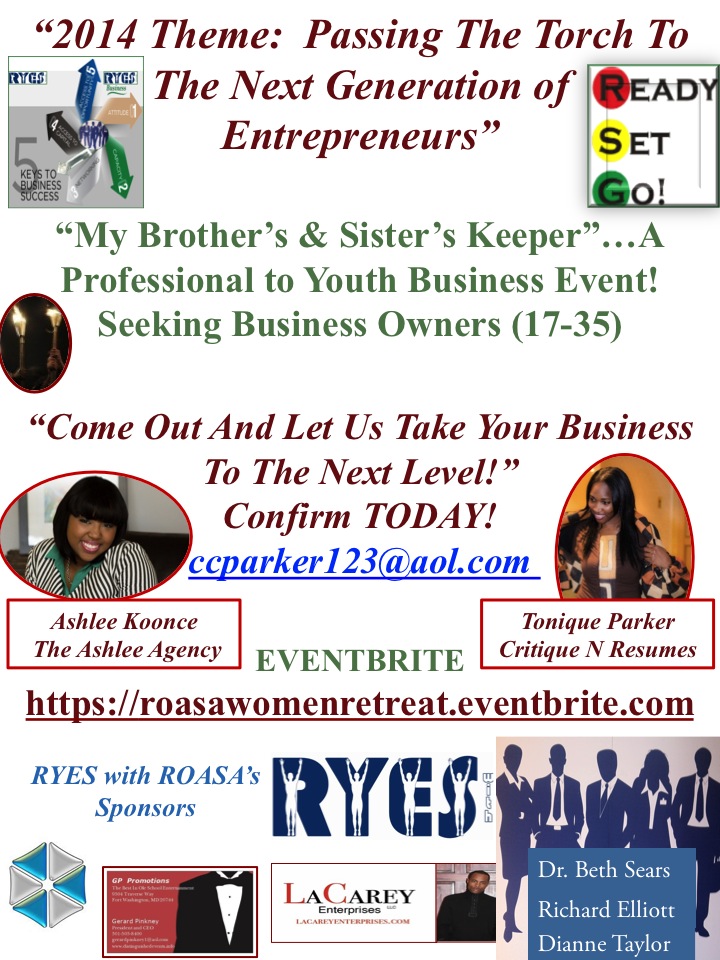 When & Where

Zealia Centre in Capital Heights
565 Ritchie Road
Capital Heights, MD 20742


Saturday, May 3, 2014 at 10:00 AM

-

Sunday, May 4, 2014 at 3:00 PM (EDT)
Add to my calendar