2014 PLL & Ebenezer Baptist Church Health Fair

Saturday, July 26, 2014 from 7:00 AM to 1:00 PM (EDT)
Event Details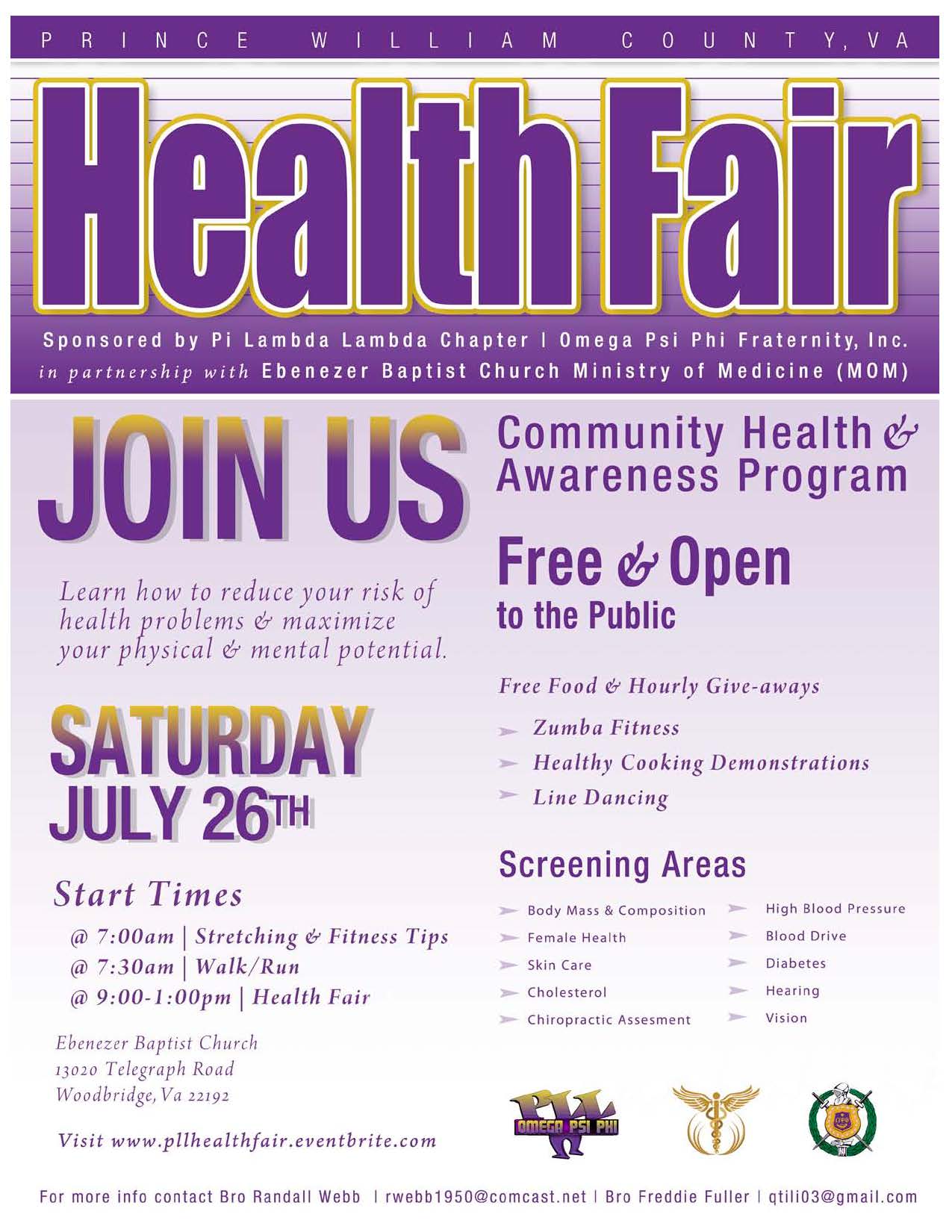 2014 PLL & Ebenezer Baptist Church Health Fair (FREE)
The Pi Lambda Lambda Chapter of Omega Psi Phi Fraternity Inc. in partnership with Ebenezer Baptist Church facilitates, participates, and coordinates activities that uplift our communities by promoting good health practices. Some of the programs under the umbrella of Health Initiatives are our Charles Drew Blood Drive, AIDS/HIV Awareness, and the American Diabetes Association Partnership. PLL is very active in promoting health initiatives in Prince William County. Initiatives health screenings (female/male), blood drives, AIDS awareness, prostate cancer awareness, behavioral health promotion, and much more! The 2014 Health Fair will be held on Saturday July 26, 2014, 9AM - 1PM, at Ebenezer Baptist Church, Woodbridge, VA. 
Prior to our health fair, we will have a special Walk/Run Technique Seminar hosted by Bro Freddie Fuller & Bro Victor Hinton.  This will begin promptly at 7:00 AM.  Following, we will have an actual 2-mile walk/run starting at 7:30 AM.  Come out with the Ques of PLL and hit the pavement!
Other activities and services being provided this year include and are not limited to the following:
1. Zumba Classes (Michelle Hunter & DJ So-N-So) - 12:00 PM - 12:30 PM
2. Line Dancing Classes (TBD) - 11:00 AM - 11:45 AM
3. Nutritionist Services (Max Muscle & Advocare)
4. Weight Doctor Assistance
5. Health Screenings (Male/Female)
6. Behavioral Health Specialist
7. Chiropractors
8. Dental Care & Spa Services (The Dental Spa - Marvette Thomas, DDS)
9. Vet Center (Military Personnel)
10. AARP (Senior Benefits)
11. Walk/Running Techniques Seminar (Bro Freddie Fuller)
12. 2 Mile Walk & Run (Bro Victor Hinton)
13. Gym Membership Discounts (Powerhouse Gym)
14. HIV & AIDS Testing (NOVA Salud)
15. American Red Cross (Blood Drive)
16. Lions Club (Sight & Hearing Testing)
17. Mass Mutual Insurance (Long Term & Short Term)
18. NAACP (Voter Registration)
19. Personal Training (The Good Thick)
Once again, this is a totally free event!  Come out and enjoy free health services and food with the Ques of PLL and Ebenezer Baptist Church.
For all questions, please contact the following POCs:
Special thanks goes out to the George M. Hampton Foundation for their monetary contribution to this year's Health Fair.  The GMHF seeks to identify, obtain and direct resources to implement or support programs and activities that enhance the lives of individuals; particularly youth, within our community of Prince William County, Virginia. GMHF is a non-profit organization under the IRS 501(c)3 category allowing your donations to be tax deductible!  Visit their website at
http://www.gmhfoundation.org/
.  
Come out and get healthy with the Ques!!!!!
When & Where

Ebenezer Baptist Church
13020 Telegraph Road
Woodbridge, VA 22192


Saturday, July 26, 2014 from 7:00 AM to 1:00 PM (EDT)
Add to my calendar
Organizer
PLL CHAPTER OF OMEGA PSI PHI FRATERNITY
Omega Psi Phi Fraternity, Inc., Pi Lambda Lambda (PLL) Chapter supports the Greater Prince William County Virginia area. PLL is pleased to sponsor and support a wide range of educational and humanitarian activities.
www.pll-omega.org
Mission
The Brothers of Pi Lambda Lambda are proud to be a part of the Greater Prince William County Community. In support of our mission to be good servants and stewards for citizens of Prince William County, Pi Lambda Lambda Chapter of the Omega Psi Phi Fraternity, Incorporated is pleased to sponsor and support a wide range of educational and humanitarian activities. The chapter welcomes the often challenging–but always gratifying–work of helping others in need. As Omega Men, we feel it is our obligation to uplift fellow members of society, and view it as an honor to render service.
Overview
Pi Lambda Lambda is the Prince William County, Virginia Chapter of the Omega Psi Phi Fraternity, Incorporated. The Chapter was chartered on January 24, 2004. The Fraternity's Supreme Council officially approved the charter and assigned the name as Pi Lambda Lambda Chapter of Prince William County, Virginia. Thus, Pi Lambda Lambda Chapter was officially born as Chapter #919 of the Omega Psi Phi Fraternity,
2014 PLL & Ebenezer Baptist Church Health Fair