2014 NOFSW Annual Conference

Friday, July 25, 2014 at 1:00 PM

-

Sunday, July 27, 2014 at 5:30 PM (EDT)
Event Details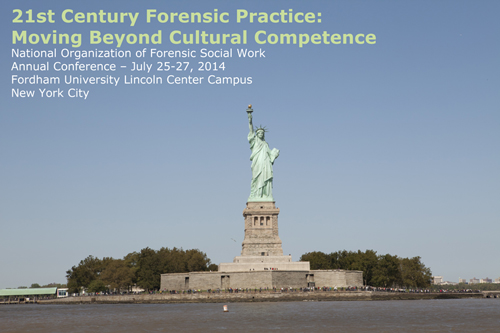 In this century of changing demographics and policy and system reform, this year's NOFSW conference will feature inter-professional learning opportunities on how to integrate cultural competence with justice in clinical, organizational, community, and policy practice.  This year's conference will advance a new century of cultural justice, dignity, respect, and acceptance for all persons. Many forensic populations, such as racial and ethnic minorities, at-risk youth, the elderly, veterans, immigrants, LGBTQ persons, persons with disabilities, or those living in poverty or communities of violence often lack access to quality services and cultural justice. Conferences attendees will increase their knowledge, values, and skills for working with forensic populations in healthcare, social service, and legal settings, including the courts and corrections.
The conference also includes the unique opportunity for attendees to attend field visits to innovative local and global organizations that advance cultural justice, live performances of the use of the arts for healing and rehabilitation, a prison art show, and film screenings with follow-up discussions with film directors. This year's conference presentations also will be considered for our upcoming published book of conference proceedings or eligible for publication in the Journal of Forensic Social Work.
---
Pre-Conference Events:
A special pre-conference cultural justice seminar: Queer Justice: The Intersection of LGBTQ Issues and Criminal Justice will feature local and national experts and include a field visit to a LGBT mental health service agency and reentry program. Date: Thursday, July 24, 2014 (8:30 am to 5 pm).
Promoting the role of social work in inter-professional and intersectoral collaboration. A Round Table Discussion with Social Work Leaders in Child Welfare, Juvenile Justice, and Criminal Justice. Friday, July 25 10 AM to 1 PM Fordham University
Kathleen Otte, Regional Administrator, Regions I, II and III, U.S. Administration for Community Living, "Advancing Momentum:  Social Work Leadership in Aging and Underserved Populations"
Tina Maschi, PhD, LCSW, ACSW; Associate Professor, Fordham University Graduate School of Social Service; President, National Organization of Forensic Social Work; Executive Director, Be the Evidence Project; Fellow, New York Academy of Medicine; "Social Work Rising: Empowering Ourselves and Our Profession for a New Era of Cultural Justice"
Special Participatory Forums on Social Work Empowerment and Forging 21st Century Social Work Leadership in Forensic Research, Education, and Practice/Advocacy.
University and Community Supporters:
American Professional Society on the Abuse of Children
Arizona State University Office of Forensic Social Work Research and Training
Association for Community Organization and Social Administration
Be the Evidence Project, Fordham University
Chatham University
Correctional Association of New York
CSWE National Center for Gerontological Social Work Education
Rev. Marion Gambardella EmblemHealth's Care for the Family Caregiver Program,
Fordham Center for Community-Engaged Research
Fordham University Department of Psychology
International Expressive Arts Therapy Association-New York Region
Long Island University Brooklyn Department of Social Work
Monmouth University School of Social Work,
National Advocates for Pregnant Women (New York City)
National Partnership to End Interpersonal Violence
New York Academy of Medicine Social Work Section
New York City Family Cargeiver Coalition
New York City Partnership for Family Caregiving Corps
School of Social Science and Human Services, Ramapo College of New Jersey
University of Alabama School of Social Work
The University of Mississippi Department of Social Work
University of North Carolina Charlotte Department of Social Work
University of Southern California Davis School of Gerontology
University of Southern California Tingstad Older Adult Counseling Center
University of Vermont Department of Social Work
Utah Criminal Justice Center
Hotels in NYC Area
Click here for list of hotels in the NYC Area. Some with discounts.
Transportation
Getting to NYC and around the city is amazingly simple. Here's a link to the New York City Visitors' Guide to traveling to New York and getting around town.  Click here.
WE WANT YOU IN THE BIG APPLE!
When & Where

Fordham Univesrsity
Lincoln Center Campus
113 W. 60th Street
New York, NY 10023


Friday, July 25, 2014 at 1:00 PM

-

Sunday, July 27, 2014 at 5:30 PM (EDT)
Add to my calendar
Organizer
National Organization of Forensic Social Work
Mission Statement: To support the professional development of our members by
constructing and maintaining forensic standards and best practices
producing quality materials for interdisciplinary forensic education and practice
conducting and disseminating forensic research and scholarship
advocating for court-involved children, youth, adults, and families
Vision Statement: The National Organization of Forensic Social Work endeavors to advance social justice through the interprofessional collaboration of human service and legal systems.
2014 NOFSW Annual Conference