2014 Miss Maryland United States Pageants

Saturday, February 15, 2014 at 1:30 PM (EST)
Event Details

If images do not appear, click here for 2014 contestant photos
TICKETS FOR ALL SHOWS HAVE NOW CLOSED. PLEASE PURCHASE TICKETS AT THE DOOR AT THE HILTON BALTIMORE. SCROLL DOWN FOR SHOW INFORMATION.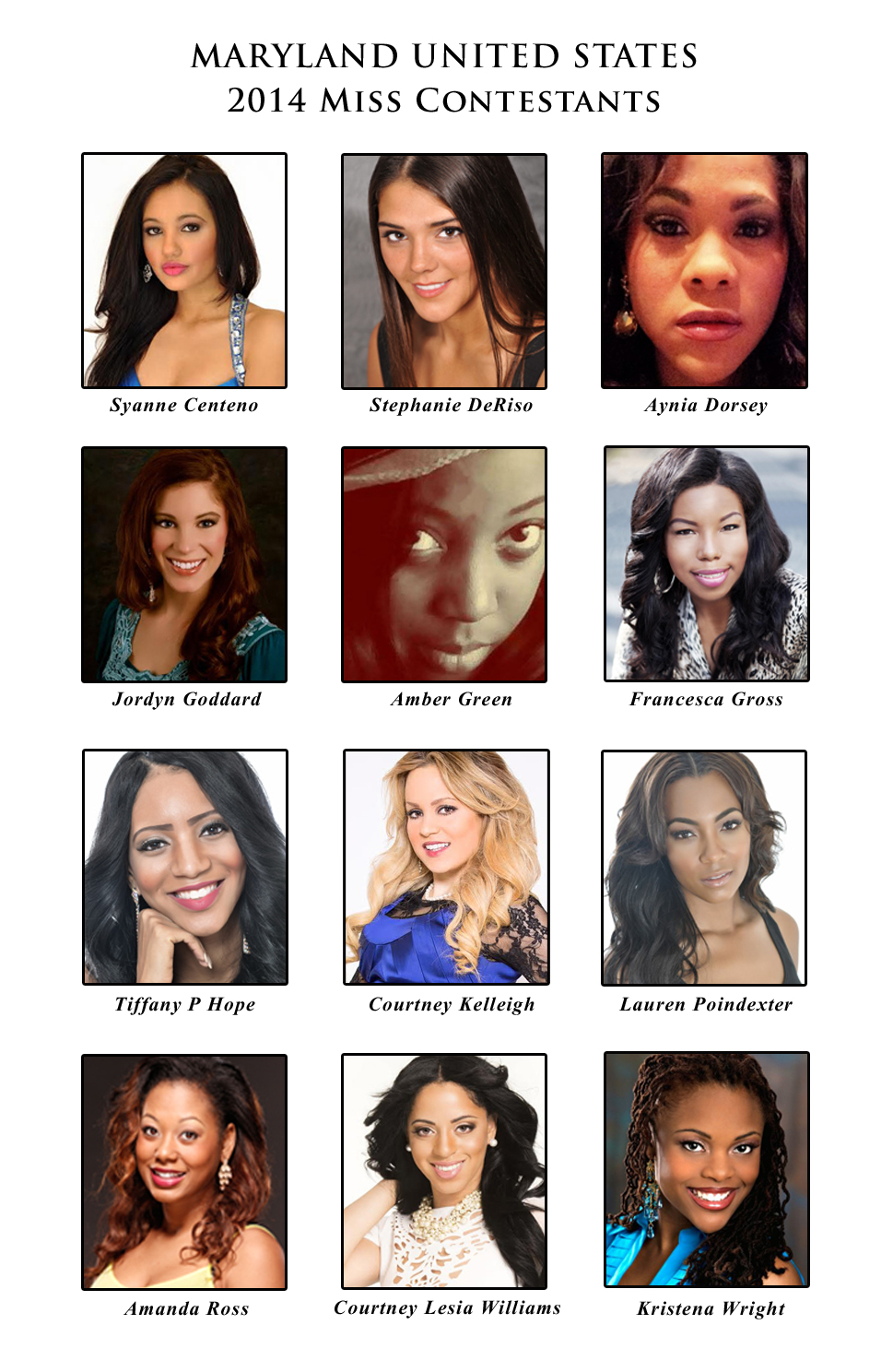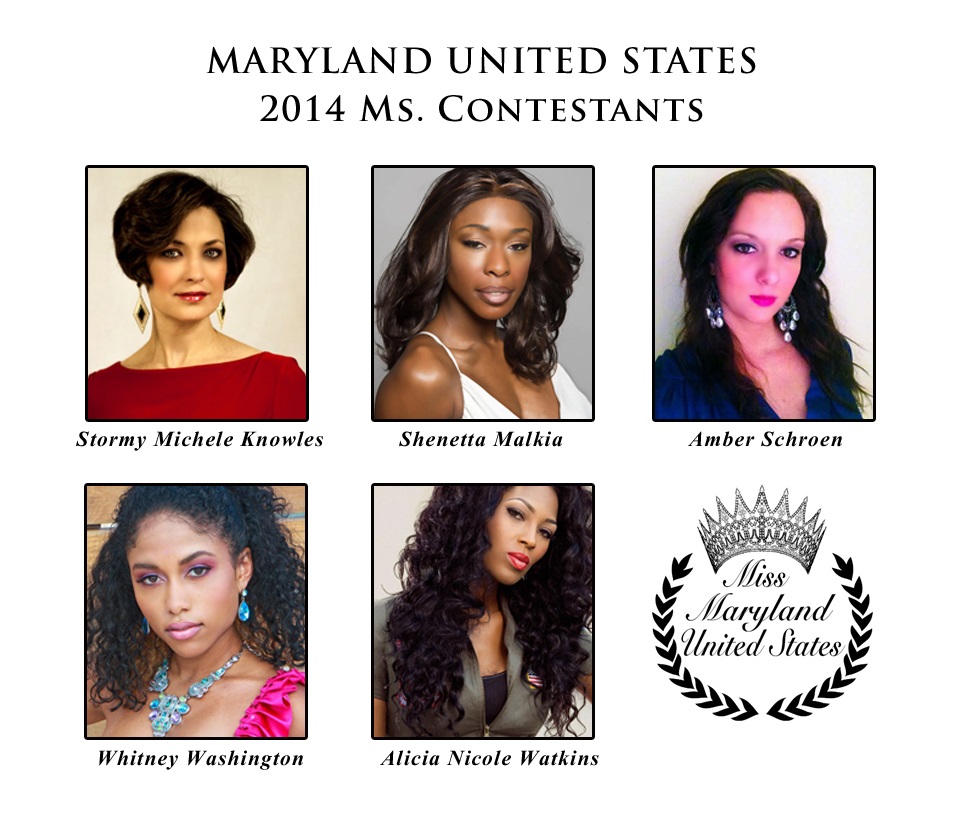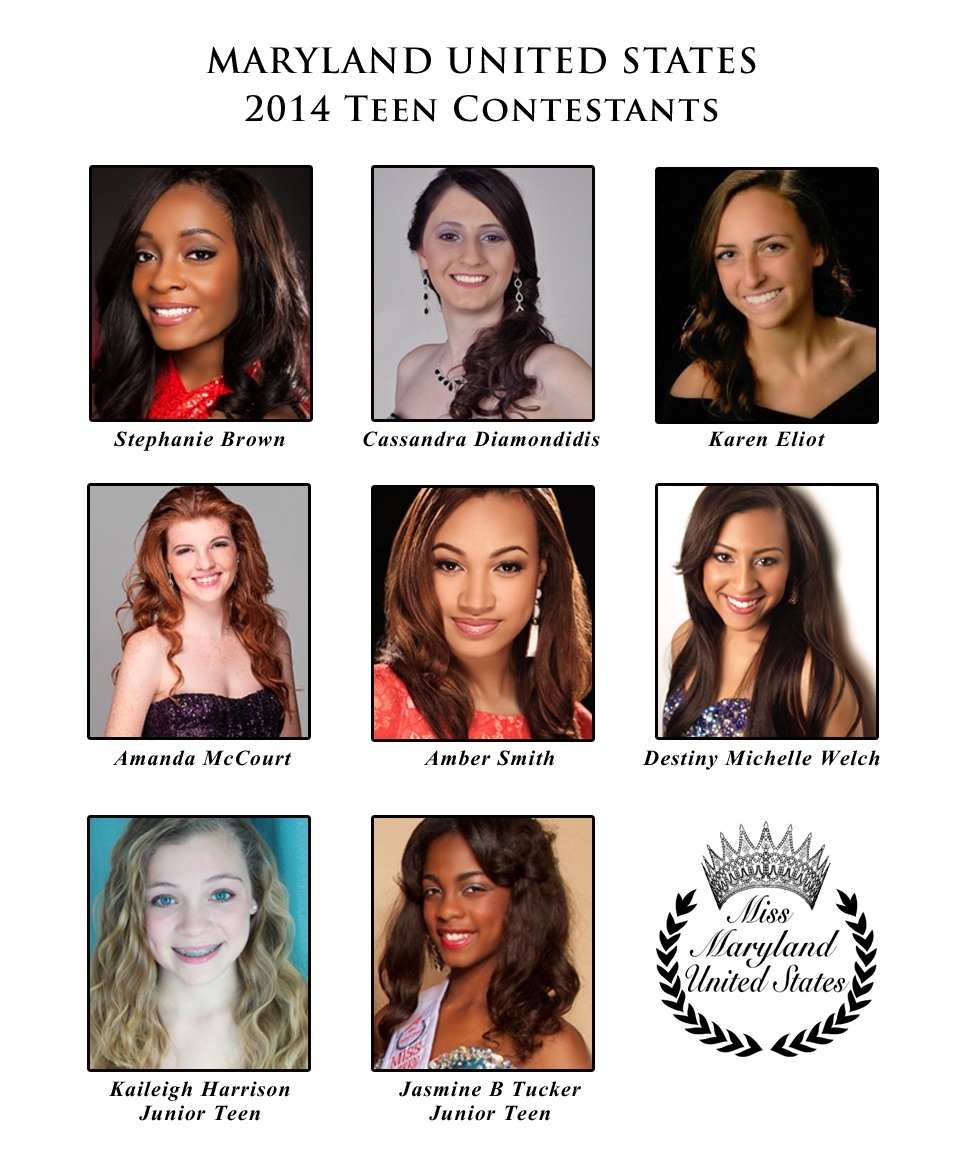 2014 MISS MARYLAND UNITED STATES
STATE PAGEANT SCHEDULE
People's Choice
**Through Saturday, February 15 at Midnight, fans can vote for their favorite contestants in the Miss, Ms, Teen/JrTeen divisions
**Through Friday, February 14 at Midnight, fans can vote for their favorite contestants in Little Miss/Pre-Teen
**The minimum cost to vote is $1.00. $1.00 equals one vote. There is no maximum gift.
**When purchasing your show tickets, you will be prompted to vote for People's Choice.
**Voters who are not purchasing show tickets may select the "VOTE" ticket which requires an additional $1.00 participation fee in addition to your votes. 
**Through People's Choice, you are giving back to contestants and the community. 33% of funds raised will provide a cash prize to the People's Choice winner in each division. 33% will be provided directly to the local Relay for Life on behalf of the Miss United States Organization. The final 33% contribution will aid the organization's efforts to support charity events and efforts throughout the year. 
**People's Choice does not influence the selection of the 2014 titleholders.
**People's Choice will be presented on stage during each show's final awards
**Periodically during pageant week, the People's Choice rankings will be revealed via Facebook. You may return at any time to add votes to your favorite contestants. 
Pageant Location
Hilton Baltimore at Camden Yards
401 West Pratt Street, Baltimore, Maryland
Call (443) 573-8700 or CLICK HERE for $109 / night - rate available through January 13
If calling, request the Miss Maryland United States Pageant room block
Events in Holiday Ballroom, 2nd floor 
All events at this location

excluding

the Director's Dinner 
Finals
Little Miss and Pre-Teen Divisions
Saturday, February 15, 2014
1:30pm, Doors Open at 1:00pm 
Sportswear, Gown, Onstage Interview, Crownings
Hosted by 2013 Miss Delaware United States Taylor DeMario 
Entertainment by Miss United States Candiace Dillard 
$15 per person online | $25 at the door  
Runway Show, Swimwear Contest
Miss, Ms., Teen and Junior Teen Divisions
Saturday, February 15, 2014
6:00pm, Doors Open at 5:30pm
Hosted by 2013 Miss United States Candiace Dillard and Chris Saltalamacchio
$20 per person online | $30 at the door  
Director's Dinner
Luna del Sea, 300 West Pratt Street, Baltimore, Md (across from hotel)
Saturday, February 15, 2014
7:30-9:00pm 


$25.00 per person buffet dinner - limited space available  
Finals
Miss, Ms., Teen and Junior Teen Divisions
Sunday, February 16, 2014
2:30pm, Doors Open at 2:00pm
Evening gown, Onstage question, Crownings
Hosted by 2013 Miss United States Candiace Dillard and Chris Saltalamacchio
$30 p

er person online | $50 per person at the door  
Recommended Parking Options
Hilton Baltimore (Host Location) $28/day self parking, $40/day valet
Central Parking - Camden Yards $10/day parking, Open 24 hours
351 W. Camden St., Entrance on West Lee Street
Printed Tickets: After purchase you will be emailed a ticket to bring to the event.
Refunds: Ticket refunds are honored through Feb. 10 and should be requested by email. 
Online Check Payments: Checks that are not cleared by the time online sales closed will be canceled and payment at the door will be required.
Refunds: Refunds will be permitted when requested in writing prior to February 12 at midnight. Thereafter refunds may not be granted.  

Door Payments: Cash and credit cards will be accepted at the door, while space is available
Attire: Business professional attire is advised at all events.
Video / Photo: LaDexon Photographie and Video is the official sponsor of the pageant. No other video or flash photography is allowed.
Program Books: Included with each ticket while supplies last. Additional program books will be available for purchase.
Children: Under the age of 4 are permitted for free and must sit on a lap, not including the dinner. All dinner attendees require a ticket.
Visiting Titleholders: 2013-2014 reigning MUSO titleholders may attend at no charge wearing sash, excluding dinner. 2013-2014 reigning titleholders from other organizations may receive a $10.00 per ticket discount, excluding dinner. Please request a promo code by email, and include your contact information and title. There are no discounts to dinner, all attendees must have a full price ticket.
Onstage & Backstage Privacy: Only official staff, titleholders, and contestants are permitted onstage or backstage during pageant events, unless invited personally by the director. 
Sportsmanlike Behavior: The Miss Maryland United States Organization is rooted in sportsmanship, class and motivation. Attendees who exhibit behavior contrary to these values will not be permitted at pageant events, will be escorted out of the venue and will receive no refund. This includes behavior on the venue property before, during and after all events, as well as on social media and while communicating with staff. 

---
MEET THE EMCEES AND ENTERTAINMENT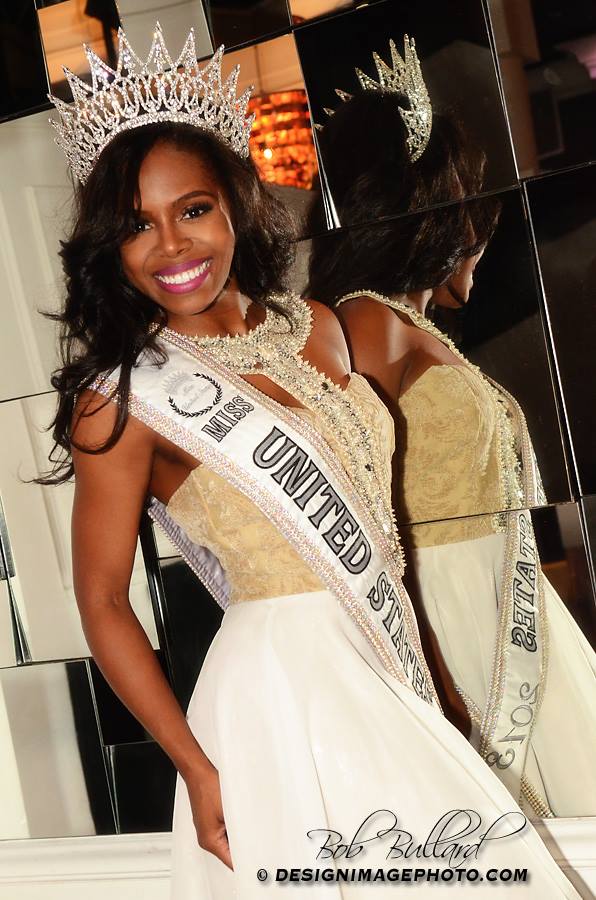 CANDIACE DILLARD, 2013 Miss United States
26-year old Candiace Dillard was crowned Miss United States on July 7 representing the District of Columbia. A 2009 graduate of Howard University, Candiace earned a degree in Communications with a minor in African American Studies. Recently Candiace has appeared at Fashion Week activities in Boston, New York and Washington, DC. She is focused on developing her platform My Sister's Keeper: a mentorship and women's empowerment organization designed to give young girls the opportunity to interact with other women in their communities. She also serves as the official spokesperson of the Miss United States Organization, traveling to multiple cities in the nation. Candiace states, "I have always tried to live by the mantra that says, 'go confidently in the direction of your dreams, and live the life you have imagined.'" She finds herself very grateful and blessed to have such an opportunity and hopes to make her country proud throughout her reign as your 2013 Miss United States.
---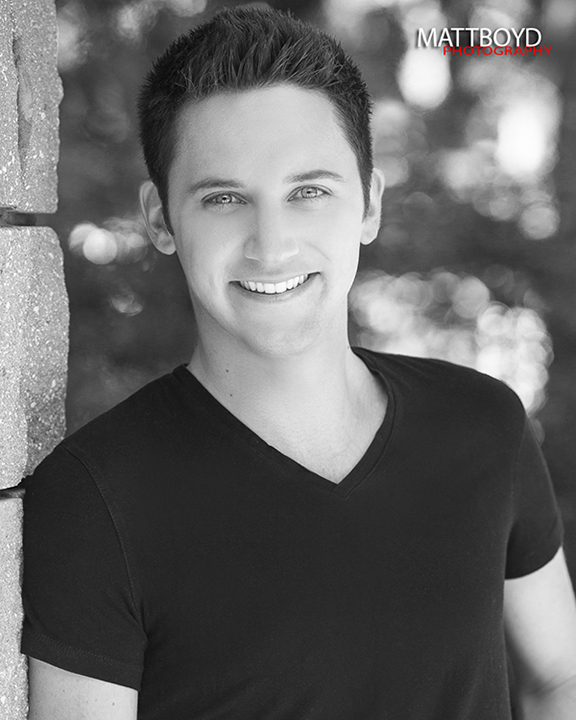 CHRIS SALTALAMACCHIO, Pageantry by Chris
Born and raised on Long Island in New York, Chris' journey to pageantry followed a childhood that was spent growing up in the theater. A former elementary school teacher with a degree in education from the University of Delaware, Chris was a local director and volunteer for the Miss America Organization before moving into the coaching realm. As a performer, emcee, and public speaker, Chris has been appearing on stage since the age of six and brings more than 15 years of entertainment experience to the pageant industry. A former state and national titleholder in male pageants, Chris is also involved with a variety of community service projects and organizations. He has also brought his passion for pageantry to television, appearing on both MTV's 'Made' during Season 11 and Season 2 of Oxygen's 'Jersey Couture'. Chris is available for event planning and production, public speaking appearances, and event hosting. He currently has residences in New York and Delaware but spends the majority of his time traveling.
---
THANK YOU TO GOLD LEVEL SPONSORS
For a full prize listing, please visit our prize page
To become an event vendor, please contact the Miss Maryland United States Organization
When & Where

Hilton Baltimore
401 West Pratt Street
Baltimore, MD 21201


Saturday, February 15, 2014 at 1:30 PM (EST)
Add to my calendar
Organizer
The Miss United States Organization is now an official partner of Miss World. MUSO provides an avenue of achievement for each young woman interested in sisterhood, service and style. Local and state contests take place in fall and spring, leading to Miss United States 2015 in Washington, DC.
The Little Miss United States Organization looks for girls with sparkling personalities who want to be involved in their community, gain leadership skills, make new friends and be a role model to others. No pageant experience is necessary! Little Miss and Pre Teen delegates ages 8-12 will convene in Washington, DC in summer 2015.