2014 Links Community Conference-Bridges Out of Poverty Workshop

Thursday, July 10, 2014 at 8:00 AM
Event Details
ALL REGISTRATIONS MUST BE RECEIVED BY JUNE 27, 2014
SPACE LIMITED TO 150 PEOPLE
Two day workshop July 10-11th from 8:00 am - 3:00 pm each day
Facilitated by Prudence Peace http://www.ahaprocess.com/solutions/community/consultants/prudence-pease/
Overall Schedule
                 

7:30 am to 8:00am

           Exhibitor Set-up
        7:30am to 8:30am

            Check-in/Breakfast
                             8:30 am to  8:45am          Welcoming
                             

8:45 am to 10:00 am

         1st Session
                             

10:00 am to 10:15am

        Break and Visit with Exhibitors
                             

10:15 am to 11:30 am

       2nd Session
                             

11:30 am to 1:00 pm

        Lunch
                             

1:15 pm to 2:30 pm

          3rd Session
        2:30pm to 2:45 pm

           Break and Visit with Exhibitors
        2:45pm to 3:30pm

            4th Session
 For Sponsor/Exhibitor forms click here 
While the Permian Basin may have one of the lowest unemployment rates in the country and entry level jobs are plentiful, the cost of living, especially housing, has skyrocketed.  As a result, many local residents are struggling to make ends meet. Shelters are currently overwhelmed with homeless families and individuals trying to get back on their feet, food pantries continue to see an increase in families seeking assistance, and school districts are seeing more students who are living in unstable conditions. 
People experiencing poverty want to desperately change their situation, but fall into a never ending cycle while trying to address their immediate needs. This endless cycle is frustrating for the families and the local service providers trying to solve a growing issue with limited resources. These reoccurring cycles can lead to health issues, mental illness, child neglect, substance abuse, and unfortunately foster generational poverty.
If you didn't grow up in poverty, you may be unaware of the "hidden rules" that govern many aspects of life for the poor. People in poverty are often in survival mode, and support systems taken for granted in middle class and wealth are largely nonexistent. If your business, agency, or organizationworks with people from poverty, a deeper understanding of their challenges – and strengths – helps you partner with them to create opportunities for success. The nationally renowned Bridges Out of Poverty training will provide us not only with this research-based context on which to understand poverty, but also very practical down-to-earth tools and strategies we can use within our community.
Bridges Out of Poverty is a uniquely powerful tool designed for social, health and legal services professional. Based in part on Dr.Ruby K. Payne's myth-shattering, A Framework for Understanding Poverty, Bridges reaches out to millions of service providers and businesses whose daily work connects them with people in poverty. You'll find case studies, detailed analysis, helpful charts and exercises, and specific solutions you and your organization can implement right now to:
- Redesign programs to better serve the people you work with
- Build skill sets for management to help guide employees
- Upgrade training for front-line staff like receptionists, caseworkers and managers

- Improve treatment outcomes in healthcare and behavioral healthcare

- Increase the likelihood of moving from welfare to work
TESTEMONIALS
"Bridges Out of Poverty brings new players and new energy to the table. It addresses poverty at the individual, community, structural/policy levels – and calls for people in poverty to be planners and decision makers."
Bonnie Bazata
Director, St. Joseph County Bridges Out of Poverty Initiative
South Bend, Indiana
"Before we integrated these principles, our turnover was 40-60% and cost us $3.6 million. Since then, our rate has been reduced to less than 5% and last year cost us under $500,000, proving that community-wide or regional change initiatives can significantly impact businesses' bottom lines."
Dave A. Barrett
Director of Talent Management, Cascade Engineering, Inc.
Grand Rapids, Michigan
"I practice pediatrics in neighborhood clinics that primarily serve low-income families. But it took an "aha!" moment at a Bridges workshop to help me understand what my patients were up against. Now I am a much stronger advocate for change in our policies and procedures in delivering healthcare to those in poverty."
Jane Goleman, M.D.
Associate Professor of Pediatrics
The Ohio State University College of Medicine
Nationwide Children's Hospital
Columbus, Ohio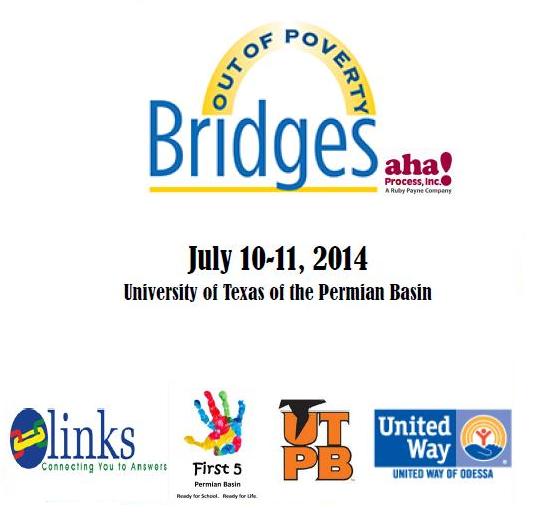 When & Where

The University of Texas of the Permian Basin-Mesa Building, Multi-purpose Rm (2nd floor)
4901 E University Blvd
Odessa, TX 79762


Thursday, July 10, 2014 at 8:00 AM
Add to my calendar
2014 Links Community Conference-Bridges Out of Poverty Workshop