Description
Our first year's event was such a success we present 2014 Annual ITAG Technology Summit. The themes for this year are the internet of things, big data and new technologies changing the world of technology.
Tracks:
- Making Decisions - For those responsible for deciding and designing future technologies.
- Technical Trends - For those responsible for designing and development future technologies.
- How Small/Medium Sized Businesses Compete - For those smaller firms who want to compete with limited investment.
Why you should attend:
Technologies for an interconnected world are here. Learn about some of the newest technologies, trends and innovations around Big Data and Internet of Things. Participate and learn about what other decision makers, program/product managers, and leaders are doing in this space today and where they see it heading in the future.
Technologies, challenges and risks are abound when responsible for building the future platforms for Big Data and Internet of Things. Participate and learn how some of the local leading edge companies are addressing this exciting yet complex evolution.

Small to mid-size business owners with scarce resources learn how to apply technology to make money and find the right talent to get the job done well. Participate and learn from your peers.
Check out each session and speaker details at our website at itagpa.org
Michael McKinley, President and CEO – Allied Security

Trish Lilley, Chief Marketing Officer – Fox Rothschild

Erica Cohen, VP of Operations – Health Market Sciences

Tim Jeremicz, Sr Mgr, Product Development – Health Market Sciences

Jonathan De Jong, CEO – SparkNET Technologies

Jonathon Beschen, COO – SparkNET Technologies

Eric Haberacker, Social Media Manager – The Vanguard Group

Brandon Rude, Sales Executive - MakerBot

Krishnan Siva - Technology Program Leader - The Vanguard Group

Chris Dima - Walnut Street Labs

Jim Lauckner - J*Lis Management Consulting
48 hours notice required for all refunds.
Organizer of 2014 ITAG Tech Summit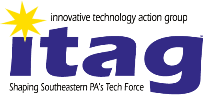 ITAG's mission is to promote Information Technology, Communications, and Technological Processes, to all companies and individuals in Southeastern Pennsylvania as a means to become more effective in an increasingly sophisticated global marketplace. ITAG is an initiative of the Chester County Economic Development Council. It is funded in part by the private sector and the Chester County Workforce Development Board.