| | |
| --- | --- |
| 2014 ESSENCE MUSIC FESTIVAL | |
Event Details
BOAT CRUISE INFO
 Saturday, July 5, 11:00 am sharp!!!
Boat cruise ports at Toulosse St Wharf behind Jax's Brewery
610 Decatur St (corner of Decatur St and Toulousse St)
Tickets will be distributed at a table outside the boat.
Please be on time because we cannot hold the boat for you.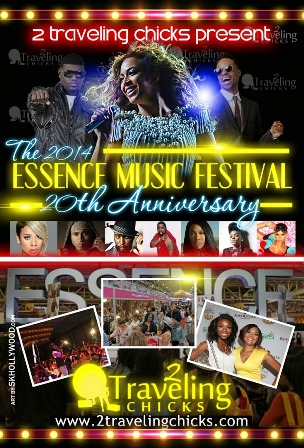 ESSENCE MUSIC FESTIVAL
20 Year Anniversary Celebration

July 4-7, 2014
New Orleans, LA
Personal bottle of liquor for the first 25 registered guests.

All past guests deposits received by August 30, 2013 will receive $50 the total package

Essence Music Festival brings exclusive individuals into the city of New Orleans and allows you to partake in the best that the city has to offer.  The entertainment, music, concerts, parties, and food alone are worth the getaway.
Essence Music Festival is one of the biggest events of the year. Known as The Party With A Purpose, the festival offers empowerment seminars, face to face encounters with your favorite celebrities, concerts and much more! 
We've made the travel arrangements for you as well as created convenient, low monthly payments....Join your favorite 2 Traveling Chicks as we experience Essence Music Festival 2014!

Complete Travel Packages from select cities:
Roundtrip motorcoach transportation
3 nights at hotel of your choice (see below)
All White Boat Cruise
Free flowing cocktails on the bus
Movies on the bus
Gifts and Prizes
Essence Music Festival T-Shirt
2TC travel agents will travel with you

We consider all of our guests to be V.I.P's so this year, we're giving you the VIP treatment!
We will be sippin on the Missippippi aboard the Steamboat Natchez for our Mid-Day Boat Cruise event!
Sip all you want, savor all you want and sway as long as you want to the sounds of N.O.'s own DJ Bombshell Boogie

Boat Cruise Includes
3 levels to party, lounge and sightsee
All you can drink open bar (w/Super Premium Top Shelf Liquors)
-Ciroc, Patron, Grand Marnier, Grey Goose and more!
All You Can Eat Creole Cuisine
-Captain's Catfish
-French Quarter Jambalaya
-New Orleans Red Beans & Rice
-Natchez Cole Slaw
-Bourbon Bread Pudding


Hotel Information
Hilton Riverside
2 Poydras St
New Orleans, LA 70130

 
Marriott
555 Canal St
New Orleans, LA


Renaissance Pere Marquette
817 Common St
New Orleans, LA


Roundtrip Transportation Only
$100 per person (from Atlanta)
$150 per person (from Charlotte)
 

Pick-up Locations
Sam's Club (near Stonecrest Mall)
2994 Turner Hill Rd
Lithonia, Ga

Target
3660 Marketplace Blvd
East Point, GA

Walmart Supercenter
3850 East Independence Expressway
Charlotte, NC   704-535-3708
Itinerary
In Charlotte, Pick up is Thursday, July 3, 2014
Pick up in Charlotte, NC - 11:30pm

In Georgia Pick up is Friday, July 4, 2014
Pick up in Lithonia, GA - 4:00am
Pick up in East Point - 4:30am
Arrive in New Orleans - 1:30pm

Monday, July 7
Depart New Orleans (Hilton Riverside) - 8:00am CST
Depart New Orleans (Marriott Canal St) - 8:15am CST
Depart New Orleans (Renaissance) - 8:30am CST
Arrive in East Point, GA - 3:30pm EST
Arrive in Lithonia, GA - 3:45pm EST
Arrive in Charlotte, NC - 8:45pm EST

ALL TIMES ARE ESTIMATES

Please arrive at your pick up location BEFORE your scheduled pick up time.  We cannot sit and wait.  The bus will pull up and load everyone.
2 Traveling Chicks, LLC will not be responsible for vehicles left at pick up locations.
We encourage you to get dropped off and picked up.



Pay Online or Mail Payments To:
2 Traveling Chicks
Attn: Essence 2014
P.O. Box 836
Rex, GA 30273

Contact Us
2 Traveling Chicks
trips@twotravelingchicks.com
(888)669-1194 

View Other Trips
www.twotravelingchicks.com

Join us on Facebook
www.facebook.com/2travelingchicksllc
Organizer
Two Traveling Chicks, LLC
2 Traveling Chicks, LLC's staff embodies extensive knowledge and experience in the travel industry. With our travel expertise, we will be offering extraordinary experiences in predefined and requested vacation/travel packages for our valued customers.
We provide personal, group, corporate, destination wedding, and honeymoon travel proposals.  We are licensed, bonded, and insured and are looking forward to serving your travel needs.
For more information, contact us at 888.669.1194 or trips@twotravelingchicks.com
Stay connected with us on the following social media pages:
Twitter: @2travelingchick
Instagram: 2travelingchicks
Facebook: www.facebook.com/2travelingchicksllc
2014 ESSENCE MUSIC FESTIVAL