| | |
| --- | --- |
| 2014 Downtown Food & Wine Fest | |
Event Details
FHLAvolunteers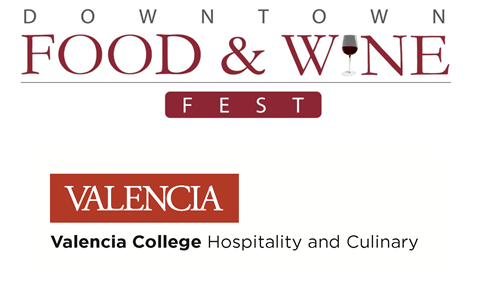 ---
FESTinfo
The 6th annual Downtown Food & Wine Festival will take place on Saturday, February 22 (12pm-9pm) and Sunday, February 23 (12pm-7pm) at Lake Eola in Downtown Orlando. The tradition continues as more than 30,000 foodies and wine lovers experience local Orlando cuisines paired with wines from around the globe.
The Fest is presented and produced by CBS Radio in partnership with the Florida Restaurant & Lodging Association. The Fest features mouth-watering dishes from 40 of Orlando's premier restaurants, domestic and international wines, and live entertainment. Admission is required for the event each day. Food and beverage tickets can be purchased separately at the event. Children under 12 are free. A portion of the proceeds benefit the FRLA Educational Foundation.
The Downtown Food & Wine Festival is a rain or shine event.
---
VOLUNTEERinfo
FHLAvolunteers will once again provide support for the Downtown Food & Wine Festival. This year's signup process will be different than in years past. There are two steps in the process: registration and scheduling.
REGISTRATION - Will take place from 5pm on Sunday, December 1, 2013 through noon on Saturday, February 1, 2014. During this process you will register your interest in volunteering for the FEST by selecting the day(s)/date(s) and shift(s) that you are requesting to work. You will also answer other questions that will help us get to know your ability to perform the tasks of a FHLAvolunteer at the FEST. This is not the final step in the signup process and does not confirm your spot as a FHLAvolunteer for the event. PRIOR TO REGISTERING, PLEASE BE SURE THAT YOU HAVE NO OTHER PRIOR COMMITMENTS ON THE DATE(S) THAT YOU ARE SIGNING UP FOR. PLEASE MAKE SURE THAT YOU HAVE PUT IN ANY NECESSARY REQUESTS FOR TIME OFF FROM YOUR PLACE OF EMPLOYMENT, SO THAT WE ELIMINATE ANY POTENTIAL CONFLICTS. ALL FHLAvolunteers MUST ATTEND A VOLUNTEER PRE-CON ORIENTATION ON WEST CAMPUS IN FEBRUARY, PRIOR TO THE FEST (THERE WILL BE MULTIPLE TIMES DURING THAT DAY TO ACCOMMODATE EVERYONE).
SCHEDULING - Will begin at 5pm on Saturday, February 1, 2014 and run through noon on Saturday, February 15, 2014. During this process those FHLAvolunteers that have registered during the registration period will be sent an email asking them to schedule their shift(s). You will only be able to schedule one shift at a time. Scheduling will be done by ZONE. There will be four ZONES plus a slot for backups. Please be sure you visit the FHLAvolunteers website - FHLAVC.wix.com/DFWF - to get all of the information for the ZONES before selecting your ZONE. After you schedule your shift AND receive a confirmation, then you are officially scheduled AND confirmed as a FHLAvolunteer for the FEST. ONLY SCHEDULE YOURSELF FOR A SHIFT IF YOU ARE 100% COMMITTED TO VOLUNTEERING, YOU ARE CONFIDENT YOU WILL BE ABLE TO PERFORM THE TASKS THAT ARE REQUIRED IN THE HEAT, WIND, AND/OR RAIN, AND YOU HAVE NO PRIOR COMMITMENTS AND HAVE BEEN GRANTED THE TIME OFF FROM WORK.
SHIFT TIMES 
Saturday, February 22, 2014 (10:00am - 4:30pm EST)

Saturday, February 22, 2014 (3:30pm - 10:00pm EST)

Sunday, February 23, 2014 (10:00am - 3:30pm EST)

Sunday, February 23, 2014 (2:30pm - 8:00pm EST)
TIMETABLE
December 1, 2013 through February 1, 2014 (Registration Period)

January 17, 2014 (Captains & Leads Orientation)

January 21 & 22, 2014 (FHLAvolunteers Info Session - TBA)

February 1 - 15, 2014 (Scheduling Period)

February 18, 2014 (MANDATORY FHLAvolunteers Pre-Con Orientation - Multiple Times)

February 18, 2014 (Captains & Leads Meeting)

February 22 - 23, 2014 (6th Annual Downtown Food & Wine Fest)
LEADS
 - 
Interviews for the four (4) ZONElead positions will be held in January. ZONEleads support the ZONEcaptains in a leadership role by running an effective and efficient FESTzone. Interested individuals must be available all day on both days of the event as well as on the prior Friday evening for loading and prep. Individuals must also be able to stand for long periods of a time and walk long distances. ZONEleads must also be able to communicate effectively with ZONEvolunteers, ZONEcaptains, and other event staff. This can be a challenging role, so the utmost thought must go into deciding if this is a desirable role for you. While challenging, this role is also very rewarding and a great experience in logistical coordination of a major hospitality event. If you are interested, please express your interest during the registration process. You will be contacted at the beginning of January to schedule an interview.
Where

Lake Eola
E Robinson and Hillman Ave
Orlando, FL


Organizer
Future Hospitality Leaders of America at Valencia College
We all want to build our own legacy. We all hope to inspire someone else to be the best at what they do. Being a part of the hospitality industry allows us to serve others and showcase what we are good at. As a member of FHLA (Future Hospitality Leaders of America) we have the opportunity to not only impact the community here in Central Florida but to also network and establish connections with industry executives.
2014 Downtown Food & Wine Fest