2014 Compliance Week Workshop - Beyond Translation: Contextualization

Thursday, May 8, 2014 from 12:00 PM to 1:30 PM (CDT)
Event Details
LCW is celebrating compliance week with two complimentary interactive mini-workshops that will help you better plan your international compliance and ethics initiatives--Working With Translations and Beyond Translation: Contextualization.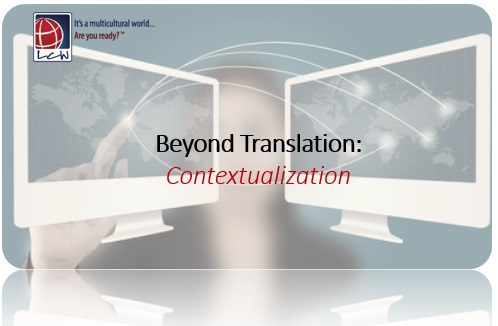 Compliance Week Service Spotlight: Contextualization 
You've translated your communications, your policies, presentations, and your eLearning; but is translation enough to ensure that the content resonates with your global and local audiences? Join us to explore the steps you can take to make your compliance and ethics messaging and training more effective.  

Define contextualization and identify the three types of contextualization

Learn how to contextualization & p

ractice your cultural auditing skills 

Explore contextualization as it relates to the four components of instructional design

See how these concepts were applied to a recently contextualized compliance program

Walk away with helpful tips and questions for considering the effectiveness of your content and messaging
"I truly didn't know what I didn't know. I will think differently about how I approach our communications now. Thank you!"
---
Who Should Participate? This session is ideal for anyone involved in planning, managing, developing, or editing communications, policies, presentations, training/eLearning, internal communication, and marketing - both general and specific to compliance and ethics.
Session Level? Beginner to Intermediate. This session will be useful for those who have not yet started contextualizing their content. It will also be helpful for those who have started contextualizing and would like to know how to better connect with deeper cultural trends. 
Session Confidentiality? This virtual mini-workshop will be recorded and archived for future broadcast. Please note that participant names or organizations will not be shared by hosts during the session. However, participants may choose to disclose their personal or organizational identity during the session, either verbally or via one of the onscreen chat discussions.  
Certifications: This is a HRCI certified workshop. Contact us to learn more. 

CAN'T ATTEND & WOULD LIKE TO?
Bring us to your organization for a discount when you mention "LCW Compliance Campaign 2014."  Contact Info@LCWmail.com to learn more.  
---
WORKSHOP FORMAT
Highly interactive mini-workshop in LCW's virtual classroom
90 minute workshop, which includes Q&A with LCW experts 
Participants will require computer audio (headphones, ear buds, computer speakers, etc.) to hear this session. A computer microphone is also required for verbal participation--this is not a webinar, and you will be participating in large and small group activities. A headset is best. If you do not have access to a microphone but would like to verbally participate, please contact us for an alternative arrangement.
---
Join the conversation, follow us:
Organizer
About LCW Mini-Workshops
The LCW mini-workshops provide an opportunity for participants to:
Learn more about language, culture, and how it impacts us at work. 
About LCW 
Language & Culture Worldwide was founded in 2000 by Monica Francois Marcel and Randall Stieghorst. As returned Peace Corps Volunteers, they understand both personally and professionally what it takes to connect, succeed and build relationships across cultures. Our mission is to provide training, consulting and translation services that inspire professionals to connect across cultures.
Learn More About LCW