Description
//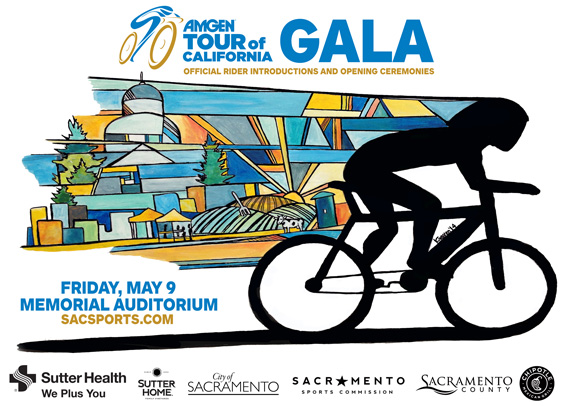 The 2014 Opening Ceremonies & Gala Dinner will be held Friday, May 9, 2014, at the Sacramento Memorial Auditorium. As the Overall Start City for the 2014 race, Sacramento will host this elegant evening where community members and cycling fans can share the excitement of welcoming all the participating professional cyclists (many of whom have competed in the Tour de France), race officials, celebrities and other VIPs at the traditional kick-off for the eight day international event taking place exclusively in California.

The 2014 Amgen Tour of California will begin in Sacramento May 11, featuring 16 of the world's elite cycling teams and 128 of international cycling's most accomplished riders competing across more than 720 miles to the finish in Thousand Oaks May 18. This is the ninth annual edition of the race, which is the largest outdoor sporting event in California.

"The Sacramento Sports Commission, the City of Sacramento, Sacramento County, and each of our partners are proud to host the start of the 2014 Amgen Tour of California," said Mike Sophia, director of the Sacramento Sports Commission. "Along with it comes the honor of hosting the gala, which gives us the opportunity to introduce these world-class athletes, as well as help support race sponsor Amgen's Breakaway from Cancer® initiative, which serves people affected by cancer."

The evening will be filled with live music and entertainment, hosted bar and sit-down dinner, and a silent auction featuring a variety of fabulous items.
"We are thrilled to be back in the capital city for the 2014 race, and we look forward to an exciting evening with our teams, athletes, fans and partners," said Kristin Bachochin, executive director of the race and senior vice president of AEG Sports. "Historically, Sacramento has set the bar very high for the gala, and we look forward to another fantastic evening that will kick off a great weekend of events in Sacramento and another tremendous race."

This year, a portion of the proceeds raised by the Amgen Tour of California Gala will benefit Breakaway from Cancer®. The Amgen Tour of California is proud to support Breakaway from Cancer®, Amgen's national initiative to increase awareness of access to the important resources available to cancer patients.


Evening festivities include:
Upon arrival at Memorial Auditorium, complimentary valet parking is available on J Street right in front of the Auditorium.

To enter the Gala, guests can walk the red carpet and have their photos taken, "celebrity-style." The check-in table will be located inside of Memorial, where guests will be greeted and given their table number.

The evening will be filled with a hosted bar and sit-down, four-course meal.

Guests will have the chance to win a variety of fabulous items during the silent auction.

The riders' introduction will be a show you won't forget!

Dress Code: Business Formal
Evening Timeline
6:00 pm – Doors open
6:00 pm – 8:00 pm – Silent Auction
7:00 pm – Dinner Service
8:30 pm – Team Introductions
10:00 pm - Event Concluded