2014 ACAP Summer Residency Program Application

Sunday, June 22, 2014 at 1:00 PM

-

Thursday, June 26, 2014 at 4:00 PM (MST)
Event Details
Accounting Career Awareness Program (ACAP)
A Summer Residency Program hosted at Arizona State University
June 22 - June 26, 2014
The National Association of Black Accountants – Phoenix Chapter is hosting its 7th annual Phoenix Accounting Career Awareness Program ("ACAP") for high school students interested in a field in accounting or business related fields.This FREE program provides an environment that fosters and inspires the growth of young minority students into professionals within the accounting and business related fields. Activities of the ACAP program include group projects, networking, presentations and team work.The final deadline for applying for attendance is May 9, 2014; however, early application is encouraged.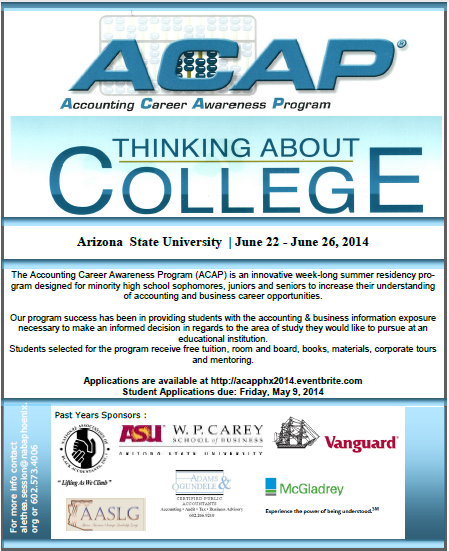 ---
 APPLICATION OVERVIEW
Step 1: Create an account on this website by completing the Registration Information Section
Step 2: Prepare all sections in the Application Link (available below)
Deadline May 9, 2014 to submit Student application click here
or copy url
https://docs.google.com/spreadsheet/viewform?formkey=dFlqYVhCVTNsczVxSGgxV1F0QmZrTHc6MA 
Step 3: Obtain a copy of your high school transcript. Some schools will allow students to request via the school online tool or you may request it the school's administration office. It can be unofficial or official. The transcript must include your name, the school's name, cumulative GPA, list of classes and grades.
Step 4: Obtain two (2) recommendations from individuals who are able to speak with certainty about your achievements and potential. The recommendations can be mailed or emailed.  
Step 5: Once application package is complete and student selection is completed, you will receive a notification for an interview and orientation date.
SPONSORSHIP LEVELS
 

ACAP PARTNERSHIP LEVELS

Level  I

$3,000

Level II

$1,500

Level III

$750

Invitation for representatives to attend the ACAP Closing Banquet

(2)

(1)

(1)

Invitation for representatives to participate in the ACAP Executive Roundtable

(2)

(1)

 

Company's logo on ACAP T-shirts and ACAP materials

ü   

ü   

ü   

Advertisement in the ACAP Handbook

Full

Half

Quarter

Session speaker from your corporation/firm

ü   

 

 

Company Logo on certain ACAP materials

 

ü   

 

Other Levels* (see below)

 

 

 
CUSTOMIZED SPONSOR LEVELS
§  Sponsor ACAP Opening Reception
§  Sponsor Transportation Costs for Corporate Tour
§  Sponsor Printing of ACAP T-Shirts
§  Sponsor Production of ACAP Backpack
§  Sponsor Dormitory Expenses for Students and/or Counselors
§  Sponsor and/or Host Student Social Event
§  Donation of Business Books to Student Participants
§  Donation of Snacks for Students' Dorm Rooms
§  Sponsor the ACAP Closing Banquet
§  Provide a scholarship amount for a student based on your requirements
For more information on sponsoring our 2014 initiatives, you may contact Alethea Session, Executive Director - Student Affairs at alethea.session@nabaphoenix.org or 602.573.4006.
---
The Phoenix Metropolitan Chapter of the National Association of Black Accountants, Inc. (NABA) has hosted its Annual Accounting Career Awareness Program (ACAP) in June during the last five years at Arizona State University. The ACAP program is currently operating in 19 major cities across the United States. 
---
National Association of Black Accountants - Phoenix Chapter | www.nabaphoenix.org | www.nabainc.org 
Contact: Alethea Session, Executive Direct, Student Affairs| alethea.session@nabaphoenix.org| 602.573.4006 
When & Where

Arizona State University - West Campus
4701 W Thunderbird Rd
Glendale, AZ 85306


Sunday, June 22, 2014 at 1:00 PM

-

Thursday, June 26, 2014 at 4:00 PM (MST)
Add to my calendar
Organizer
NABA Phoenix
NABA's Mission and Goals
NABA's mission is to address the professional needs of its members and to build leaders that shape the
future of the accounting and finance professions, with an unfaltering commitment to inspire the same in their successors.
NABA's Goals and Objectives are to:
·        Promote and develop the professional skills of its members;
·        Encourage and assist African-American students in entering the accounting profession;
·        Provide opportunities for members to fulfill their civic responsibilities;
·        Promote public confidence in its members and the services they provide;
·        Encourage cordial relations among members and cooperative relationships with other professionals;
·        Represent the interests of current and prospective African-American accounting and business professionals;
·        Ensure long-term financial stability and provide adequate resources to implement chapter, regional, and national programs; and
·        Ensure that chapters operate at an effective level.
2014 ACAP Summer Residency Program Application