2014 22nd Annual Cow Patty Pageant
Date and time
Saturday, February 8, 2014 · 7:30am - 4:30pm PST
Location
Estero Americano 1 Mile South of Valley Ford, Ca. Corner of Valley Ford Estero Rd and Marsh Rd Valley Ford, CA
Description
22nd ANNUAL COW PATTY PAGEANT
Saturday February 8th 2014
DESCRIPTION:
A beautiful and protected round trip paddle on the Scenic Estero Americano to the Pacific Ocean and return. The Competitive class offers tactical challenges for those wishing to stay at the front of the pack. An Intermediate long course start provides a more measured pace. The Family / Novice short course is a great option for those wanting to relax on the Estero. Winners receive unique awards, applause and the coveted admiration of their fellow contestants.
Long Course: 11.5 miles total depending on conditions. Short Course: 5 miles depending on conditions.
Awards Ceremony, Auction and Raffle will follow the race at the warm, dry and spacious Valley Ford School House in Valley Ford. Watch for flooding on roads if raining.
REGISTRATION: 7:30 AM - 8:30 AM
PADDLERS MEETING: 8:45 AM
11.5 Mile long course, 5 mile short course. Course length may vary with water level.
START TIMES:
FAMILY / NOVICE 9:20 INTERMEDIATE 9:40 COMPETITIVE 10:00
AWARDS BANQUET: 1:30 PM AT VALLEY FORD SCHOOL HOUSE
ALL AGES, ALL PADDLE CRAFT WELCOME.
PRIZES, FOOD, FUN, SILENT AUCTION

On-line Pre Registration: 25.00
(onsite registration available: 30.00)
Awards Banquet 25.00
PROCEEDS BENEFIT
Rivers for Change, Sonoma Land Trust, Valley Ford Volunteer Fire Department
DIRECTIONS:
From Petaluma, Go West 8+ miles on Bodega Ave., to Valley Ford Road (stay right) 9+ miles to Valley Ford, Ca. When coming into town, turn left on School House Road. Go 80 meters to the Valley Ford School House, 3rd building on the left. Park, Register and pick up boat numbers, coffee if desired and instructions.
After registering go back to Valley Ford Road, turn right. Go 150 yards. Turn right on Middle Road. Go 1.0 miles to Marsh Road. Turn left on Marsh Road. Go 0.8 miles and park on South side (Only the South Side) of Marsh Road. Park off the Road as far as possible, to allow passage for emergency vehicles.
Note: You can unload boats adjacent to the intersection of Marsh and Franklin School Road, if you wish. This can shorten the walk to the put in significantly.
Unload, Suit up and follow directions to paddlers meeting near the Franklin School Road Bridge.
Paddles Up!
Questions? Contact - john@riversforchange.org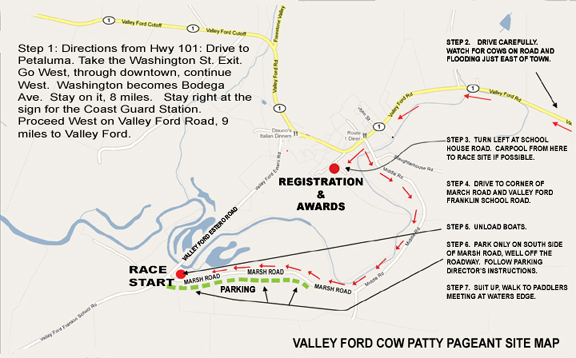 About the organizer
Rivers for Change is a 501(c)(3) nonprofit made up of a passionate group of river enthusiasts dedicated to changing the way people think about and interact with water. Through adventure, conservation and education we work to connect individuals and communities to rivers and promote source to sea literacy.
We envision a world where people and communities are active stewards of river systems with a holistic understanding of their interconnectedness and interdependence.