2013 WAVE RISING SERIES

Wednesday, October 23, 2013 at 7:00 PM

-

Sunday, November 10, 2013 at 10:00 PM (EDT)
Event Details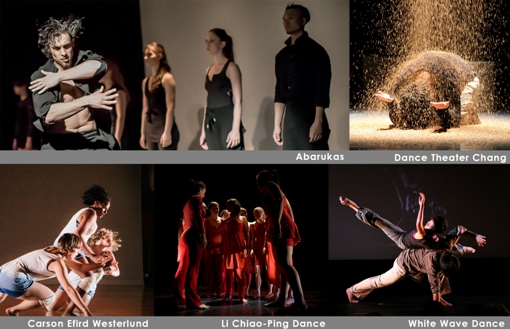 8th Annual WAVE RISING SERIES
OCT 23 – NOV 10, 2013
WHITE WAVE hosts and produces its 2013 WAVE RISING SERIES featuring 21 companies/choreographers and 89 artists in 21 performances in its renowned three week festival. Selected by a panel led by WHITE WAVE's Artistic Director Young Soon Kim, this series furthers our commitment to find, nurture and broaden horizons for extraordinary artists in a program formatted to show their in-depth work. Presenting both rising stars and established world-class companies from New York City and around the world, the WAVE RISING SERIES also functions as New York City Season for artists who may not have the time or resources to produce a full event on their own, and allows them to tap into a community of peers.
WEDNESDAY PREVIEW NIGHTS: Oct. 23 & 30 & Nov. 6 
10-minute Excerpts of companies appearing that week.
Post-performance Discussion with the Choreographers!! 
Learn what inspires and is involved to create such beautiful dance.
Followed by drinks, eats, music and an open studio where you can mingle with the dancers and colleagues! All-new programs every week!  
These three single-night unique previews offer a sampling of all of the artists participating in the upcoming week's performances.
Free Halloween Costume Dance Party, following the performance on the evening of Halloween. Join us on Thursday, October 31st at 7:30pm, for the performance then, take the stage to dance and mingle with performers and choreographers. There will be music, drinks and plenty of fun! Arrive with Halloween Costume and get Two Free Drinks!
FIRST WEEK - October 23rd – 27th, 2013
Performance Schedule

WED.Oct 23
THU. Oct 24
FRI. Oct 25
SAT. Oct 26
SUN. Oct 27
Preview Night
A & B, 7pm
A                 7:30pm
B      
7:30pm
B 4:00pm  A 7:30pm
A 4:00pm
B 7:30pm
PROGRAM A*
Carson Efird Westerlund
-
I am come for you
Dance Theater Chang
- Headache
Antonio Brown
- The Line
PROGRAM B
Anne Bluethenthal / ABD Productions
- Forgiveness Project: Part One
Becca Alaly + Dancers
- You're a Citizen of Me
Sandra Kramerova and Artists
- QUATRO
Khaleah London / LAYERS
- The Ultimatum

SECOND WEEK - October 30th – November 3rd, 2013
Performance Schedule
WED.Oct 30
THU. Oct 31
FRI. Nov 1
SAT. Nov 2
SUN. Nov 3
Preview Night
C & D, 7pm
C 7:30pm  

Halloween Post-Show Party

D      
7:30pm
D 4:00pm  C 7:30pm
C 4:00pm
D 7:30pm



PROGRAM C

Amy Marshall Dance - Excerpt from Two Duets and a Quartet, and DVIJA

Azul Dance Theatre / Yuki Hasegawa - ELEMENTS

277Dance Project - Flight
WHITE WAVE Young Soon Kim Dance Company -
Eternal NOW (excerpts)

PROGRAM D*

boomerang - Gut check
Billy Bell / Lunge Dance Collective - Unit of Riot
Maria Gillespie / Oni Dance - Vanished Earth, Forge Forage
Jacobs Campbell Dance - Incubator

THIRD WEEK - November 6th – 10th, 2013
Performance Schedule

WED. Nov 6

THU. Nov 7

FRI. Nov 8

SAT. Nov 9

SUN. Nov 10

Preview Night
E & F, 7pm

E                   7:30p

F       7:30pm

F 4:00pm
E 7:30pm
E 4:00pm
F 7:30pm



PROGRAM E

David Norsworthy

-

before the Springtime for Tolerance

Jasmyn Fyffe Dance

- Pulse

Li Chiao-Ping Dance

- L'Altra Notte, Riot of Spring

PROGRAM F

The Ume Group

- The Ume Group's Facet

Karen Harvey

- Connect

Yoshito Sakuraba / Abarukas

- Lullaby to Mr. Adam

(*Schedule has been updated since the printed brochure you may have received.)
TICKETS
Preview Night Tickets (each Wednesday):
$25 in advance, $30 at the door
All Series Tickets: $20 in advance, $25 at the door
Series Sampler* (Choose any 3 Programs): $50
Series Supporter* (All 6 Programs): $95
*Contact us to purchase the discounted Series Sampler & Series Supporter tickets.
ALL SALES ARE FINAL.
Location
WHITE WAVE John Ryan Theater
25 Jay Street (Enter around the corner on John Street)
DUMBO Brooklyn
Just one train stop from downtown Manhattan. Easily accessible from the F train at York Street and A,C at High Street. HopStop, MTA
More Info, Updates & Behind-the-Scenes at whitewavedance.com | 2013wrs@gmail.com  | Facebook  | Twitter 
Please help us to SPREAD THE WAVE with your colleagues! 
VOLUNTEERS WANTED FOR BOTH FESTIVALS!
Please contact: whitewavevolunteers@gmail.com


This program is supported, in part, by public funds from The New York City Department of Cultural Affairs; Mertz Gilmore Foundation; New York Community Trust; Korean Cultural Service, NY; the Ministry of Culture, Sports and Tourism Republic of Korea, Brooklyn Arts Council (JP Morgan Chase Regrant Program) and JOHN RYAN COMPANY.
When & Where

WHITE WAVE John Ryan Theater
25 Jay St
New York, NY 11201


Wednesday, October 23, 2013 at 7:00 PM

-

Sunday, November 10, 2013 at 10:00 PM (EDT)
Add to my calendar
Organizer
WHITE WAVE Young Soon Kim Dance Company is a 10-member contemporary dance company formed in 1988. Its mission is to broaden the boundaries of dance. It endeavors to enhance the language of dance through collaboration with music, poetry and visual art of many forms.
WWYSKDC inspires audiences of all cultures with the multi-dimensional aspects of complete dance staging and productions which reflect themes and philosophies both modern and timeless. WWYSKDC wishes both to share its love of dance and to create works of such power, penetration and feeling that audiences renew their concern for other living beings, their connection with nature, and their appreciation for the rhythmic designs that unite us all.
Since 2001, WHITE WAVE's Artistic Director Young Soon Kim has gained eminence as one of New York's leading dance curators as producer of three annual festivals (DUMBO DANCE FESTIVAL, WAVE RISING SERIES and COOL NEW YORK DANCE Festival) at the WHITE WAVE John Ryan Theater in DUMBO, Brooklyn. For all of these productions, WHITE WAVE finds, nurtures and broadens the horizons for emerging and established dancemakers from around the world, a platform for companies who may not have the resources to stage full productions of their works, to such a vast audience. New work and/or repertory of WHITE WAVE is also featured. 
Young Soon Kim and the company have appeared on many principal stages both in the US and the Far East — Joyce Theater, Kennedy Center, Dance Theater Workshop, Jacob's Pillow, American Dance Festival, Theater at St. Clemens, Florence Gould Hall, Judson Memorial Church, Dancenow Downtown Festival, National Theater of Seoul (Korea), National Theater of Taipei (Taiwan), Hong Kong Academy of the Performing Arts, Ichibangi Theater (Japan), as well as at regional venues across the United States.
WHITE WAVE's wide press coverage over the years has included interviews on Eyewitness News WABC-TV Channel 7's Five O'clock News, CNN's International Inside Asia program, and features for WWOR-TV Channel 9's 10 O'clock News and Fox 5 TV's Good Day New York.