Turkey on the Run is great way to kick off your holiday season with a fun and fit jaunt in Wenatchee. This annual family friendly event has become a Thanksgiving Day tradition in the community and attracts both residents and people visiting for the holiday.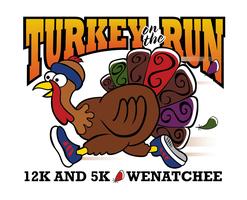 Description: Turkey on the Run features a 12K, 5K and 1/2 mile kids run. Our two longer distances are ideal for walkers. All the events start and and finish at beautiful Rotary Park on the western outskirts of Wenatchee. We also use this event as a way to collect canned foods for our local food banks, so please bring 3 non perishable food items to the race. Proceeds from the event benefit the Women's Resource Center in Wenatchee, which provides emergency and transitional housing, support and enrichment services to individuals, women, men and their families in an environment which honors diversity, promotes education and self-esteem and encourages mutual respect.
We also continue our support of the Columbia Valley Girls On The Run program. During Turkey on the Run, hundreds of local girls, ages 8 to 12, will run in their first 5K! Each girl will have an adult running buddy to guide them through their journey of health and fitness.
In addition to the 12K and 5K, we also hold a free kids run. We use a small loop (approximately 1/2 mile) around Rotary Park for this run. It is held just prior to the official start of the 12K and 5K. Registration is not required for the kids run.
Note: Youth who are 12 years and younger can run for free in the 5K, with a paid adult.
Start time: 9 a.m. Nov. 28, 2013
Start line: Rotary Park, Wenatchee (Western Avenue/Maple Street)
Finish line: Rotary Park, Wenatchee (Western Avenue/Maple Street)
Packet pickup: 7:30 to 8:55 a.m., Nov. 28, 2013, at Rotary Park in Wenatchee
In-person registration: 7:30 to 8:55 a.m., Nov. 28, 2013, at Rotary Park in Wenatchee
Essentials: We will have two aid stations on the 12K course (including one at the turnaround spot) and one on the 5K course. Stations will have water and
electrolyte drink. There will be port-o-potties at the start/finish area but none on the course.
Trash: Leave no trace. Be kind to this neighborhood and neighborhood park and clean up after yourself. Please don't abandon trash. Waste baskets will be located at each aid station and at the park. Help us keep Wenatchee clean and green.
Views and features: These runs and walks take participants through the neighborhoods adjacent to the Wenatchee Foothills. The 12K course also travels up Number One Canyon with views of the prominent Castle Rock formation along the
way. On the way back, views of the Wenatchee Valley looking east and north are prominent.
Course note:
The course is open to traffic, so we ask runners to stay on the sidewalks and shoulder of the road as much as possible. We have taken as many steps as possible to provide a safe and enjoyable event. The course will have mileage markers along the route as well.
Runner premiums: The first 500 paid registered runners and walkers will receive
a commemorative winter beanie hat.
Timing: Runners will be timed for this event. Results will be posted on our website (www.runwenatchee.com) after the race, courtesy of Bu Du Racing
E-mail: runwenatchee@gmail.com or stephenmaher67@yahoo.com
Phone: (509) 387-0051 or (509) 630-2090