2013 Red Hook Criterium Milano No. 4
When and where
Location
7 Via Raffaele Lambruschini 20156 Milan Italy
Description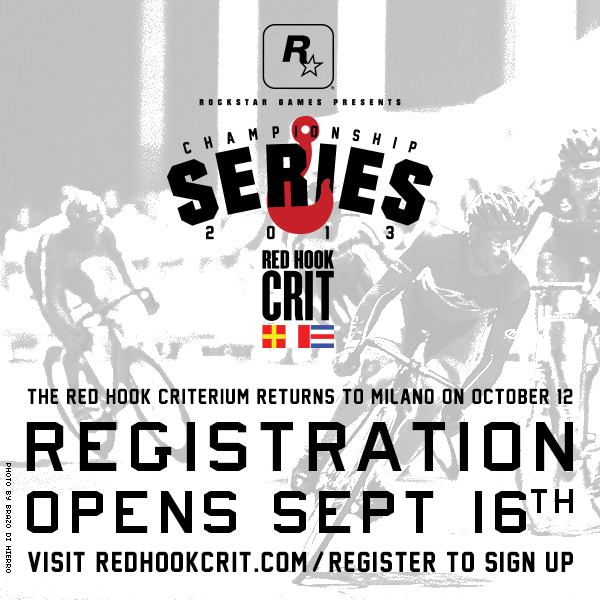 REGISTRATION FOR ROUND 4 OF THE RED HOOK CRITERIUM CHAMPIONSHIP PRESENTED BY ROCKSTAR GAMES WILL OPEN
Monday, September 16th at 12 pm

(

noon

) EST / 1800 CEST
LE ISCRIZIONE PER LA QUARTA GARA DEL CAMPIONATO RED HOOK CRITERIUM
PRESENTATA DA ROCKSTAR GAMES APRIRANNO
Giovedi, 16 settembre alle 12:00 (mezzogiorno) EST / 1800 CEST
Sono disponibili 200 posti e i 85 corridori più veloci nella qualificazione avanzare alla gara *
Si prega di assicurarsi che i requisiti di gara siano soddisfatti:
Bicicletta da pista con manubrio piega (non sono ammessi riser, flatbar, bullhorn)

Le ruote da crono/time trial non sono ammesse (no ruote lenticolari o a razze)

Il casco è obbligatorio

I pedali a sgancio rapido sono obbligatori
Tutti i corridori iscritti riceveranno un capellino ufficiale Red Hook Crit x Cinelli e una t-shirt edizione limitata Rockstar Games Milano
Il deposito borse è disponibile
Dettagli della gara: 26 giri / distanza totale di 33km/ I Corridori doppiati saranno eliminati / Il più veloce sul primo giro, il più veloce sul giro intermedio e il giro più veloce in assoluto verranno premiati con dei premi supplementari.
I punteggi saranno validi per la classifica generale del Campionato Red Hook Criterium presentato da Rockstar Games. Tutti gli eventi sono a controllo elettronico del cronometraggio e punteggio.
*tutti i partecipanti iscritti dovranno partecipare alla sessione di qualifica che si terrà nel tardo pomeriggio lo stesso giorno della gara.
*Per partecipare è necessario essere inscritti ad una squadra ciclistica oppure presentare un certificato medico per attività agonistica sportiva. Corridori senza uno di questi due requisiti non saranno ammessi a partecipare.
Per potersi iscrivere alla RHC Milano 2013, sarà necessario presentarsi con un tesseramento valido ad una società sportiva ciclistica, oppure il solo documento di idoneità all'attività sportiva agonistica rilasciato da un medico. Agli atleti totalmente sprovvisti dei suddetti documenti sarà preclusa la possibilità di iscriversi alla gara. La certificazione dovrà essere scritta in lingua Inglese o Italiano.
Nessun rimborso o trasferimento.
Maggiori informazioni saranno presto pubblicate.
Il programma completo sarà annunciato a breve.
-------------------------------------------------------------------------------------------------------------------------
200 entries are available with the 85 fastest qualifying riders advancing to the race*
Please ensure that you meet the race requirements:
Track bike with drop bars.

Time trial wheels are NOT allowed.

Helmets are mandatory

Clipless pedals
All registered riders will receive an official Red Hook Crit x Cinelli cycling cap and limited edition Rockstar Games Milano t-shirt
Bag check is available
Race Details: 26 Laps / total distance of 33km / Lapped riders will be eliminated / 1st, halfway and fastest lap primes awarded
*all registered competitors must take part in the time qualifying session which will be held late afternoon on race day.
MEDICAL CERTIFICATION
In order to participate in the Milan edition of the RHC 2013, riders will need to present a valid membership to a cycling club, federation, or a medical certificate of fitness for competitive sports. Riders who do not present themselves a valid membership or medical certification will not be able to participate. Medical certification need to be in either English or Italian.
No refunds or entry transfers