2013 Niles Canyon Railway Caboose
Departing from Sunol at 7:30 PM
Event Details
Ride a Caboose on our Train of Lights. 
On our Late Trains, departing at 7:30 PM from Sunol.

(Were you looking for the Early Trains departing at 4:30 from Niles?)
Enjoy a private party on a caboose!
Consider Reserved Seating in the Dome Car or the Holiday Club Lounge.
 Ticket sales started on September 16th at 10 a.m.
*Note: Eventbrite has been having problems completing orders using the Safari wbe browser. We suggest trying Firefox, or Internet Explorer instead. The final order processing should complete within 2 minutes



The Best View on the Train!


Enjoy the exclusive use of the caboose by you and your private party guests, on the end of our acclaimed holiday train. Climb up into the cupola for a bird's-eye view of the train as it weaves along the scenic route of North America's First Transcontinental Railroad, through Niles Canyon, with a docent aboard to narrate the ride.
Departing from Sunol at 7:30, the canyon will be dark, and the lights on our train light the scenery as we wind our way through the canyon, pulled by historic locomotives.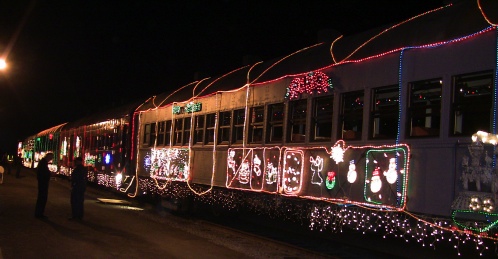 The Santa Fe cupola caboose provides a special ride for groups of up to 24 people (or 28, if some of them are child-sized). Two small serving tables are available on-board for serving your refreshments. There are windows on the main floor, but the best view of the train is from the seats high up in the cupola.
The cost is $600, for up to 24 adult riders. The caboose is very popular, so be sure to reserve early.
You may bring your own food and drinks aboard the caboose to enjoy.
Please review our list of Frequently Asked Questions.
If you have further questions, please contact our Chief Station Agent at 510-996-8420.
Thank you for supporting our Western Railway Heritage Museum.
Niles Canyon Railway - Our Collection - Contact Us
Where

Sunol Depot
6 Kilkare Road
Sunol, CA 94586


Organizer
The Niles Canyon Railway is operated by the Pacific Locomotive Association. We have been operating on this historic route since 1987. The Niles Canyon Railway has been running the Train of Lights for more than two decades, and has become an annual tradition for many families.

Our Train of Lights operations are our main annual fundraiser, and the ticket prices are supporting the maintenance and operation of our railroad and equipment. Our volunteer staff thank you for your support of our Educational outreach, and our restoration of this historic railroad corridor.