2013 MDCR Physical Abilities Testing

Multiple Dates
Event Details
The Physical Ability Test (PAT) is one component of the entry-level selection process for the position of Corrections Officer in the Miami Dade Corrections and Rehabilitation Department.  The job of a Corrections Officer is physically demanding and a certain degree of physical strength and endurance is necessary in order to complete many of the tasks required on the job.  As such, the PAT is geared toward assessing the physical abilities of the Corrections Officer applicant.
Course Description
The PAT measures specific physical abilities through participation in a series of tasks:
1.

     

Stair Climb

2.

     

150 yard run

3.

     

Obstacle Course

a.

      

40 inch barricade jump

b.

     

24 inch, 12 inch and 18 inch hurdles

c.

      

Serpentine (with 9 cones)

d.

     

Low Crawl

4.

     

Dummy Drag (150lbs) for 70 feet

5.

     

Repeat Obstacle Course

6.

     

Repeat 150 yard run
 This test is conducted in a continuous manner resulting in a total composite score. 
Qualified Instructors of Miami Dade College will prepare the PAT course as outlined (See attached course layout). Time frames and instructions have been standardized so that all candidates receive the same instructions and the same amount of time to complete the PAT.

SIGN UP INSTRUCTIONS
In order to take the PAT with the Assessment Center, you must register through this site.  After registering, please print the Candidate Test Notification Packet: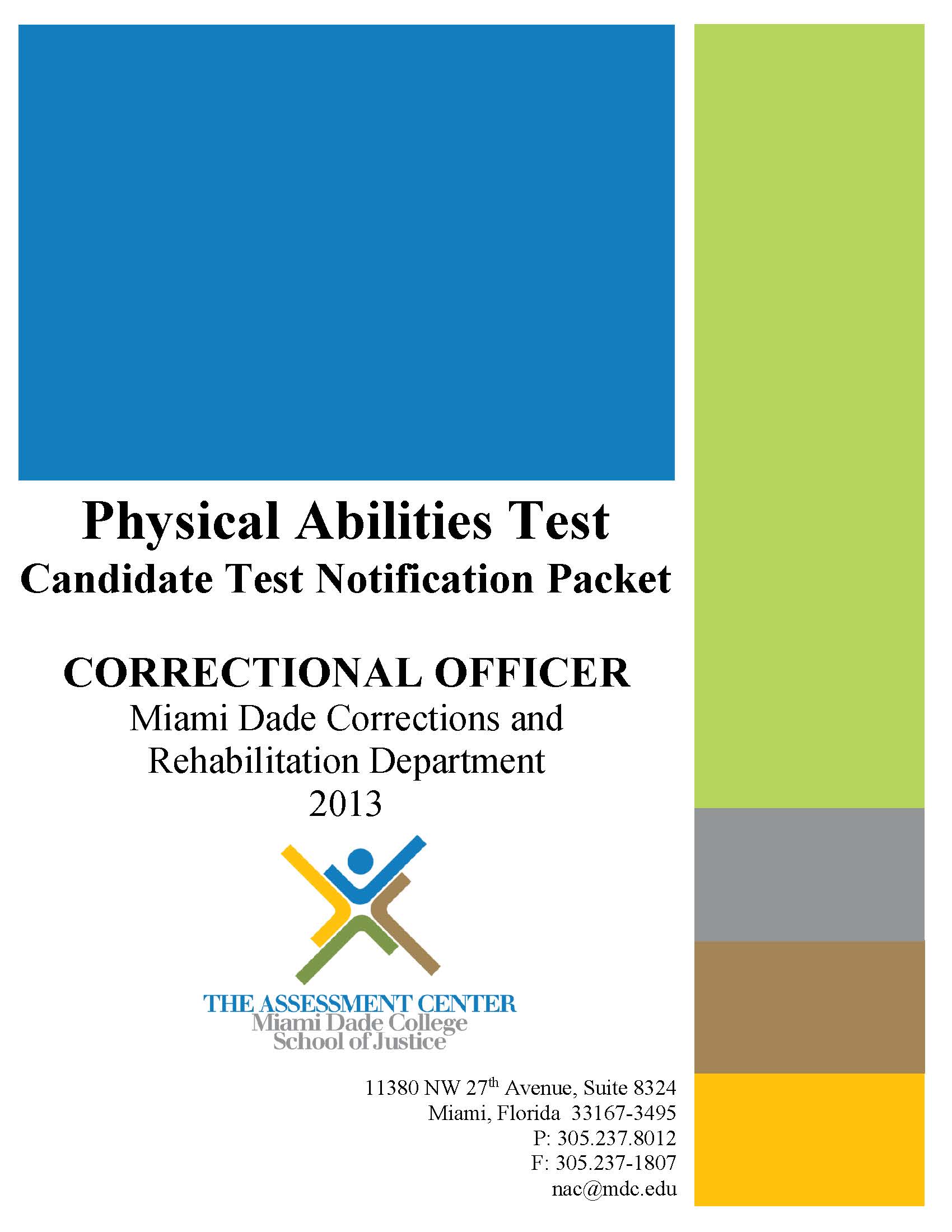 The packet includes a course outline, the MANDATORY liability waiver and PAT Payment Form.  
Please PRINT and bring the following documents to your scheduled PAT:
1. Your eventbrite ticket registration
2. PAT Payment Form and Reciept from Bursar's Office
3. Liability Waiver.
You will NOT be allowed to take the test without these three documents.
Thank you.
Where

The Assessment Center at Miami Dade College
11380 Northwest 27th Avenue
Miami, FL 33167


Multiple Dates
Add to my calendar
Organizer
The Assessment Center
For over 30 years, both public and private agencies have trusted The Assessment Center to test those who protect and serve. 
The Assessment Center was created in 1981 by Special Response Funds from the Law Enforcement Assistance Administration (LEAA).  Since this time, the Center has processed over 20,000 candidates for law enforcement, corrections, and fire agencies. We have assessed various levels within these agencies from entry level to the chief's level.
Since 1985, the Center has assisted city and county managers in external recruitment for agency leaders and other executive positions such as directors of corrections, finance, public works, public safety and data systems.
The Assessment Center will design a process or program to fit the unique needs of your organization for employment, promotion and personnel development decisions. 
Our approach takes into consideration the specific needs of each agency, by offering affordable, customized promotional exams, assessment centers and training programs for any size agency, ensuring to avoid the pitfalls associated with today's litigious selection and promotion environment. 
2013 MDCR Physical Abilities Testing