2013 MCFOA Athenian Dialogue (9-11-2013)

Wednesday, September 11, 2013 from 8:30 AM to 4:30 PM (CDT)
Event Details
MCFOA ATHENIAN DIALOGUE
Wednesday, September 11, 2013
Cambria Suites - Maple Grove, MN
9655 Grove Circle North
Maple Grove, MN 55369
www.cambirasuites.com/hotel-maple_grove-minnesota-mn088
Sponsored by the:
Minnesota Municipal Clerks & Finance Officers Association (MCFOA)
and
The Center for Continuing Studies at St. Cloud State University
Registration Information Available at:
www.mcfoa.org

www.stcloudstate.edu/continuingstudies/customized/MCAD.asp
LEARNING THROUGH DIALOGUE
The premise of this program is the idea that clerks are leaders in very profound yet subtle ways. But leadership here is not the transactional vending machine citizens seem to believe about public management.
Our leadership is more transformational in nature. That is to say, the contribution of clerks to municipal leadership changes the perception of colleagues and citizens about the role and purpose of government.
Dialogues
Dialogues are conversations that go beyond the usual knowledge recall and application process familiar to all municipal clerks in training seminars. They are unique because they explore leadership principles and practice, drawing on the insights contained in a book that all participants have read.
Dialogues are conversations in which clerks share their experience and understanding as it relates to the ideas of the author and the relevance of those ideas to their public leadership role.
The Book!
Obsessive Genius by Barbara Goldsmith
The story of Marie Curie (1867-1934) is well known. Born into an intellectual but impoverished Polish family, she struggled to obtain a scientific education, first in Poland and then at the Sorbonne in Paris. While a graduate student, she met and married the young chemist Pierre Curie. Together, with essentially no funding and dismal laboratory space, they discovered and characterized radioactivity. Later, on her own Marie discovered and isolated two new elements, polonium and radium. Subsequently Marie and Pierre created the Curie Institute, where Marie was in the forefront in envisioning medical applications of radioactivity and radium.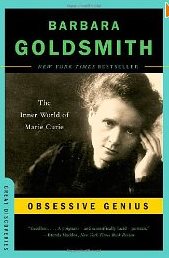 The story is especially powerful in its depiction of bias against women in science. Marie had to fight for many years to obtain a faculty position at the Sorbonne (unheard of for a woman), or even space to conduct her experiments. When the Nobel Committee awarded its 1903 Prize in Physics, Pierre had to fight to have his wife included in the citation, even though the bulk of the brains and energy behind the discovery of radioactivity were clearly Marie's. Marie was later vindicated when she won her second (and solo) Nobel Prize in 1911 for the discovery of radium.
Obsessive Genius doesn't shy away from Marie Curie's recurrent clinical depressions, which began during her adolescence, nor from her obsessive, hard-driving personality. The book presents an even-handed picture of repeated conflict between her love of her husband and children (one of whom, Irene Joliet-Curie, in 1935 became the second woman scientist ever to win the Nobel Prize); and her passion for her work.
Facilitator - Susan Frost
Susan Frost is the president of Frost Marketing Communications, Inc., a firm founded in 1984. The company serves as an outsourced marketing department for broad range of businesses and organizations in the fields of health care, theatre and the arts, heating and cooling and retail. She is an associate lecturer in the Humanities at the University of Wisconsin - Green Bay where she has taught since 2006, and gives Humanities-based critical thinking workshops for municipal clerks. Her multi-disciplinary work focuses on the relevance of the Humanities in the workplace and she is currently participating in a new project, The Arts & Humanities in the 21st Century Workplace.
Frost holds a Master of Arts degree in English from the University of Wisconsin-Milwaukee where she graduated from the leading-edge Modern Studies Program. Frost lives with her husband in De Pere, Wisconsin, and enjoys cooking, gardening, and travel.
For more information: www.frostmc.com
Points
Dialogues have been approved by IIMC for two CMC Education Points or two MMC Advanced Education Points (with completion of assessment form). Please refer to the Athenian Leadership Society Policy for Dialogue Guidelines.
Who Should Attend?
All clerks are welcome to register. There is a maximum of 30 participants, so register early!
Registration and Fees
The registration fee for the Athenian Dialogue $65.00 and is limited to 30 registrants. The registration fee must be postmarked prior to September 4. This fee includes instruction, course materials, one lunch, and refreshment breaks. Participants in this program will be responsible for purchasing a copy of the book themselves as well as a $15 registration fee to the Athenian Leadership Society at IIMC. More information on the society and Athenian Dialogues can be found at www.iimc.com.
A refund, minus a $30 processing fee, will be granted if you cancel by September 4. If you cancel after this date, you will not be eligible for a refund. A full refund will be issued if St. Cloud State University cancels the Dialogue.
Accommodations
The Academy will be held at the Cambria Suites - Maple Grove, 9655 Grove Circle North, Maple Grove, Minnesota. Please check the website www.cambriasuites.com/hotel-maple_grove-minnesota-mn088 for maps and location.
A block of sleeping rooms has been reserved at the Cambria Suites - Maple grove at a discounted rate of a rate of $89.00 plus tax per room per night. In order to book your room at the group discounted rate, individuals need to call the hotel directly @ 763-494-5556. Please refer to "St. Cloud State University" when making all reservations. Check-in time for all rooms is 3:00 p.m.
Please call the hotel by August 28, 2013. After this date, reservations will be handled on a first-come, first-served basis at the hotel or neighboring lodging property.
For Further Information
If you would like more information or have questions, please contact:
St. Cloud State University, Center for Continuing Studies
720 Fourth Avenue South
St. Cloud, MN 56301-4498
Gail Ruhland at 320-308-5759(gmruhland@stcloudstate.edu) Or
Charlotte Kastanek at 320-308-4723 (cekastanek@stcloudstate.edu)
Special Accommodations
To ensure full participation in this workshop, please inform us about any dietary requirements or physical challenges which should be addressed prior to your arrival.
When & Where

Cambria Suites - Maple Grove, Minnesota!
9655 Grove Circle North
Maple Grove, MN 55369


Wednesday, September 11, 2013 from 8:30 AM to 4:30 PM (CDT)
Add to my calendar
Organizer
Minnesota Clerks and Finance Officers Association (MCFOA) and St. Cloud State University, Corporate Education and Outreach
2013 MCFOA Athenian Dialogue (9-11-2013)