Event Information
Location
SPX ( Formerly Knights of Columbus)
3611 Stewart Rd
Forestville, MD 20747
Description
BREAKING NEWS!!!!!!!!!!
THIS EVENT WILL BE COVERED BY ESSENCE MAGAZINE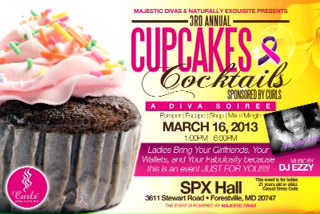 Pamper | Escape | Shop | Mix n'Mingle
Majestic Divas & Naturally Exquisite Presents
3rd Annual Cupcakes & Cocktails "A Diva Soiree"™ sponsored by Curls
Ladies Bring Your Girlfriends, Your Wallets, and Your Fabulosity
because this is an event JUST FOR YOU!!!!!
Vendors will be selling a bevy of baubles, clothing, gourmet foods, designer gifts, beauty products and other fabulous items that women love, come out and enjoy an afternoon of Mini Make -Overs, Spa Services, Spoken Word, Erotic Poetry, Fashion Show, Hair Show, Lipstick & Lash Lounge, Dating Panel, Karaoke, Line Dancing, Go-Go (Zumba), The Great Hair Debate, Demonstrations, Workshops, Make Up Tutorials, Lavish Door Prizes, COMPLIMENTARY CUPCAKES, & COCKTAILS and MUCH MORE!!!!!!!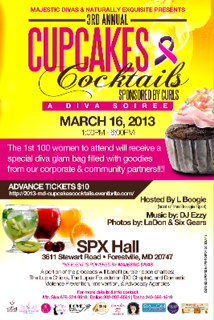 March 16, 2013
SPX Building, 3611 Stewart Road, Forestville, MD
1:00pm-6:00pm
This event is for ladies (only) +21 years old & older
Hosted By L Boogie (host of the Boogie Spot) | Music by: DJ Ezzy | Photos by LaDon & Six Gears
The 1st 100 women to attend will receive a special diva glam bag filled with goodies from our corporate & community partners!!!!
Title Sponsor
Curls
Cupcake Sponsors
Red Velvet
Sprinkles
Russell's Rum Cakes
Sweets Treats
That's So Moiré Cupcakes
Monique's Unique Cake Pops
MeShell's Desserts
Tweety Sweet Treats
Participating Sponsors
Courvoisier
Decalo Medical Group
Diva Events
Dove Style Magazine
Essence Magazine
Every Click Counts Photography
Ezzy Time
Handbags You like
Lupus Foundation of America (DC Chapter)
Mahogany Girls
Naturally Exquisite
Photos by LaDon
Salon Couture
Shea Butter Like Whoa
Skye Media Group
Exhibitors
4thehefainu
Accessorize Your Look
Ajari Hair
All for One Social Club
AThree Couture
Avon
Barbie's Doggie Treats & Accessories
Born Natty
Brow Beauty
Celebrate in Color
Cloud 9
Curvy Chicks
Embellishments by Dolmarie
Fia's Fabulous Finds
Gaudy Girl Jewelry
Gold Canyon
Henna Sooq
Jewelry by Yours Truly
Kelly's Bags & Beauty
Key 2 Impressions
KJ Total Fitness
Knotty Gurlz
Kotey Boutique
LB Innovations
Lia Sophia
Lilia Rose
Lovies Jewelry
ODH Interior Decorating & Staging
Pampered Chef
Perfect Pieces
Personally 4 You Travel
Pink Flamingo Boutique
Pink Zebra
Pretty Little Wire
Primrose Clothing Boutique
Faint Fashion Shoes
Scentsy
She Inspires
Shop Full Load
Shugalious Spa Parties
Sisterhood of Natural Hair
Slumber Parties
Starbucks
Survivor Entertainment
Tailored For Naturals
Todd Parsons Designs
Traci Lynn
Trendy Styles
Underneath it All
Wraps by Toni
Z-Go-Go Zumba
Spa Service Providers
Innovative Spa Services
Cameo VIP Mobile Spa
Nail Eyebrow & Lash Lounge
Salon Couture
Brow Beauty
Made Up in Makeup
Couture Fashion Show
Runway RED by Contagious
Haute Hair Show
Salon Couture
A portion of the proceeds will benefit purple ribbon charities: The Lupie Chicks, The Lupus Foundation (DC Chapter), and Domestic Violence Prevention, Intervention, & Advocacy Agencie
General Questions Contact:
Toni 678-274-9910 Dallas 202-207-6561
Meetup Groups Contact Tasha 240-398-1619
Date and time
Location
SPX ( Formerly Knights of Columbus)
3611 Stewart Rd
Forestville, MD 20747