2013 Humanitarian Awards Luncheon

Friday, April 19, 2013 from 11:30 AM to 1:30 PM (CDT)
Event Details
REGISTER TODAY AND SAVE $150.00
The Fannie Lou Hamer National Institute on Citizenship and Democracy will recognize five exceptional individuals at our 2013 Fannie Lou Hamer Humanitarian Awards Luncheon to be held Friday, April 19, 2013.  The honorees will receive the Fannie Lou Hamer Humanitarian Award in an 11:30 a.m. ceremony to be held in Ballrooms A & B of the New Student Union on the campus of Jackson State University.
To be honored are Reverend John Earl Cameron of Jackson, a civil rights activist who ran for U.S. Congress in 1963. Reverend Cameron has spent a majority of his life ministering to individuals in his community promoting active citizenship and Christian values.  The Hamer Institute will also honor Attorney Alvin O. Chambliss, lead counsel of Ayers v. Barbour case for 27 years. Widely recognized as one of the nation's top legal strategists, Attorney Chambliss has been a life-long champion for those seen as powerless in our society.  Civil rights and criminal defense counsel, Attorney Rob McDuff will also be recognized as a Hamer Award recipient. His years as an attorney have included protecting the voting rights of citizens of the state of Mississippi and discrimination in employment and hiring. The Hamer Institute is recognizing Ms. Nsombi Lambright, Director, Resource Development and Communications, One Voice Becoming an activist as a student at Tougaloo College, Ms. Lambright has a long career of advocating for justice through her work at the NAACP, ACLU, and Southern Echo.  Mrs. Euvester Simpson, began her involvement in the Civil Rights movement as a high school student when she joined the Student Non-Violent Coordinating Committee. Simpson has also left a legacy as an advocate of community activism in the Mississippi Delta and continues her involvement as a member of the Mississippi Veterans of the Civil Rights Movement.
The Hamer Institute is honored to be able to recognize these special persons in our state.  Collectively and individually, they have helped to change the course of human history and have been instrumental in modeling a civil society.
Come let us recognize our fellow citizens, Friday, April 19, 2013 on the campus of Jackson State University.  For more information, please contact the Hamer Institute at 601-979-1562 or 601-979-1563 or email: Hamer.Institute@JSUMS.edu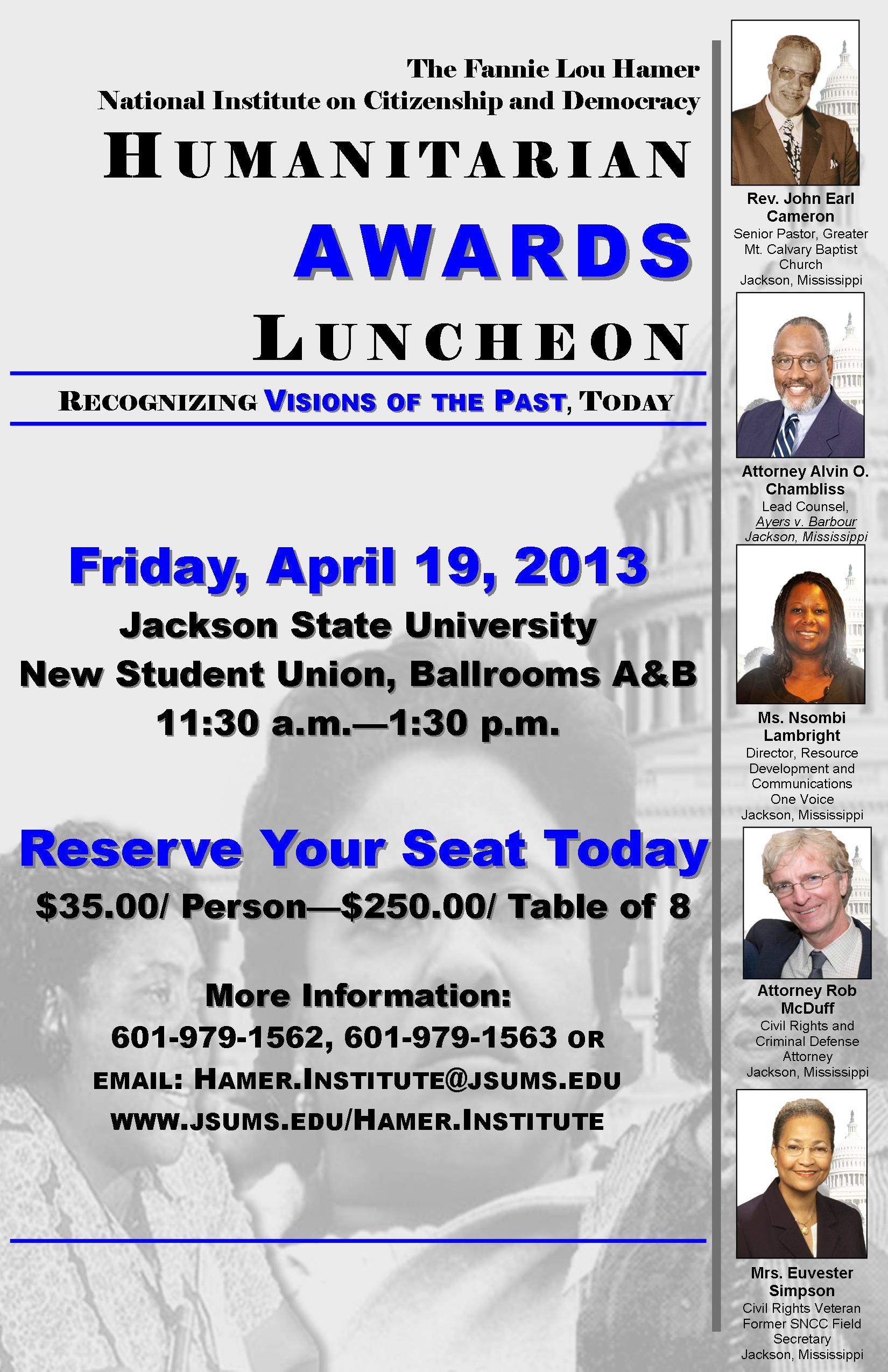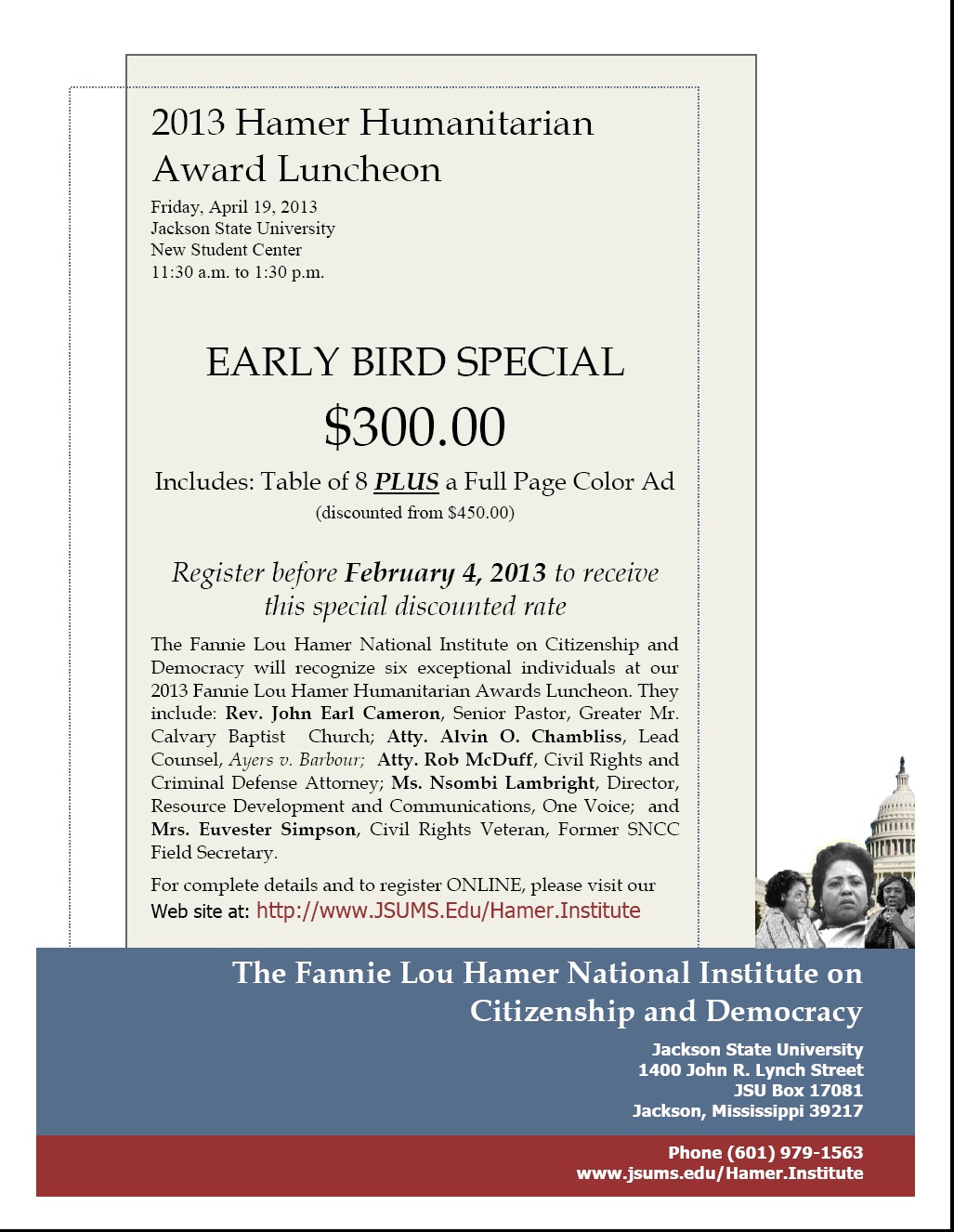 When & Where

Jackson State University
New Student Center Ballrooms A&B
1400 John R. Lynch Street
Jackson, MS 39217


Friday, April 19, 2013 from 11:30 AM to 1:30 PM (CDT)
Add to my calendar