Event Information
Location
5801 Opus Pkwy
Minnetonka, 55343
United States
Description
Attendees,
The Flash Storage Market has incredible interests from end users, executives, investors, and some of the largest companies in the storage industry. IBM has invested $1 billion in being a flash player. EMC has a large scale Flash Business unit as well as NetApp coming out with an all-flash architecture. The problem in the market is getting the word out and for organizations to have a forum to hear from a variety of players to efficiently understand who has what solutions.
This event is created and focused around that explosive interest in the end user organizations. The objective is to deliver a forum for existing and emerging flash and hybrid storage solutions to tell their story to a large group. Attend on 6/18 for this transformational event.
Thanks!
Keith Norbie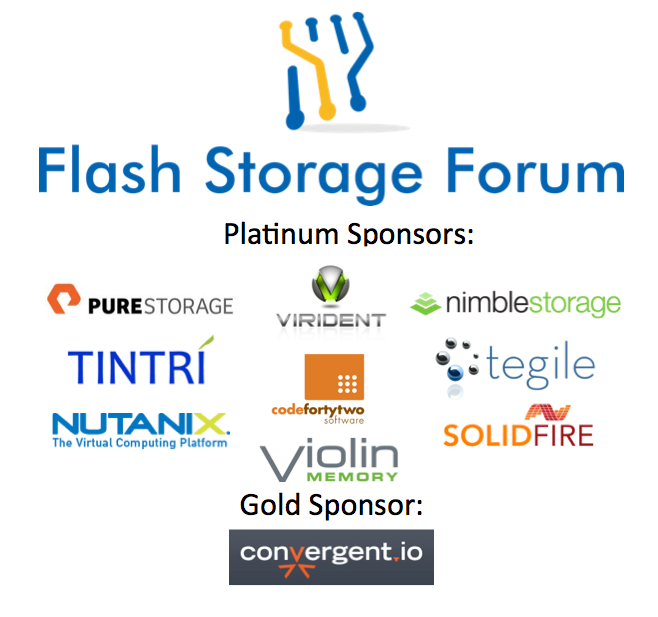 Description
This will be an event to host multiple independent flash storage vendors to showcase their solutions. The event will be a 2/3 day event with sponsor tables and presentations to attendees.
Sponsors:
Platinum speaking sponsors
Nimble – Scale up and scale out hybrid storage
Pure – All flash, less cost than disk
Tegile – unified SAN/NAS flash storage
Tintri – no LUN hybrid flash solution
Virident – PCIe flash, unconditional performance
Nutanix – No SAN, Unified Compute hybrid flash server/vm/storage
Solidfire – Service Provider efficiency QoS flash storage
Code42 (sharing keynote to address how their cloud service model uses flash)
Violin Memory - Storage at the Speed of Memory
Gold exhibiting sponsor:
ConvergentIO – Stealth storage startup
Presenters:
Keynote: "Flash Dance; Flash decision criteria and landscape (Norbie) + The role of flash in Code 42's cloud service (Payne)
TIG; Keith Norbie, Director of Server, Virtualization, Storage – Eastern US & vmware vExpert 2013 (2 timer)
Code42; David Payne, Director, Systems Engineering, former Technical Consultant Manager at EMC and Godfather of virtualization early days in MN http://goo.gl/37Gbo
Tintri; Justin Lauer, newly named vmware vExpert 2013 (named all 5 years), widely considered one of the best virtualization/storage experts in the midwest http://goo.gl/Mr06v
Virident; Ken Grohe, Vice President, WW Customer Operations, former General Manager of EMC Flash Business Unit http://goo.gl/tuCtM
Pure; Joel Lockbaum – One of the original vmware gurus in MN, helped FusionIO in product marketing/engineering, and is helping Pure Storage startup engineering in the midwest http://goo.gl/Xc9BP
Nimble - Seve Lytle, North Central region
20 year of experience in sales, with over a decade of that time specifically focused on data storage solutions sales. With his proven track record in data storage start-ups, Mr. Lytle is adept at evangelizing new, disruptive technology, like storage virtualization and data deduplication, to the market through direct sales and the channel. He has held various sales roles with increasing responsibilities in companies like StorSimple, EMC, Data Domain, X-IO, and is currently the Director of Sales for Nimble Storage's North Central region.
vRad (Nimble Client) - Jacob Wilde, Systems Engineer
A Systems Engineer since 2008, first handling collaboration and communications, as well as systems and storage infrastructure for a national law firm based in downtown Minneapolis. Since 2012 he has been at vRad, a national teleradiology practice, primarily focusing on storage and virtualization infrastructure design and architecture.
Solidfire; Dave Cahill, Director of Strategic Alliances, former Analyst and Vice President at RBC Dain http://goo.gl/dqgfW
...and more to be announced.
Target Audience
Decision makers and influencers in focused content and presentation directives.
Event Layout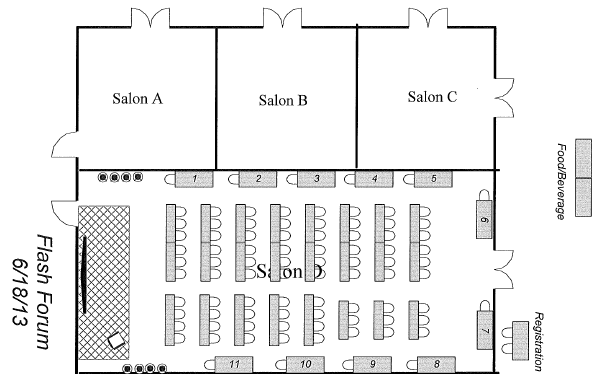 Date: Tuesday 6/18/2013
Location: Minneapolis Marriot Southwest
Agenda: 9:00 Keynote 9:30 Virident 10:00 Pure 10:30 Break 11:00 Tegile 11:30 Tintri 12:00 Lunch 12:30 Nutanix 1:00 Nimble 1:30 break 1:45 Violin 2:15 Solidfire 2:45 Q & A panel - All speaking vendors 3:30 Conclusion and prizes
Date and time
Location
5801 Opus Pkwy
Minnetonka, 55343
United States